Being one of TruffleShuffles resident petrol-head means I'm generally more interested in the vehicles that appear in the retro TV Shows and Movies more so than the main characters themselves! Whether it be 'The General Lee' from Dukes of Hazzard, Ecto1 from Ghostbusters, the DeLorean from Back to the Future, K.I.T.T. from Knightrider right down to Del Boys van in Only Fools and Horses, I love seeing what the stars drive. Better still its nice to see people replicating these iconic 'rides' and enjoying the attention they bring.
Now TruffleShuffle being TruffleShuffle of course we have our very own 'star car'. We have our very own A-Team Van! You may well have seen it on Fifth Gear, GMTV, Sky Movies or even Panorama!! It's 5.7 litres of gurgling American muscle wrapped in a shell replicated so well even BA would be confused if the original was parked next to it!! Also, unlike the original, you can hire our van out for Weddings, Birthdays, Bar Mitzvahs, you name it we'll do it. Head over to theateamvan.com to find out more.
But this leads me to what I see as possibly the ULTIMATE star car….. The Caped Crusader's Turbine Powered Batmobile from the 1989 Tim Burton directed 'Batman'.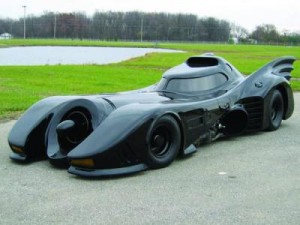 I remember being blown away after seeing the first pictures of this car, it summed up the 'new look' Batman and looked so dark and sinister which is what I think Tim Burton had in mind. Just imagine it coming up behind you on the motorway!! You would get out of its way for sure!! Now despite the turbine poking out the front and the back of the car all 5 of the genuine movie cars were actually powered by 230hp small block chevy engines (similar to the engine in the A-Team van!) which was a little disappointing. Thankfully Casey Putsch of Putsch Racing thought the same and went about creating the most genuine Batmobile he could.
Putsch taught himself about turbine engines and successfully rebuilt a turbine engine by himself. He took a military spec drone helicopter turbine engine which powers the rear wheels via a semi automatic transmission and is driven like any other conventional production car!! The car's engineering and construction is fully racing derived and can be considered the most extreme exotic car on the planet. The Putsch Racing facility opened in Dublin, Ohio in June, 2011 with Casey Putsch debuting the world's only actual jet turbine powered Batmobile.
The Batmobile appeared at the very prestigious Ault Park Concours d'Elegance in Cincinnati, Ohio and was awarded a class "Award of Distinction", "Hagerty Judges Choice", and the very special "People's Choice" beating some of the most valuable cars in history! Well done Casey!! Check out the pictures, it amazing….
Here it is in action!! DOUBLE AMAZING!!
If we could sell these on TruffleShuffle it would make my year, no… life! But unfortunately, I'm guessing a turbine powered Batmobile maybe quite expensive so for a cheaper Batman fix click here to head over to our website and check out all our Batman goodies. Here's some of my favourite Batman goodies at the moment. Click on them to check them out on our website.