Mr T
Retro telly fans! We've just caught wind of some pretty big news here at Truffle Towers which miiiiight just get a few tongues wagging.

Yep, it seems the beloved 80s Stephen J. Cannell classic The A-Team is set for a reboot from the people at 20th Century Fox. They like to play it safe huh!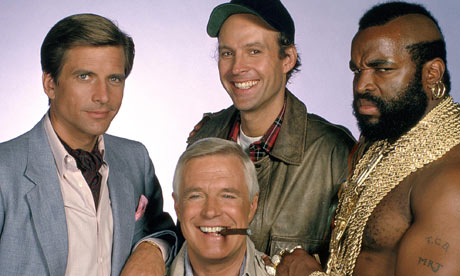 Originally running from 1983 to 1987, The A-Team was THEEE show of the time with more stunts and crashes than you could shake a stick at, iconic catchphrases, guest star appearances and one of the coolest vans ever created!

Teaming up with the Fast & Furious writer-producer Chris Morgan, this reboot will once again revolve around a diverse team of American Special Forces operatives, but this time with both male and female members to help jazz is up a bit. The group has been framed for a crime they didn't commit and set out to clear their names by uncovering the black-ops conspiracy that set them up. Usual stuff.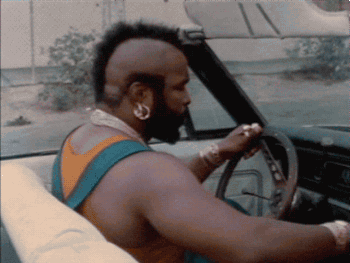 As always, they will discover people in need along the way who they can lend a helping hand the best way they know how.

As soon as we can uncover more about cast and dates we'll let you know!

So what do you think folks? Would you watch and who would you pick to play this iconic team?

xoxo
Bubblewrap and boxes! It's the weekend all over again and it's time for another installment of our retro movie rundown!
Like two eager and determined house hunters, we find ourselves searching each and every avenue in the hunt for that perfect property that will tick all the right boxes, give us that warm feeling and become our brand a brand new home. We'll fill it with all our worldly possessions, set everything just so and capture the whole adventure onto celluloid wonder ready to rediscover in years to come and say….look how young we looked!
Have a happy retro weekend.
SATURDAY 8th August
.
Only You (1994) Movie Mix 9:10am-11:30am (2 hours 20 minutes)
A woman who was once told the identity of the person she would marry in a childhood Ouija board game is astounded when a man with the same name calls her on the eve of her wedding. After promptly dumping her dull fiance, she follows the stranger to Italy in the hope of convincing him they are meant to be together. Romantic comedy, with Marisa Tomei, Robert Downey Jr, Bonnie Hunt, Fisher Stevens and Billy Zane.
Police Academy 3: Back in Training (1986) ITV4 12:10pm-1:55pm (1 hour 45 minutes)
Facing closure from cutbacks in public spending and competition from a more successful academy, the police training school calls on its bungling graduates to act as instructors and make good officers out of a bunch of new recruits even more incompetent than they are. Comedy sequel, starring Steve Guttenberg, Bubba Smith, Michael Winslow and Art Metrano.
The Mummy Returns (2001) ITV2 4:40pm-7:05pm (2 hours 25 minutes)
Married explorers Rick and Evelyn battle the newly resurrected mummy Imhotep and his ruthless partner, who have captured their son. The undead creature is heading for a confrontation with a legendary ancient warrior – with power over a magical army to be won. Fantasy adventure sequel, starring Brendan Fraser, Rachel Weisz, John Hannah, Arnold Vosloo, Oded Fehr and Patricia Velasquez, with a brief appearance by Dwayne Johnson.
Fun Fact: London's Tower Bridge was closed to allow for filming. They were allowed to close it for 20 minutes at a time, but the resulting traffic jam after the first time brought threats of arrest from Scotland Yard and a reduced closing time of 10 minutes.
Indiana Jones and the Temple of Doom (1984) BBC1 London 6:25pm-8:15pm (1 hour 50 minutes)
The intrepid archaeologist, with his young sidekick and a nightclub singer in tow, is stranded in India, where he takes on a mission to recover magical sacred stones from the hands of an evil cult engaged in human sacrifice and child slavery. Steven Spielberg's action adventure, starring Harrison Ford, Kate Capshaw, Ke Huy Quan and Amrish Puri.
Live and Let Die (1973) ITV4 6:25pm-9:00pm (2 hours 35 minutes)
James Bond's investigation into the murder of three British agents leads him to a connection between the dictator of a Caribbean island and a notorious Harlem drug kingpin – along with a plot to flood America with limitless supplies of free heroin. Spy adventure, with Roger Moore in his first appearance as 007, alongside Yaphet Kotto and Jane Seymour.
Iron Man (2008) Film4 6:35pm-9:00pm (2 hours 25 minutes)
Arms manufacturer Tony Stark is taken hostage by a terrorist group and realises the weapons his company build have been falling into the wrong hands. Using his engineering skills to construct a hi-tech armoured suit, he manages to escape and then puts the technology to good use in the fight against evil around the world. Superhero adventure, starring Robert Downey Jr, Jeff Bridges, Gwyneth Paltrow and Terrence Howard.
The A-Team (2010) Channel 4 9:00pm-11:25pm (2 hours 25 minutes)
Four soldiers are sent on a top-secret mission in Iraq that results in them being imprisoned for a crime they did not commit. When they learn the culprit is trying to sell equipment for producing fake currency, they break out of prison to find both him and evidence of their innocence. Action adventure based on the 1980s TV series, with Liam Neeson, Bradley Cooper, Sharlto Copley and Quinton `Rampage' Jackson.
Octopussy (1983) ITV4 9:00pm-11:40pm (2 hours 40 minutes)
James Bond investigates the mysterious death of a British agent in East Berlin, a mission that leads him to a glamorous, international jewel thief. He discovers one of her criminal cohorts, an Indian gangster, is in league with a crazed Soviet general who plans to heat up the Cold War by detonating a nuclear bomb in an American Air Force Base. Spy adventure, with Roger Moore, Maud Adams, Steven Berkoff and Louis Jourdan.
Rambo (2008) Spike 10:00pm-11:40pm (1 hour 40 minutes)
The bandana-wearing one-man army has turned his back on violence to live a quiet life in Thailand. But before long he takes up arms once again to rescue a party of missionaries who have been taken captive en route to Burma by a sadistic military officer. Action sequel, directed by and starring Sylvester Stallone. With Julie Benz and Graham McTavish.
The Matrix (1999) ITV2 11:50pm-2:30am (2 hours 40 minutes)
A computer hacker discovers the world around him is nothing more than a virtual-reality fantasy created by malevolent living machines. Entering the devastated real world, he joins freedom fighters risking their lives to bring the truth out into the open and liberate the human race. Sci-fi action thriller, starring Keanu Reeves, Laurence Fishburne, Carrie-Anne Moss and Hugo Weaving.
SUNDAY 9th August
.
Legally Blonde (2001) 5* 1:30pm-3:30pm (2 hours)
A seemingly dizzy teenager is heartbroken when her boyfriend dumps her because he thinks she is not intelligent enough to help his political career. To prove him wrong she enrols at Harvard, but finds herself out of her depth as other students do their best to humiliate her. Comedy, starring Reese Witherspoon, Luke Wilson, Selma Blair, Matthew Davis and Victor Garber.
My Neighbour Totoro (1988) Film4 2:55pm-4:40pm (1 hour 45 minutes)
Two sisters move to a new home in the countryside when their mother is taken ill. They are thrilled to discover the house is next to an enchanted forest, and befriending the eldest and wisest of the strange magical creatures dwelling there. Animated fantasy from Spirited Away director Hayao Miyazaki, with the voices of Dakota and Elle Fanning.
Never Say Never Again (1983) ITV London 3:25pm-6:00pm (2 hours 35 minutes)
James Bond investigates the hijacking of two American nuclear warheads and tracks the stolen missiles to the Bahamas, where a sinister millionaire working for criminal organisation Spectre is planning to hold the world to ransom. Action adventure, starring Sean Connery, Klaus Maria Brandauer, Kim Basinger, Max von Sydow and Barbara Carrera.
Planet of the Apes (2001) 5* 3:30pm-6:00pm (2 hours 30 minutes)
An astronaut crash-lands on a strange planet and is captured and enslaved by the ruling race of highly intelligent apes. Luckily, he is helped by a sympathetic chimpanzee – but then discovers a shocking secret. Remake of the 1960s sci-fi adventure, directed by Tim Burton and starring Mark Wahlberg, Helena Bonham Carter and Tim Roth, and featuring a cameo appearance from the original film's star Charlton Heston.
Fun Fact: Mark Wahlberg joined the film after meeting with Tim Burton for only five minutes. He was so anxious to work with the director that he agreed to play any part. Wahlberg dropped out of the role of Linus in Ocean's Eleven (2001) to do this film.
Star Trek V: The Final Frontier (1989) Syfy 5:50pm-8:00pm (2 hours 10 minutes)
The Starship Enterprise races to the rescue of intergalactic ambassadors held hostage on a distant planet. The crisis proves to be the handiwork of a renegade Vulcan mystic who kidnaps Captain Kirk and his crew, ordering them to fly to an unexplored world where he hopes to fulfil his insane ambition – to meet God. Sci-fi adventure, written, directed by and starring William Shatner, with Leonard Nimoy, DeForest Kelley and David Warner.
The Amazing Spider-Man (2012) ITV2 6:15pm-9:00pm (2 hours 45 minutes)
A gifted teenager investigates his dead parents' past, leading to a mysterious corporation and an incident that leaves him with superhuman powers. A personal tragedy drives him to use his abilities to fight crime, and he soon faces a scientist colleague of his father, who has undergone a deadly transformation of his own. Superhero adventure reboot, starring Andrew Garfield, Emma Stone and Rhys Ifans.
Whatever you're up to this weekend, make sure you look both ways and remember that eating spaghetti with a white t-shirt on is a very dangerous game.
xoxo
Can you believe it! One of the most-loved and iconic retro TV shows ever to hit the small screen (and now big screen!) first helicopter stunted, car chased and exploded its way into our lives way back in 1983!


.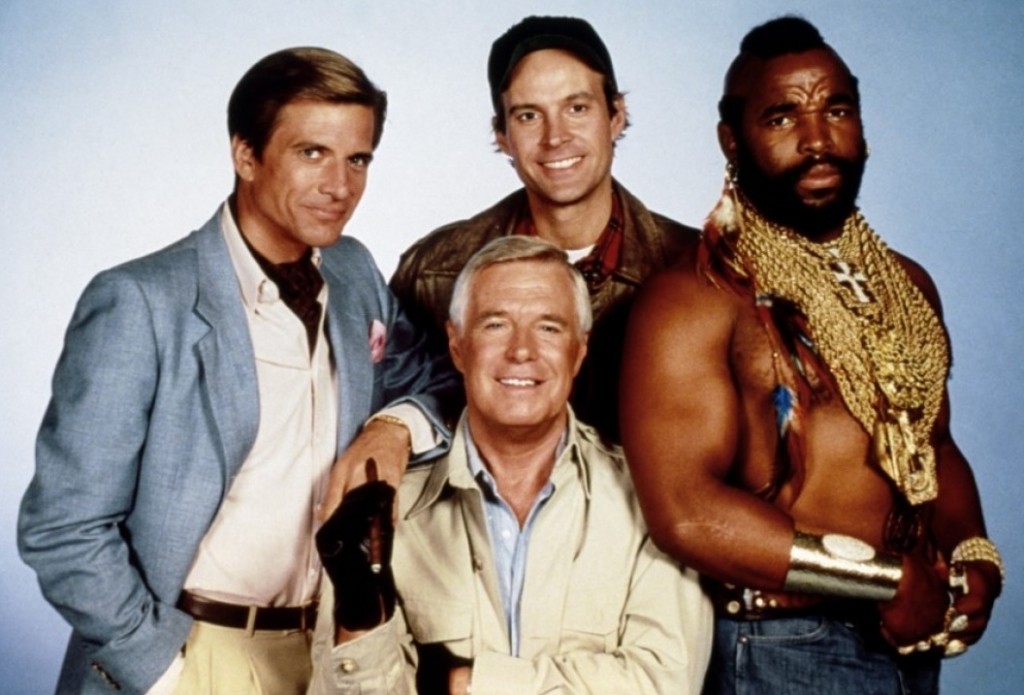 Following the story of a crack team of ex-special forces soldiers on the run from the military police for a crime they didn't commit but did, but didn't. Mr T (B. A. Baracus), Dirk Benedict (Face), George Peppard (Hannibal) and Dwight Schultz (Howling Mad Murdock) were mercenaries for hire and would find themselves in some of the most explosive situations possible helping innocent victims and people in need It was mega!

This real retro legend had everything you would ever need, a story of good vs evil, plenty of action and fights, catchphrases, the most amazing van ever made and of course the best opening titles EVER! Not that we're biased or anything

So! To help celebrate this 80s hero, we thought we would do some digging around ourselves and sniff out some of our favourite facts and trivia about the show and anyone who made it all possible. Sit back, take notes and enjoy our 32 facts about The A-Team!

1- In the opening credits, Dirk Benedict reacts to a passing metallic "Cylon warrior". Cylons were the nemesis in Benedict's earlier series, Battlestar Galactica (1978).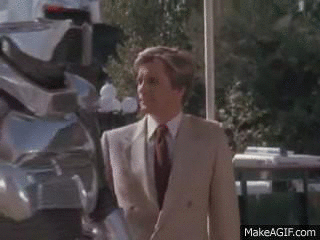 2- Guest stars of the show included; Dean Stockwell, Boy George, Hulk Hogan, Rick James, John Saxon, Isaac Hayes and Pat Sajak.
3- Although the show has been heavily criticised for its violence, people do not bleed or bruise when hit (though they might develop a limp or require a sling), nor do the members of the A-Team kill people.


.
4- Although he was their pilot on the Hanoi bank raid, Capt. H.M. "Howling Mad" Murdock was technically not part of the A-Team and was never hunted or tried by the military.


.
5- The gold that was worn by Mr. T during filming varied in weight, usually between 35 and 40 pounds or around 16kgs to you and us. Madness!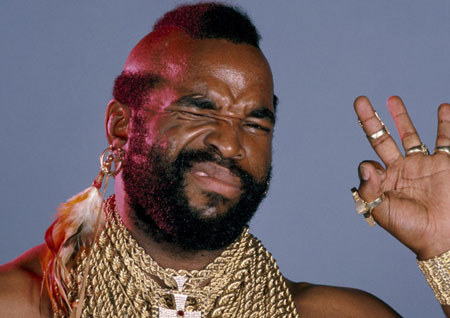 6- Amazingly, there are actually only two instances of anyone ever being hit by a bullet throughout the 98 episodes.


.
7- B.A Never Actually Says, "I pity the fool." This actually happens a lot with shows and films, "Beam me up Scotty", "play it again Sam" and even Breaking Bad's "Science Bi*ch" are never actually said in the shows. Weird huh! He did however say in in Rocky 3 when asked about the rematch. Great branding

8- The show suffered from a lot of continuity errors because of the iconic A-Team van, sometimes if had a sunroof, and other times (usually during stunts) it didn't.
- In the third season's "The Bells Of St. Mary's", in a scene where Face jumps from a building onto the roof of the van. There is clearly no sunroof. Moments later, in an interior studio shot, Face climbs in through the sunroof. Oooops!


.
9- While filming the fourth season premiere on a cruise ship, T had just suffered a loss in his family. Also the air-conditioner was annoying him. He had himself helicoptered off the set and phoned the producer with a list of demands, at which point he was "fired." But the two were able to work out their grievances and filming resumed.


.
10- The Spanish (Spain) version of the series has two significant changes with character nicknames. "Face" is called '"Fenix" and "B.A." Baracus is known as "M.A."


.
10- Amazingly, most of the episodes were filmed just five weeks before they aired.


.
11- The name A-Team comes from a military nickname which stood for Alpha team who move into action first, backed up by Bravo Team etc.


.
12- Hulk Hogan was actually asked to make more appearances in the show because he got on with George and Mt T so well but WWF commitments meant he couldn't do it.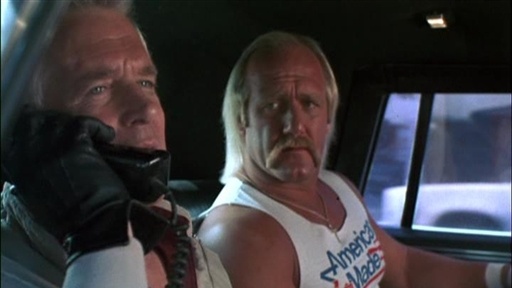 13- According to Stephen J. Cannell, the writers had a running gag where they would stage these horrific car crashes, but the people would come out unscathed. They would do this to test the limits of realism on purpose.


.
14- NBC executives originally wanted Murdock to be taken out of the show because they felt that he was too over-the-top. Test audiences for the pilot actually loved Murdock and gave him the highest ratings of all so the executives had to change their minds.


.
15- The A-Team's cool GMC van was not black and red, as commonly thought, but black, red and metallic grey.
16- Three cast members have prior U.S. military experience: George Peppard served in the Marines, while Eddie Velez served in the Air Force, and Mr. T was an MP in the U.S. Army.


.
17- The crime the team didn't commit was that their commanding officer in Vietnam, Colonel Morrison, ordered them to rob the Bank of Hanoi. The hope was that this would help bring the war to an end. The mission was successful, but when they returned to headquarters, the A-Team found it burned to the ground, and that Morrison was murdered by the Viet Cong.


.
18- The show's producer Stephen Cannell was fired from ABC in the early 1980s, after failing to produce a hit show for the network. He was then hired by NBC and his first project was The A-Team!


.
18- The first regular episode which was aired on January 30, 1983, reached 26.4% of the TV audience.


.
19- The show ran for a total of 98 episodes from 1983 to 1986.


.
20- Laurence Tureaud's role as Mr T was actually written for him rather than him being cast as a character.


.
21- Marvel Comics produced a three-issue A-Team comic book series, which was later reprinted as a trade paperback.
22- The iconic and instantly recognisable theme tune was written by Mike Post and Pete Carpenter who separately also wrote the theme songs for; Quantum Leap, Magnum, P.I., Bewitched, Law & Order, NYPD Blue and more. Also winning Grammy's!


.
23- During its time, The A-Team was nominated for 3 Emmy Awards: In 1983 (Outstanding Film Sound Mixing for a Series) for the pilot episode, in 1984 (Outstanding Film Sound Mixing for a Series) for the episode "When You Comin' Back, Range Rider?" and in 1987 (Outstanding Sound Editing for a Series) for the episode "Firing Line".


.
24- The voice during the intro was actually the shows producer (seasons 1-4) John Ashley.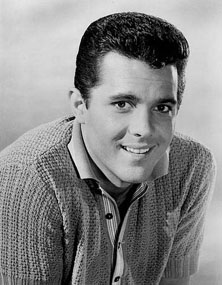 25- Mr. T and George Peppard did not get along very well on the set. Peppard didn't like that Mr.T became the 'star' of the show and also discovered that he was being paid more than him too. According to Dirk Benedict, George refused to talk to Mr. T and would use Benedict as a messenger between them. Eeeeek!


.
26- Tim Dunigan actually played Face in the pilot for the show but was later dropped because he looked too young on camera to be considered a war vet.


.
27- Melinda Culea was fired from the series over 'creative differences' with the producers. Culea wanted to have more lines, and be more involved in the fight scenes. The other cast member always made it clear they didn't want a female in the show as a distraction.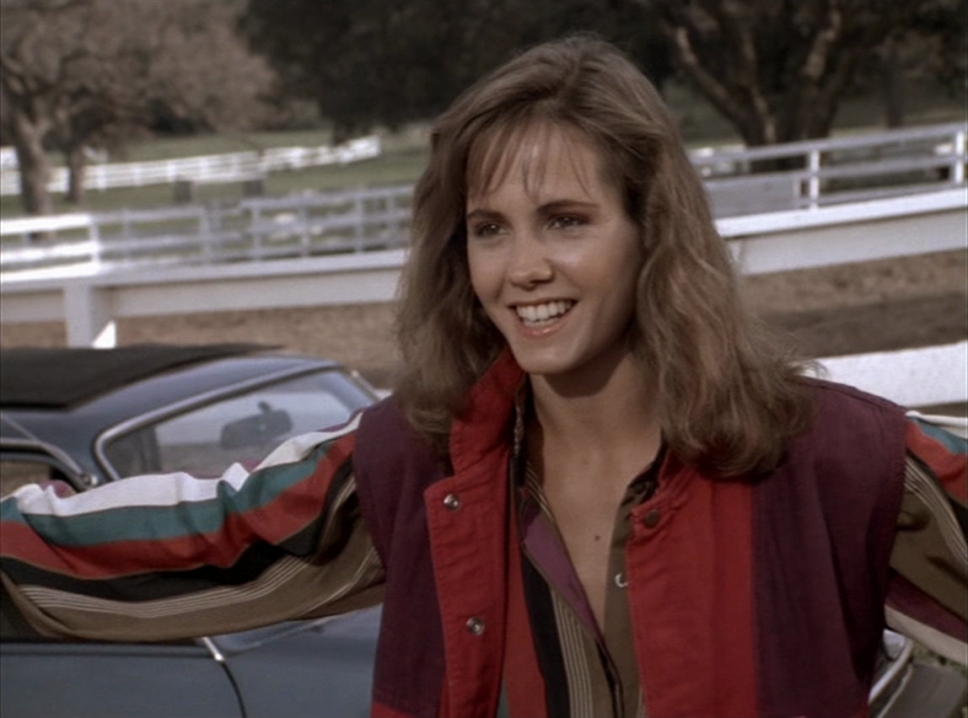 28- According to Dirk Benedict, Robert Vaughn was added to the cast in the fifth season because he was a long time friend of George Peppard's and it was believed that he could ease the tensions between Peppard and Mr. T.
29- "Howling Mad" Murdock's real first name is never really revealed throughout the series.


.
30- George Peppard was kicked off the game show Password Plus for fighting with and shouting at the producers while the cameras were rolling. Bad*ss


.
31- Better late than never, the B in B.B Baracus stands for Bosco….but he likes to think it's Bad Attitude. Oh and the A stood for Albert.


.
32- After four years on Tuesday, NBC decided to move The A-Team to a new time slot on Friday for what would be its final season. Ratings continued to drop, and after seven episodes, The A-Team fell out of the top 50 altogether. Booo!


.
So there you have them folks! Sooooo much to take in but hopefully there are a few gems in there that you might not have known.

Did you love the show too? Why not take a quick peep at some of our range of cool Mr T merchandise including Mr Tea Teapot, Mr T Fancy Dress Costume, or Mr T mugs!

See you there!

xoxo
Captain Blackbeard! The weekend is in sight and we're ready for docking!
With a strong and able crew at the ready, we're setting sail into the vast emptiness of the oceans. With the great gusts fulling our sales fit to burst, we'll be heading straight into the weekend with a song in our heart and the thought of the great treasure to be found in our minds. We'll take no prisoners on our quest for retro movie greatness, only pausing to gaze of the magnificent celluloid wonder that spills out of the stuffed chests.
Have a happy retro weekend!
SATURDAY 17th January
.
The Secret of My Success (1987) ITV London 2:35pm-4:35pm (2 hours)
A naive country boy travels to New York to make his fortune, only to end up working in a corporation's mail room. He chances on a vacant office and hatches a plan to pass himself off as a top-ranking executive, but leading a double life proves harder than expected. Comedy, starring Michael J Fox, Helen Slater, Richard Jordan and Fred Gwynne.

Fun Fact: Michael J. Fox was, at the time this movie was filmed, a heavy cigarette smoker. Evidence of this is noticeable when his character Brantley (a non-smoker) puts his feet up on the desk and reveals dozens of burn marks from extinguishing cigarettes with his shoe.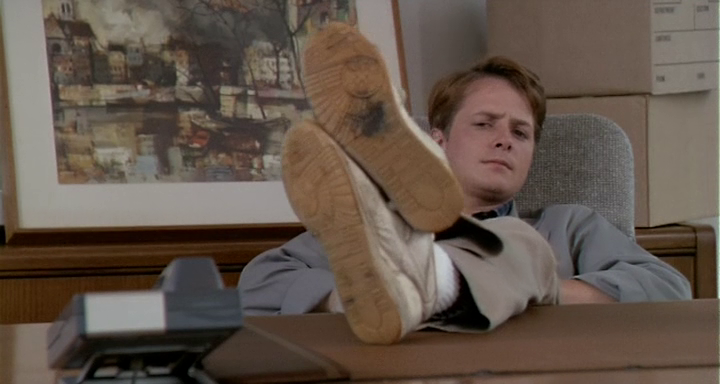 Top Gun (1986) Film4 6:50pm-9:00pm (2 hours 10 minutes)
An arrogant pilot's maverick flying skills earn him a place in an elite US Navy school, where he comes into conflict with a fellow student and falls for his civilian instructor. A tragedy in the air threatens to end his military career – until an international incident offers him a chance to redeem himself. Aerial action adventure, starring Tom Cruise, Kelly McGillis, Val Kilmer, Anthony Edwards and Tom Skerritt.
Rocky III (1982) 5USA 7:00pm-9:00pm (2 hours)
World heavyweight boxing champion Rocky Balboa settles down into a life of luxury – but a cloud appears on the horizon in the shape of ambitious contender Clubber Lang, whose brutal fighting style represents a serious threat to his title. Drama, starring Sylvester Stallone, Mr T, Burgess Meredith, Talia Shire, Burt Young, Carl Weathers and Hulk Hogan.
Bill & Ted's Bogus Journey (1991) ITV4 8:10pm-10:00pm (1 hour 50 minutes)
The would-be heavy metal superstars face the Grim Reaper as they try to reclaim their souls from Hell, return to the land of the living and stop their robot doppelgangers from changing history. Along the way, they must also master their instruments, so they can triumph at the Battle of the Bands. Comedy sequel, starring Keanu Reeves, Alex Winter, William Sadler, Joss Ackland and George Carlin.
Forrest Gump (1994) Viva 9:00pm-12:00am (3 hours )
A slow-witted man has a series of bizarre adventures, including becoming an American football star, Vietnam veteran, table tennis champion and millionaire businessman – but the love of his life from childhood continues to elude him. Robert Zemeckis's Oscar-winning comedy drama, starring Tom Hanks, Sally Field, Robin Wright and Gary Sinise.
Apocalypse Now (1979) ITV4 11:00pm-1:55am (2 hours 55 minutes)
An army captain is sent on a top-secret mission into Cambodia, where his goal is to find and assassinate a renegade colonel who has gone insane and is worshipped by his followers as a god. However, as his patrol boat journeys further upriver, the conflict and disarray surrounding him becomes increasingly disturbing and nightmarish. Francis Ford Coppola's Vietnam War drama, starring Martin Sheen, Marlon Brando and Robert Duvall.
SUNDAY 18th January
.
Patch Adams (1998) 5* 1:00pm-3:25pm (2 hours 25 minutes)
A talented student doctor turns the medical community upside down with his offbeat views about the healing power of laughter. His methods provoke outrage and intense debate among his professors – but his extrovert nature brightens the lives of all kinds of patients. Comedy drama, starring Robin Williams, Monica Potter, Daniel London, Bob Gunton and Philip Seymour Hoffman.
Teen Wolf (1985) Syfy 1:00pm-3:00pm (2 hours)
A teenage misfit is initially dismayed to learn he is a werewolf as a result of a hereditary curse. He finds there are advantages as he becomes a local celebrity, while his enhanced agility makes him the star player of his school's basketball team – but fame quickly goes to his head. Comedy, starring Michael J Fox, James Hampton and Susan Ursitti.
Homeward Bound: The Incredible Journey (1993) ITV2 3:20pm-5:05pm (1 hour 45 minutes)
Two dogs and a cat are left in the temporary care of a friend when their owners are forced to move away. Thinking they have been abandoned, the trio hit the road in a bid to find their way home. Adventure, featuring the voices of Michael J Fox, Sally Field and Don Ameche. Kim Greist, Robert Hays and Benj Thall take the human roles.
Live and Let Die (1973) ITV London 4:00pm-6:20pm (2 hours 20 minutes)
James Bond's investigation into the murder of three British agents leads him to a connection between the dictator of a Caribbean island and a notorious Harlem drug kingpin – along with a plot to flood America with limitless supplies of free heroin. Spy adventure, with Roger Moore in his first appearance as 007, alongside Yaphet Kotto and Jane Seymour.
Fun Fact: Roger Moore suffered an injury during the boat chase. The engine cut out and the momentum carried him into a boathouse. He cracked some of his front teeth and twisted his knee. He had to walk on a cane for days afterward, but he was still able to complete the scene because all he had to do was sit in the boat.
Jurassic Park III (2001) ITV2 7:15pm-9:00pm (1 hour 45 minutes)
Palaeontologist Dr Alan Grant is lured to a dinosaur-infested island by a divorced couple who offer to fund his research, unaware their real motive is to find their missing son – and that the creatures on the island are far more intelligent than anyone suspected. Action adventure sequel, starring Sam Neill, William H Macy, Tea Leoni and Alessandro Nivola.
Transformers (2007) E4 8:00pm-10:50pm (2 hours 50 minutes)
Teenager Sam Witwicky is treated to his first car by his dad, but it turns out to be an alien scout with a life of its own. Before long, the vehicle embroils Sam in a long-running intergalactic war between two factions of giant shape-changing robots, which have come to Earth to find a mystical cube that grants infinite power to its possessor. Michael Bay's sci-fi action adventure, inspired by the toy franchise, with Shia LaBeouf, Megan Fox, Josh Duhamel, Jon Voight and John Turturro.
Whatever you're up to this weekend, make sure you always remember to shut the window and get to the cinema on time so you don't have to sit at the front…
xoxo