Pink Floyd
New year is all about looking ahead and thinking what the next year could possibly have in store for us, be it in our personal lives or maybe just what amazing new music, movies and TV shows will change our lives and have us thinking….how did we live before this?!? What did we listen to or watch??
Just for a cheeky change and to add some extra little reminder that you now need to write 2014 and not 2013 on everything (it can take us a wee while) we thought we would take a look back at what we were loving a massive 20 years ago now and perhaps scare ourselves a little at how not long ago that really feels!

Yep this year, if you haven't already realised, all the albums that were released back in 1994 will be turning a milestone 20 years old!! Can you believe it?! It was a truly great time for music with so many bands we still love now first hitting the scene and of course some others we'd much rather forget.

With an almost disbelief and slight feeling of our age now, we thought we would take a quick look back to remind ourselves what was hot back then and what classics have been with us for two decades now (sorry). Enjoy!

Weezer – Weezer (Blue Album)

Their debut studio album which included some songs you might remember such as "Undone – The Sweater Song", "Buddy Holly", and "Say It Ain't So", this amazing album really launched them into big mainstream success but sadly only reach the number 23 spot in the UK charts. For shame!
Green Day – Dookie
Featuring pop punk classic "When I Come Around", "Basket Case" and "Welcome to Paradise", this was the third album from punk rock giants Green Day. As of 2013, Dookie is named the band's best-selling album, with more than 20 million copies sold worldwide and has picked up wards such as a Grammy Award for Best Alternative Music Album in 1995. Not bad huh!
Pink Floyd – The Division Bell
Reaching the number one spot in the the UK and USA, this fourteenth and final studio album from prog rockers Pink Floyd also sparked their tour which took them right up to late October. Key tracks included "High Hopes" / "Keep Talking" and "Take it Back". Even if you didn't know the album, you'll certainly know the cover!
Beastie Boys – Ill Communication
Their fourth album to hit the scene, it was their second #1 album on the Billboard charts thanks largely to their amazing hit we all know "Sabotage" – the one with the amazing 70s cops style video. Classic huh! As well as another of our faves "Get It Together".
Pavement – Crooked Rain, Crooked Rain
Ranked at number ten in Rolling Stone Magazine's best albums of the nineties, this second studio album reached an impressive number 15 in the UK charts and saw the band find a more classic rock sound and style. Key singles included "Haunt You Down", "Cut Your Hair" and "Gold Soundz". As always, it's packed with great lyrics and melodies. Very cool!
Oasis – Definitely Maybe
That's right folks! Yep the band's debut album was released back in August 1994! How old do you feel now?

Shooting straight to the number one UK spot, at the time it was the fastest felling debut album ever and launched them into amazing new heights selling more than 15 million copies worldwide. Possibly one of the defining albums of the 90s, it's certainly one of our faves!
Blur – Park Life
The third studio album by the English alternative rock band, Parklife returned Blur to prominence in the UK. This is a real cult album and has come to define the Britpop movement in the 90s and influences in music can still be heard today. If you were cool in the 90s, you had this album!
Portishead – Dummy
This debut album from Bristol based group hit the charts taking an impressive number 2 spot in the UK and also went on to win the 1995 Mercury Music Prize! Dummy helped to cement the reputation of Bristol as the capital of trip hop, a nascent genre which was then often referred to simply as "the Bristol sound"
Soundgarden – Superunknown
Widely considered the bands breakthrough album, their fourth record sold an amazing 310,000 copies in its opening week and reached high positions on charts worldwide. Picking up Grammy awards along the way, this launched them into mainstream success and still remains their most successful album ever.

What do you think? Did we miss any of your faves or would you like to simply share your own memories of these amazing bands and albums? Let us know by leaving a comment below.
Hungry for more? Don't forget to checkout our amazing range of band t-shirts featuring some of the very bands listed and so much more! See you there

We are very proud to reveal our hot new selection of Music T-Shirts that are new in this week!  These cool tees are perfect to show your love and admiration for your favourite singers and bands, and boy do we have a diverse selection of artists for you!
We've got Bruce Springsteen rubbing shoulders with Elvis, Eminem partying with PSY and Joy Division hanging with Led Zeppelin, there really is something for everyone!  So, have a browse of these new funky T-Shirts and let us know what you think!
Yep! We're singing the song now…damn you Bruce and your catchy tunes! We absolutely love a bit of Springsteen and who could blame us?! Celebrate his most famous hit with this amazing 'Born in the USA' t-shirt.
We love the vintage feel of this cool Elvis fab poster design. Blue Hawaii was a romantic musical comedy movie starring Elvis from way back in 1961. The soundtrack included the classic, I Can't Help Falling In Love.
Any fan of the Eagles will love this bold tee flaunting their appreciation! Featuring artwork from the cover of this awesome song – once described by the band as a interpretation of the high life in Los Angeles…Rock on!
Formed 1984, Soundgarden a pretty flippin cool rock band from the States. This tee features a Badmotorfinger print, this was their third album, released in 1991 featuring tracks such as Rusty Cage, Outshined and Slaves and Bulldozers.
Ok so PSY can't really be classed as retro, but his track Gangnam Style cannot be denied as being cult! Go on admit it, you've probably had a little boogie to this guilty pleasure on a night out! Don't be shy, wear it loud and proud!
Cover your ears, this is a bit of a cheeky one! Paying homage to Stiff records, this tongue in cheek design is a celebration of all things Punk rock! With names like Elvis Costello, The Damned and Ian Dury under their belt, they must know a thing or two about good music. If you share their good taste this tee is a must have for your collection!
Public Enemy are known for their politically charged lyrics and criticism of the American media, with an active interest in the frustrations and concerns of the African American community. Security of the First World, now S1W are part of Public Enemy, and began as a security organization in Roosevelt, New York where they provided security at hip hop parties during the mid 80s. The organization was headed by Professor Griff and they were known for their aggressively militant stage presence because they would wear black military uniforms and carry Uzi submachine guns while performing. Chuck D of Public Enemy explains that the Uzis were a symbolic reaction to perceived European oppression of black people. This is a classic tee featuring the target logo is a fab way to show your appreciation for the group.
Eminem has been pictured many a time flashing the bird, he's also from Detroit, I think that pretty much explains this tee!
Born and bred in the UK, they definitely gave us something to be proud of. This iconic Led Zeppelin T-Shirt is a nod to the bands impact on the music we listen to today, a real must have for Zeppelin fans.
All the tees so far have been just for the guys, but we've had a couple of very cool music tees exclusively for the ladies as well which I'll reveal now!
Oink Oink!  What an awesome Rock and Roll mascot! Pink Floyd are famous for their live shows, which always contains the use of these loveable creatures! Show off some quirky appreciation with this amazing music tshirt, a must have for any fan.
Pay tribute to the short-lived but legendary Joy Division with this edgy rock vest. Using the original album artwork for their debut, Unknown Pleasures, this premium top has a real vintage look, you could misplace for an authentic 1979 find!
We hope you love this new selection as much as we do!
As you may or may not know, we really lurrrve working with blogs and bloggers who really help us to showcase our designs by taking something from the site and transforming it into something simply amazing of their own! Each blogger has their own style, ideas and of course personality which is so great for us as we can see just how you guys might style up our creations and really express yourslves.
One thing we've learnt over our many experiences with some simply amazing fashion bloggers is just how versatile a humble tee shirt is! We've seen designs look as just at home in a rocky/ grunge look as they are in a more geektastic style. We're always amazed at just how people with a keen eye see our designs and the looks they can create around them.
To show you guys just what we mean, we thought we would take a quick look back and showcase some of our latest blog features. Let's dive in!
Amy has got an splendid sense of style and we love the rock chick vibe she pulls together with our awesome Joy Division t-shirt, leather skirt, top knot and sunnies on her blog, 'The Little Magpie'!
Olivia's blog 'What Olivia Did' delightfully focuses on fashion, style, beauty and general ramblings! Our Pink Floyd tee looks stunning with a tasselled, suede jacket, skinnies and fedora hat.
The amazing girlies Tara and Jade over at The Style Rawr certainly know their stuff! Jade recently turned our very own God Save the Princess of Power She-Ra T-Shirt into a punk rock masterpiece with an amazing studded leather jacket, tartan skirt and boots. Love!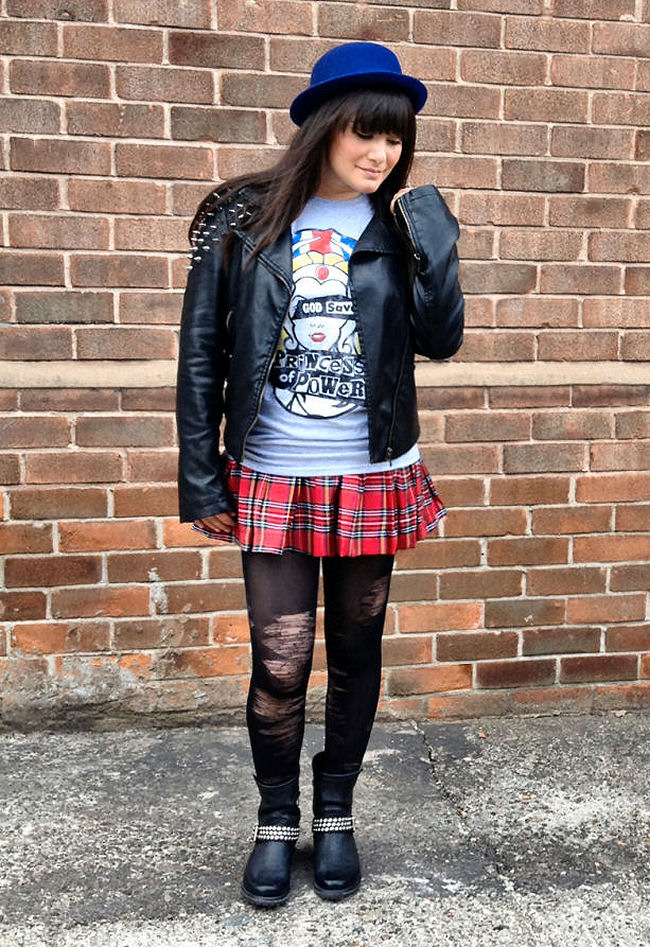 Fashion Journalism student and Editor Stephanie opted for our amazing Grease sweater inspired by the Rhydell High Chearleaders. Coupling this with some dark shorts, white collar top and of course…some classic black wayfarers, we really love this look.
Fashion blogger Gwen re-lived some amazing moments from Heaton Park with our Stone Roses I Wanna Be Adored T-Shirt from Amplified Vintage. Matching this amazing band tee with some blue skinny jeans, converse and gold watch, it's a simple classic style that will live on as long as rock n roll itself!
Aaaand that's all folks! Follow any of these blogs yourself? Or even run your own? If you're interested in featuring some TruffleShuffle on your own blog, let us know with a comment below or pop us an email on pr@truffleshuffle.co.uk and we can see what we can do.
Thanks!