We are getting in the Valentines spirit at Truffle Towers this week and have decided to run a Twitter Competition to get you all in the mood.
We have got a great selection of Valentines presents available to buy in time for your day of romance. Check out our awesome Valentines Gifts For Her and Valentines Gifts For Him sections and pick up the perfect gift today.
Twitter Competition: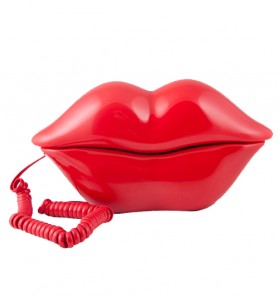 The Prize
"Pucker up and prepare for some serious gossiping 'cos you won't want to get off this amazingly retro lips telephone! In ravishing red, this really will add some vintage character and personality to your home! A great gift for chatterboxes too!"
Entry into the competition is really really simple. All you have to do is tweet the text below and you will be entered into a draw with a winner being picked at random from all the entries:
Join the @truffleshuffle_ Twitter contest to win a Retro Red Lips Telephone, Details: http://bit.ly/ezg8vd Prize: http://bit.ly/dUdRkG #tsvb
The competition will close at 4pm (GMT) on Thursday 10th February, so get your entry in ASAP.
Do I need to follow @TruffleShuffle_ on Twitter to be entered in the giveaway?
You do not have to follow us (
@TruffleShuffle_
) to be eligible for the giveaway. However, we will be announcing our winners and fulfilling prizes via Twitter and so following us will be helpful should you be selected as the winner. See "How will you contact the winners?" below.
How will you contact the winners?
We will announce each winner via our Twitter account (
@TruffleShuffle_
). In addition, we will attempt to contact each winner directly via Twitter. If the winner follows
@TruffleShuffle_
on Twitter, we will be able to send them a direct message. If the winner does not follow us, we will send them an @reply and ask them to follow us so that we can then direct message them. If we do not receive a response from a winner after a period of five business days or if for any reason we are unable to work out the details of fulfillment with a winner, we will select a new winner and begin the process again.