Warner Bros Animation have teamed up with Japanese animation company Studio 4°C (The people behind Batman: Gotham Knights & The Animatrix) to reboot the Thundercats series later this year.
If you don't remember the Thundercats from the first time round, it was a cheesy 80's cartoon that followed the adventures of a group of cat-like humanoid aliens and it was AWESOME. Here's pictures of the original and the revamped cast to jog your memory.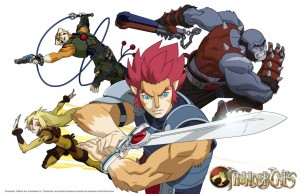 Cartoon Network are planning to show an initial 26 episodes and it marks Warner Bros. Animation's first ever anime series!
Check out the trailer and let us know what you think….
Here's what Warner Bros. Animation has to say about the revival:
Roaring to life through WBA and Studio4°C's use of the Japanese animated artistry of anime, "ThunderCats" characters Lion-O, Mumm-Ra, Panthro, Cheetara and others will spring off the screen with realistic cat-like characteristics inconceivable in previous incarnations.

The new "ThunderCats" will appeal to viewers who have loved the characters all their lives as well as young newcomers to the franchise. A sweeping tale combining swords and science and boasting ferocious battles with the highest of stakes, the grand origin story of Prince Lion-O's ascension to the throne – and of those who would thwart his destiny at any cost – takes on epic dimensions in this sharp new telling. As the forces of good and evil battle each other in the quest for the fabled Stones of Power, Lion-O and his champions learn valuable lessons of loyalty, honor and mortality in every episode.

Read more: http://weblogs.variety.com/on_the_air/2010/06/cartoon-network-and-warner-bros-revive-80s-toon-thundercats.html#ixzz1McdTL4KG
They haven't released much more info as yet but in our humble opinions and having watched the trailer, we reckon it looks set to have less cheese but more breasts! Never a bad thing 🙂
What do you guys think? Are you excited by the idea of Thundercats 2.0 or should it be left well alone? To be honest – the original was so damn good, it's going to be pretty tough to beat. Lets just hope they do one of our favourite cartoons justice!
**RANDOM FACT ALERT** – Larry Kenney the original voice of Lion-O in the 1980s series is now the voice of King Claudus, the father of Tygra & Lion-O!