My name is Bailey Douglas and I'm a year 10 student at Clevedon School. I chose to do work experience at www.TruffleShuffle.com because I do a lot of online shopping and I'm really interested in fashion so I wanted to see how things worked behind the scenes.
The team at TruffleShuffle planned lots of different tasks for me to do throughout the week and put me to work with lots of different members of staff so I could get a feel for every part of the business.
On Monday, I worked with the guys in the warehouse picking, packing, checking and shipping customer orders. The warehouse is really big and stacked with loads of t-shirts, hoodies and accessories. They have a very efficient system of getting the products to the customer and everything is very organised to make sure we don't make any mistakes.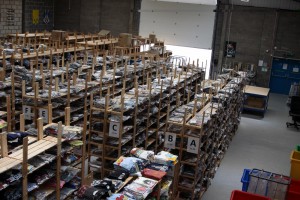 I took some pictures so you guys could see how everything works too.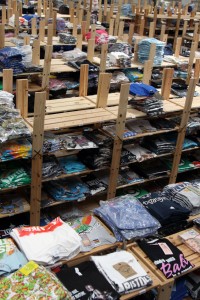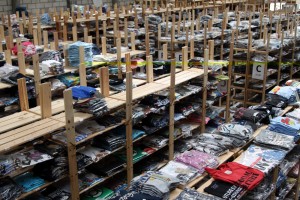 Every aisle has a letter and they're numbered and lettered so every T-Shirt has it's own spot. This makes it really easy to pick all of your orders and to make sure we always get the right item.
Monday is a really busy day for the warehouse as we have to get out all of the weekends orders ready to go for pickup at 5pm so I was kept really busy. It was a tiring day but really good to see how this part of the business works.
The guys who I was working with said at Christmas times, things get even busier and they have to work at double speed!
On Tuesday morning I was asked to spend some time on the website and write up a report for the Managing Director Claire with my ideas on how to improve the website. I had to spend lots of time on the site as well as TruffleShuffle's blog, facebook page and twitter page too. She wanted me to look at ways in which they could make it easier for their customers to browse and buy and then let her know my suggestions. I came up with ideas like introducing a 360 degree rotation view of the product which one of my favourite websites does which they said they're definitely going to look into. They also gave me £25 to buy anything on their site which was very kind of them so that I could test out the whole process for myself. I chose their I Heart The 80's T-Shirt and a pair of sunglasses too!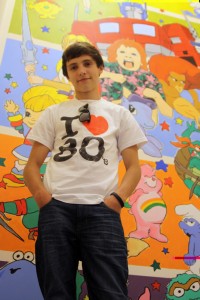 In the afternoon I worked with Amy who looks after all the customer service for the website and she showed me how to process refunds and exchanges which I then helped her with.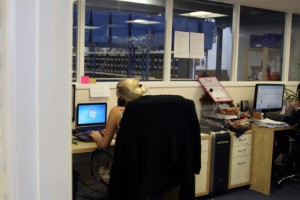 On Wednesday I worked with Si who works in design and marketing on one of the weekly TruffleShuffle newsletters.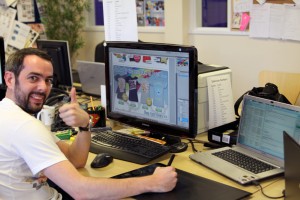 The buyers gave us a list of product they wanted us to include and we then came up with ideas of how we wanted everything to look. Most of the time was spent on Photoshop making the newsletter look approachable and stylish.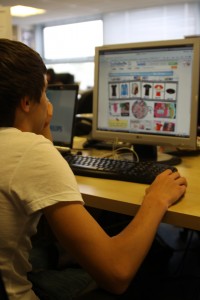 I helped with a lot of this and gave my opinion what else could be done in terms of advertising the products. One of the ways we chose to advertise the t-shirts was to make them look like they're hanging on a washing line which I think is quite creative. We also advertised the new Care Bears range and I chose the image which sat behind the T-Shirts. Over the duration of the day I developed a lot more Photoshop skills and it is quite rewarding to see what you have achieved when you've finished it. Here it is in case you're interested…

On Thursday morning, I worked with Amy again to update the TruffleShuffle press wall! They get a lot of press features and pictures of celebrities like Mollie King and Russell Brand wearing their T-Shirts which they display all around the offices so I was given the job of cutting out all the images, laminating them and displaying them.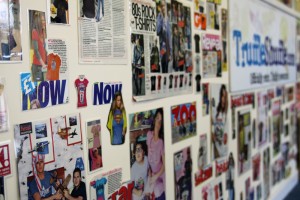 It looks really good!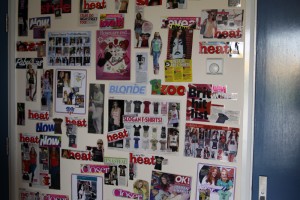 After I'd finished that, I was asked by the buyers and designers to do some transformers research. They're going to be working on a new range of Transformers designs over the next month so they wanted me to look into which characters were most popular, see what cool imagery I could find online and come up with any t-shirt designs I could think of to feedback to the team. I managed to find loads of stuff and they said they're going to let me know if they use anything in the range which will be really cool. In the afternoon,I carried on working with the same guys but this time, they gave me the task of putting together a mood board using pictures I found online and in magazines of T-Shirt designs, fonts and shapes that I like that can be inspirational for designing new products. This was quite a laid back and enjoyable task and I found lots of stuff which I thought they could use.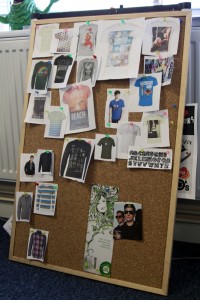 Last but not least, on Friday morning I finished off my mood-board and had to present it to Claire and Lucy which was a bit scary!I had to go through why I'd chosen the pictues I did and how I thought they could use them to inspire future designs. This was a new experience but it was good to do some presenting as they said this is something both they and their suppliers have to do a lot so it's a good skill to have.
My last task of the week was to write this blog to put on the website to show future work experience students what kinds of thing they can expect from working here. Overall, it's been a good experience and I have developed many new skills which I hope to be able to use in the future. I would definitely recommend doing work experience here!
Hope you enjoy my blog!