Before I started to guest blog for TruffleShuffle I was already a regular customer (some would say TS tees contributed to my current financial situation of 'not good') and owned more than a few t-shirts in my Wardrobe.
Amongst those tees were a few from the label 'Amplified' who have an amazing range of music t-shirts. As much as I love my fashion, I love my music more but if I can combine the two then why not! So when TruffleShuffle asked me to do my next post based on a 'Rock Chick' theme, I didn't have to think twice. And of course there was only one label that I was going to choose from…
Even though I will be the first to admit that I have the most random/eclectic taste in music (anything goes- within reason) one genre has to be a firm fave: Rock & Roll. It was tough choosing an Amplified tee as there are so many amazing tees to pick from but I really wanted one from the lyrics range. Unfortunately the ladies "I wanna be adored" Stone Roses tee was sold out but I wasn't upset for too long as the AC/DC "Back in Black" T Shirt wasn't!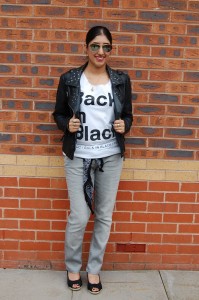 AC squiggly line DC's "Back in Black" is one of my favourite rock anthems ever. From the intro you are hooked. It's got everything a rock song should have in my opinion; epic guitar riffs, shouty vocals and catchy lyrics. This song definitely brings out the inner rock chick in me complete with air guitar and head banging.
My personal everyday style has a lot of rock influence so I found it pretty natural to style the tee. Taking inspiration from music videos from the early 80's & 90's (Madonna and Slash from Guns N Roses etc) to the modern day fashionistas such as Fearne Cotton, Kate Moss and Alice Dellal.
The t-shirt is actually quite long so in the first outfit photo I've folded it under to make it look shorter. One item every rock chick needs in her wardrobe is the biker jacket, guaranteed to give any outfit an edge. To inject slight colour into my outfit I opted for grey jeans instead of black. If only I owned some ripped stonewash jeans… (though my parents would not be impressed!) As it was such a nice day I chose black espadrille wedges, adding a bit of glamour to my look. My bandana scarf which I used as a makeshift belt is an ode to Guns N Roses front man Axl Rose…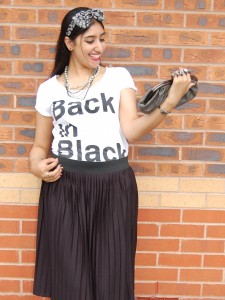 This next outfit shows that t-shirts like this one can be styled for the night time and not just for a casual daytime look. All I've done to glam my outfit up is to swap my jeans for this seasons 'it' skirt: the midi- in black of course. The rest of the look is down to its accessories. Skulls, eyelets, studs and chains add a tough yet glam vibe whilst red lips and black eyeliner polish the look off well. As you can see even a pair of heels couldn't stop me from rocking out in the garden… *air guitars*
After styling my "Back in Black" tee I got a tad carried away and dug out some of my other Amplified t-shirts which are still available to buy on TruffleShuffle. Next up was my Guns N Roses t-shirt.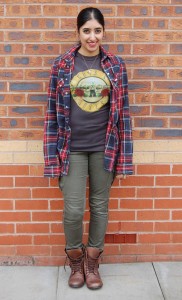 Not as rock & roll as the previous outfits, I wanted to give this one a grunge feel, so what better way to do that then to wear an oversized tartan shirt? Although I live in my black lace up boots (another wardrobe staple for a rock chick) I thought these brown boots complimented the khaki jeans and the worn out colour of the tee well. I think this has to be my favourite lazy day outfit. If grunge isn't as rock n roll for you then swap the shirt for your leathers and if you've got the legs then some denim cut-offs will transform this outfit to a super cool rock chick look that Kate Moss would be proud of…
And last but not least; the Rolling Stones T Shirt. I think EVERY wardrobe should have a Rolling Stones tee in it, not just any Stones tee but one with the famous lips and tongue logo.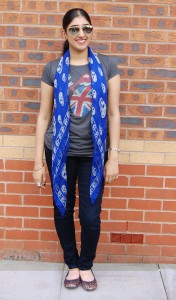 Luckily for us Amplified have a wide range of t-shirts and jumpers for you Rolling Stones fans. I absolutely love the fit of this t-shirt.
I've worn my t-shirt with some dark blue skinny jeans but I'm still searching for some red skinny jeans (that aren't too tight!) which would be perfect for this outfit. Leopard print is another way of injecting colour and a glam edge to any rock outfit hence the shoes. But my piece de resistance is my beautiful Alexander McQueen skull scarf, which lets face it adds rock n roll chic to any outfit.
Anyway all this talk of rock and roll has given me the sudden urge to throw a TV out the window! As some famous dude with big lips once sang "Its only rock and roll, but I like it…"
*puts air guitar down*