A few weeks ago, TruffleShuffle was contacted by the Bristol based charity, One25.
A small charity with big ambitions, their mission is to reach out to women trapped in street sex work, supporting them to break free and build new lives away from violence, poverty and addiction. One25 gives them the intensive support needed to step away from the streets: whether for crisis support with the help of their night van, an afternoon at their drop-in centre, or permanently with the help of one-to-one caseworkers and their new mother and baby home, Naomi House.
In order to continue their amazing work and help more vulnerable women and their families, One25 are running a brilliant fundraising campaign called 'Give it up for One25'… – a challenge for people to give something up for 125 hours OR 125 days from 4th November 2011 or 3rd March 2012 in return for sponsorship or donations to this amazing charity.
To help promote the campaign, they asked us whether we would help them to design and make their campaign tee which we were honoured to do! Our designer James worked with the One25 team to create a range of designs based round the charities logo and the 'Give It Up' theme. The charities facebook fans then chose their favourite and plumped for this design (good choice guys!)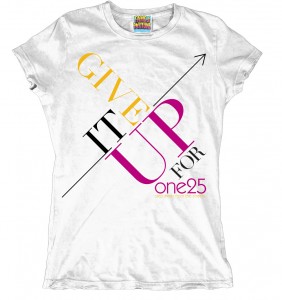 As well as designing the tee, the TruffleShuffle team will all be doing their best to give something up (hair straighteners, coffee, moaning and chocolate are some of the things we'll be sacrificing!) in order to help raise much needed funds for the charity! Our favourite though is One25 fundraiser Lu Willott who is giving up NOT wearing our campaign t-shirt! Yes, she'll be wearing it wherever she goes for four months, even on Christmas day and at a black-tie dinner! Good on you girl.
Anyone can take part in this fundraising event so if you guys fancy doing your bit and helping One25 reach out to even more women in need……
Step 1: Sign up by clicking here and telling One25 what you will be giving up and for how long.
Step 2: Give something up for 125 days starting 4th November 2011, or for 125 hours starting 4pm on 3rd March 2012.
How do I raise money?
Set up an online fundraising page here at JustGiving
Sponsorship: Send a link to your online page to everyone you know, with a plea for their support.
Savings: Donate onto your page what you would have spent on the thing you've given up. It'll soon build up!
And if you need a bit of extra persuasion, those who take part and raises a minimum of £125 will be invited to share in an intimate gig in Bristol with number one artist, Ed Sheeran!!!!!
YES! Number 1 selling album artist, Ed Sheeran, and one of his greatest musical inspirations, Luke Concannon (from Nizlopi), will be wrapping the whole campaign up in an exclusive concert. Tickets will be free for anyone who raises over £125 for the charity (subject to availability.) Yet another great reason to take part!
The charity approached Ed because many of the women they worked with strongly identified with his recent chart topping song, the A Team. They'd also heard Ed explaining in an interview that he'd written the song about a woman he'd met whilst volunteering in a London night shelter and they were delighted when he agreed to lend a hand.
Check out the One25 video of Ed telling you exactly why you too should take part in 'Give it up' and what he'd find the hardest give up for 125 days (apart from his guitar!)
He's even been spotted with the campaign tee….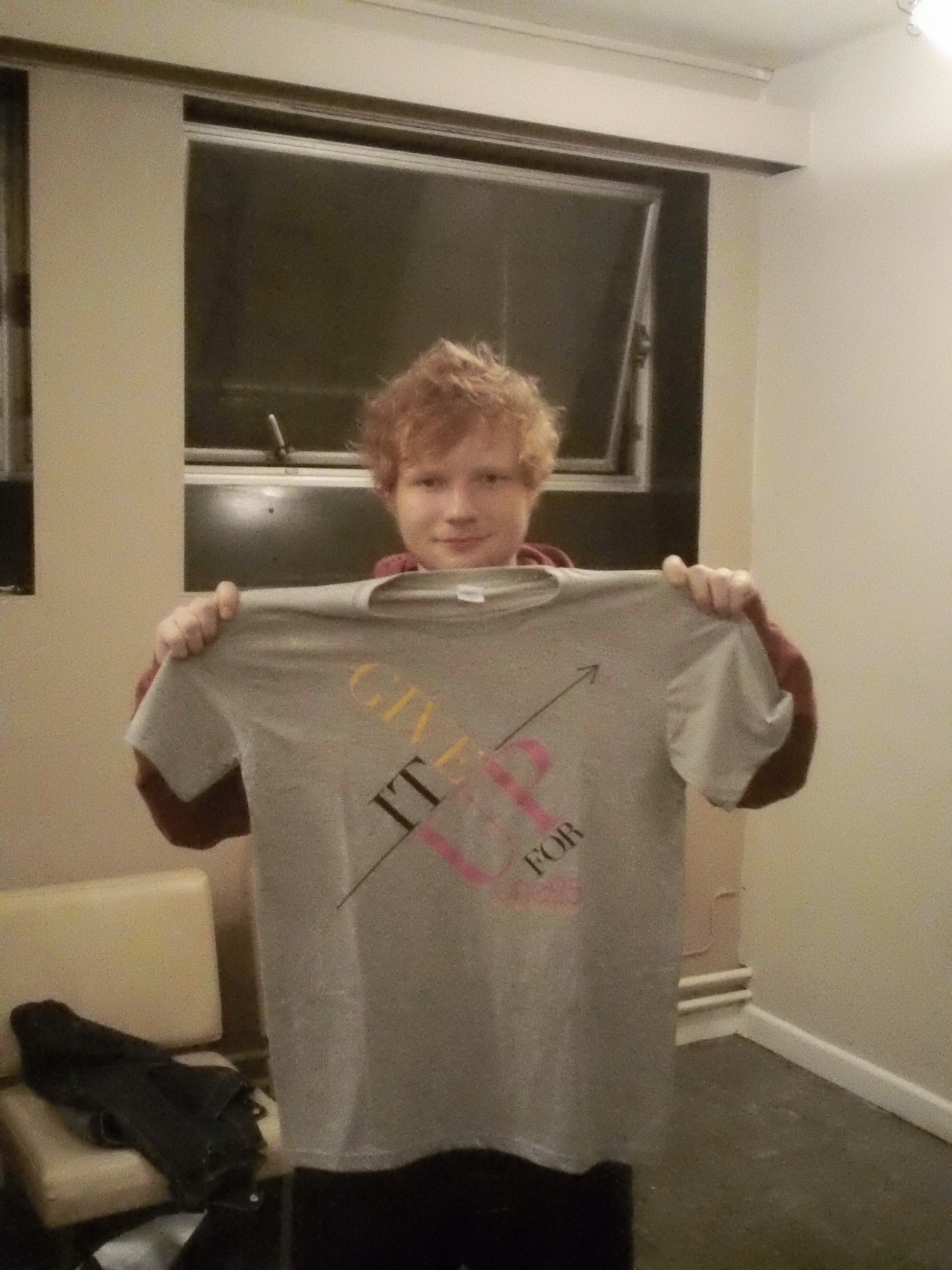 Considering he's just released his debut album and has a sold-out tour ahead, we figure if Ed can find the time to support a great charity in this way, anyone can!
To get involved in 'Give it up for One25′, register your pledge at: www.one25blog.com Money can be raised through collecting sponsorship, donating any savings made and imposing fines for breaking your pledge if you're feeling particularly charitable.
Or, you can get your Give it up for One25 tee for just £14 (including p+p) here!
Oh and while you're there, show your support for the One25 team by joining their Facebook page and following them on twitter!
Would be great to hear from anyone else planning to give something up for 125 – hopefully see you at the concert xoxoxo