Not only has Halloween crept up on us – but the end of the month is here too, which – at TruffleShuffle can only mean one thing: REVIEW OF THE MONTH!
As you may know we are running an extra special discount code for you lovely lot, so the warehouse boys have been extra busy picking orders – which means there should be goodies dropping through your letterbox over the next couple of days! All you have to do is add a review on the product page – telling us why you love your new TruffleShuffle item so much – we will then choose our favourite and award them £50 to spend on the site. It couldn't be easier!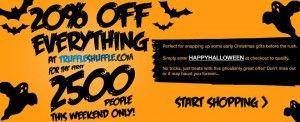 Last months winner Tia Gold, left us this glowing review of her first purchase with us…
'This was the first time I have used Truffle Shuffle, but it wont be last. I ordered the DJ Yoda t'shirt as a present for a Star Wars fan who also happens to be a DJ. He loved it and kept saying "Dance I will make you for the force is strong in me". Anyway, as a seasoned internet shopper I have to say that truffle Shuffle has one of the best customer services I have ever come across. I actually thought the force might be real when my items turned up on Saturday morning, as I'd only placed the order on Friday afternoon. Use again will I. Good are you!'
If you've recently bagged yourself one of our new Star Wars t-shirts why not follow Tia's lead and tell us why you love it so much…? In true 'TruffleShuffle' style we have extended the time you have to leave a review, meaning you have until Wednesday morning to review your favourite TruffleShuffle products. We also want to hear what Fancy Dress Costumes you guys donned this weekend (and what kind of reaction they got from fellow 80's enthusiasts!)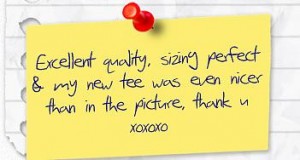 There's still time to take advantage of the discount code (by entering 'HAPPYHALLOWEEN' as you check out) – we will dispatch your order tomorrow, meaning it should be with you in the next couple of days.
We look forward to reading your reviews! xoxo