It's that time again! With the month of February approaching – we are on the lookout for Januarys Review of the Month.
We absolutely love hearing all about your TruffleShuffle experiences – how quickly your order arrived, what you ordered, how the t-shirt fits, and why you love it so much. It really couldn't be easier – all you have to do is find your newly purchased item on the site, and click to add a review. We will then choose our favourite, and award them £50 to spend on the site. Why not submit a review on a recent purchase and perhaps spend the winnings on your loved one for Valentines Day?
Our winner last month told us how much she loved her Casio and bagged herself some credit to purchase one of our amazing t-shirts, hoodies and accessories…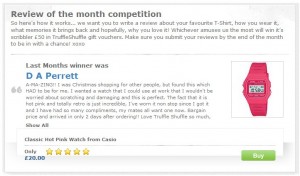 What other ways can you share your TruffleShuffle stories I hear you ask…? We have a fun filled Facebook page with nearly 40,000 fans – click here to become a fan and keep up to date with new ranges coming to the site, random 80's fun – and a Friday quiz which could see yourself landing £25 to spend on the site. We also have a bustling twitter page, which allows you to share just about anything with us! If you fancy yourself as a bit of a retweeter – make sure you follow us by clicking here  (we love hearing about your purchases and also love to see any pics you take while rocking your new goodies!)
Recently added to our social networking list is Tumblr! We have recently started 'Tumbling' lots of exciting products coming to the site, random fun 80's facts, celebrities spotted rocking their TruffleShuffle tees and pretty much anything we think you'll love.
Click here to follow us on Tumblr.
As mentioned – it couldn't be easier to add a review, for inspiration why not check out our Reviews Page? We will choose our favourite on the 2nd of February. Good luck TruffleShufflers! xoxo