Here at TruffleShuffle.com, we get regular emails from yummy mummies-to-be wanting to know whether we have a range of maternity tees to accommodate their growing bumps.
While we don't have a specific range of maternity wear as yet – thanks to a baby boom here at Truffle Towers – we've realised that tonnes of our Tees and Clothing work brilliantly even when you are pregnant so we couldn't resist giving you a sneak peek into the TruffleShuffle teams maternity wardrobe to give you guys some tips on how to make the most of all our amazing retro gear when you're pregnant!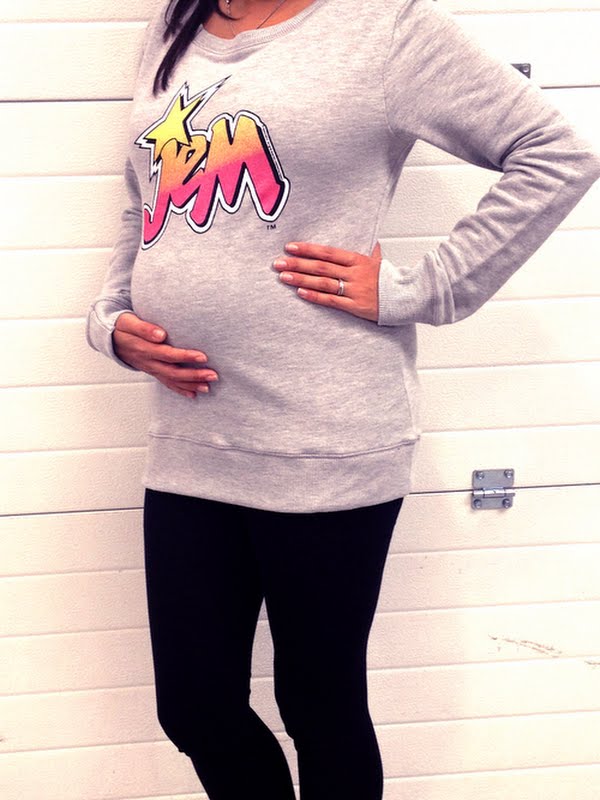 Our new range of fun and funky pullovers and sweaters are proving to be very popular maternity wear for the growing bumps in our offices. When it comes to shopping for maternity clothes, mums to be know that affordability, practicality and comfort are key and even at 6 months pregnant, I'm still finding my Jem pullover super comfy (it's composed of a super soft and stretchy cotton – ideal for wrapping around your sensitive tummy.)
I'm normally a UK size 10 so would usually buy a size small but by going for a size large, I reckon this will do me right through to the end of my pregnancy quite easily. They sit really nice and long on the body so there's lots of room to accommodate you as you grow and the best thing is – I know I'll still get loads of wear out of it when the baby is born because a girl can never have too many slouchy sweaters – in fact it will be perfect for layering when the winter months draw in!
With a huge range of fun prints on offer, shop our full range of retro pullovers here – all of which are available up to a UK size 20! Just remember – as you get further through your pregnancy you can always buy a size or two up from what you normally would to accommodate your growing bump!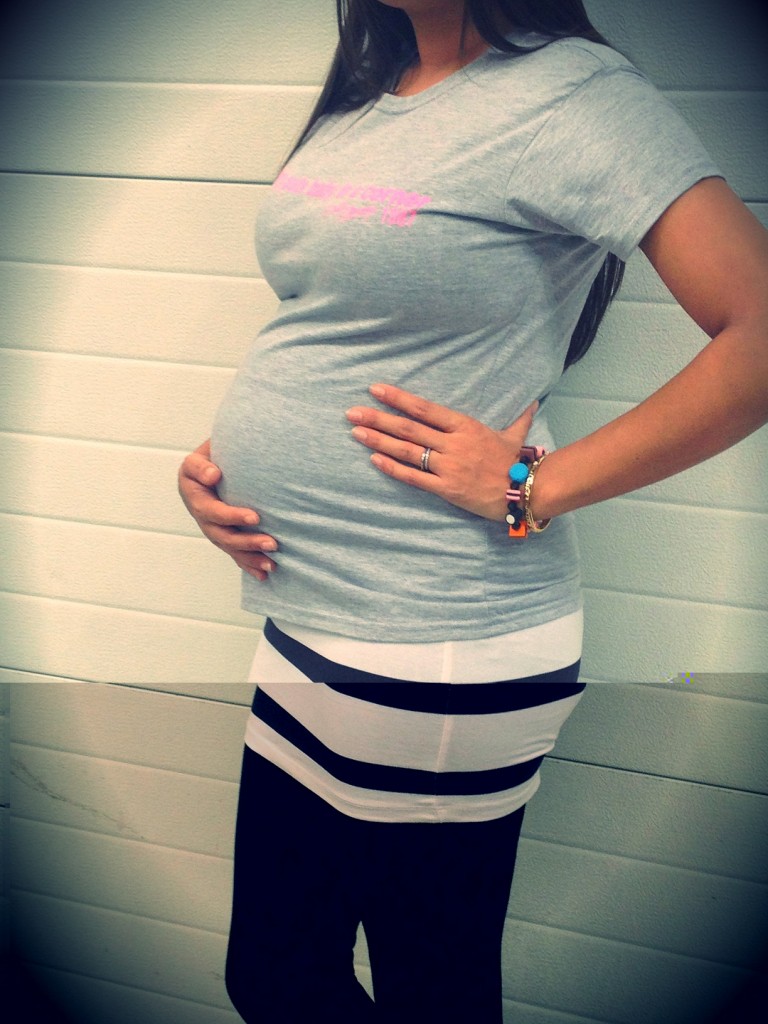 The same rule applies with most of our fitted tees too! I'm wearing a size large in the above pic (2 sizes up from what I'd normally wear) and again – not only was the tee really comfortable but there was still plenty of stretch in it to accommodate the bump as it grows. I tried a medium too and this fitted fine at 6 months but probably wouldn't have lasted for much longer.
A great tip a friend gave me though was to invest in a bump band which will sit under a regular T-shirt but stop your belly peeking out. They're dead cheap and with one of these at your disposal – you could quite easily stretch a smaller sized tee for a fair bit longer into your pregnancy. Well worth a try!
And once again – don't forget, you won't have to ditch these when the littleun finally makes an appearance! Unlike typical maternity tees which really don't work without a bump – these will look fab as oversized, slouchy tees when you're back to your pre-pregnancy self! Perfect for tucking into high waisted skirts and shorts.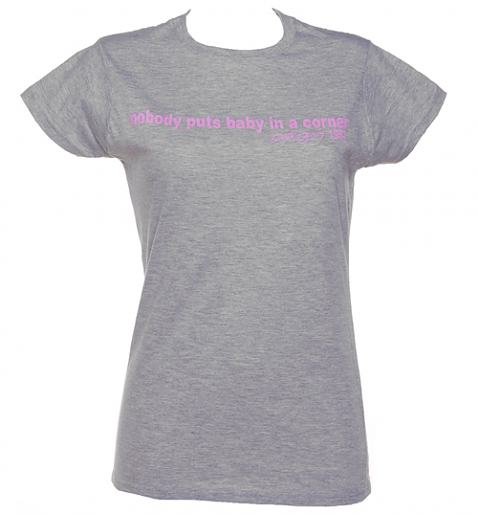 Our brilliant Dirty Dancing Nobody Puts Baby In A Corner tee makes for a really fun pregnancy tee but  we've got literally hundreds more designs available here…..
This Cookie Monster design for example is a really fun find for mums to be (especially for anyone with cookie cravings!)
And don't be shy about showing off your bump – I also found that wearing clothes that hug your bump, especially as you get further through your pregnancy, looked way more flattering that styles which tried too heavily to disguise it so well worth a try!
If however you do prefer looser fit tees, never fear as we have plenty of choice on that front too!
Try Junk Food's new range of fashion tees which come with a low scoop neck and an oversized, slouchy fit making them perfect for skimming your bump. And as an added bonus – the sloppy fit of these tees meant I didn't even need to go up a size to accommodate my bump and there was still plenty of room for growth making this a brilliant value buy.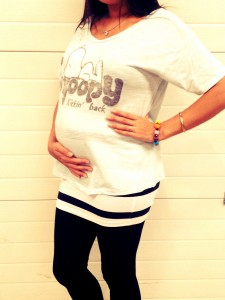 Shop my picks of the best Junk Food shapes to take you through your pregnancy here!
Hopefully this has helped all you fellow mums to be deal with that all too familiar dilemma of how to approach your pregnancy wardrobe.
Remember, you can still create a fashion statement as unique as you are – even during pregnancy! Don't be afraid to have fun dressing your bump and remember – maternity clothes don't have to mean smocks and tonnes of black!
And most importantly, you don't have to restrict yourself to maternity clothing meaning you can still get your TruffleShuffle fix while waiting for the littleun to make an appearance!
Hope you enjoyed my post but please do let me know what you think in the comments box below – would love to hear your maternity styling tips and whether any TruffleShuffle tees are brightening up your pregnancy xoxoxo