Me – Ello!
You – Did you just say 'Hello'?
Me – No, I said 'ELLO!', but that's close enough! I'm Jade from The Style Rawr, fashion bloggers extraordinaire and fan girls of everything Truffle Shuffle, nice to meet you! I'd invite you to come inside to meet the missus but this isn't my blog, and errr…. I'm not a blue haired, scarf wearing worm in 80's epic movie Labyrinth!
As a HUGE Labyrinth fan (obvs), I was super excited when Truffle Shuffle asked me if I wanted to check out one of their exclusive Labyrinth T Shirts, the Ladies White You Remind Me Of The Babe Bowie Labyrinth T Shirt – £20, and it inspired me to play a little dress up, just like our teenage heroine Sarah!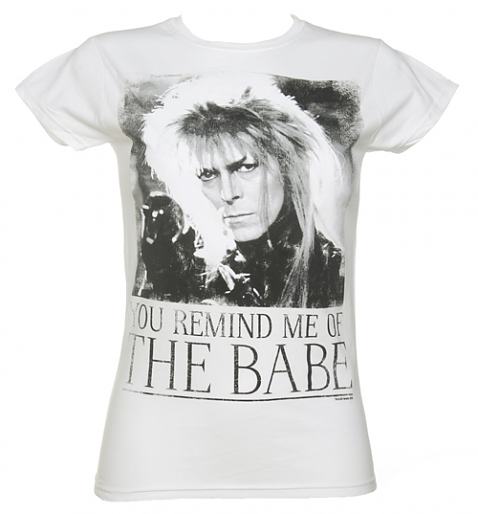 SO, ahem . . . (checks lines) . . . Through dangers untold and hardships unnumbered, I have fought my way here to the garden patio beyond the back kitchen to take back the child that you have stolen. For my pose is as strong as yours, and my style is as great…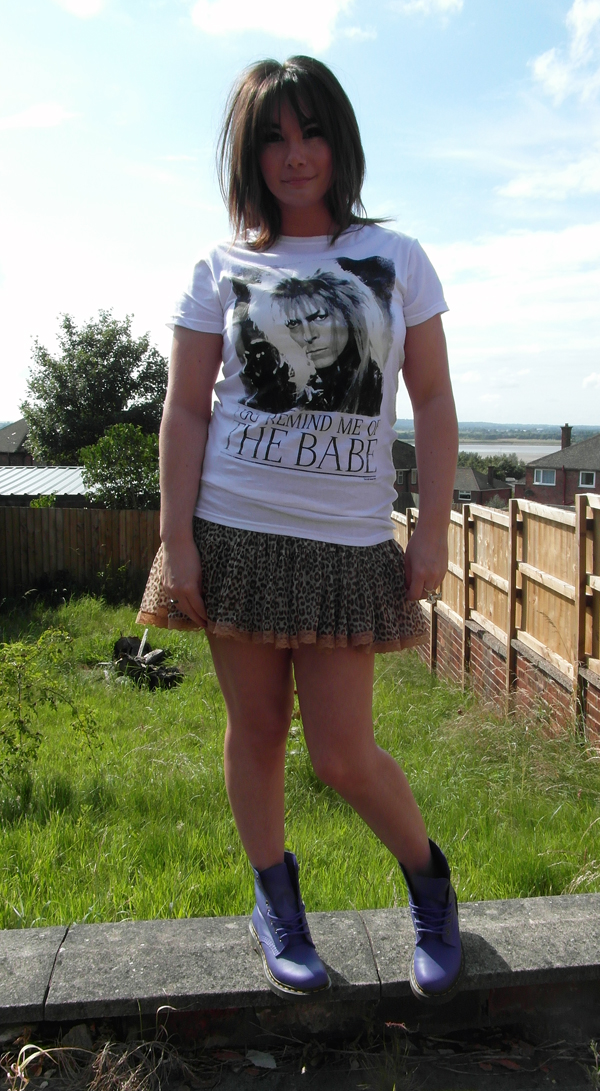 YOU HAVE NO POWER OVER ME!! Yep, I have a tutu dress under the tee and I'm wearing purple DM's, a fantasy world has no fashion rules (I'm actually a firm believer that wearing superhero or princess costumes should be obligatory everyday uniform for all children under 5!), right?!
Believe me, it took all my might not to snatch the neighbour's Dulux dog and run around the patio marking out my progress with lipstick. I felt so mischievous in this tee, it brought out my inner adventurer! I have always ADORED everything about Labyrinth; the amazing soundtrack (I used to do the Chilly Down dance in the living room in the summer hols), the beautiful masquerade ball scenes, Ludo and the rocks – ahhhhhh, memories!
Annnnnnnd this is the part where I admit to harbouring a wierd crush on David Bowie as King Jareth, maybe it was the tra la la tights or the eyeshadow skillz I don't know, but I'm pretty darn happy to have him on my chest 0:)
The tee itself is exactly what you would expect from Truffle Shuffle; quality cotton, a true to size fit (this is a ladies L) and a good print, plus the Labyrinth range is exclusive to them so if you see someone else wearing one, give them a little Truffle Shuffler wave and a wink 😉
Be sure to check out the other retro movie t shirts featuring Goonies, Star Wars, Marvel, Clueless, Grease and even more childhood faves at Truffle Shuffle, it's officially awesome!
J – Who me? Nooooo, I'm just a worm!