It's competition time again folks! As much as we love having our huge collection of retro tees and goodies, we love nothing more than to see you guys wearing them proudly and spreading the love. Well, it's time to get snap happy and show us just how you wear your Truffle collection with our big picture competition!
It's simple, send us a pic of yourself in some TruffleShuffle retro clothing (anything from our site new or old) and we'll put it to a vote via facebook!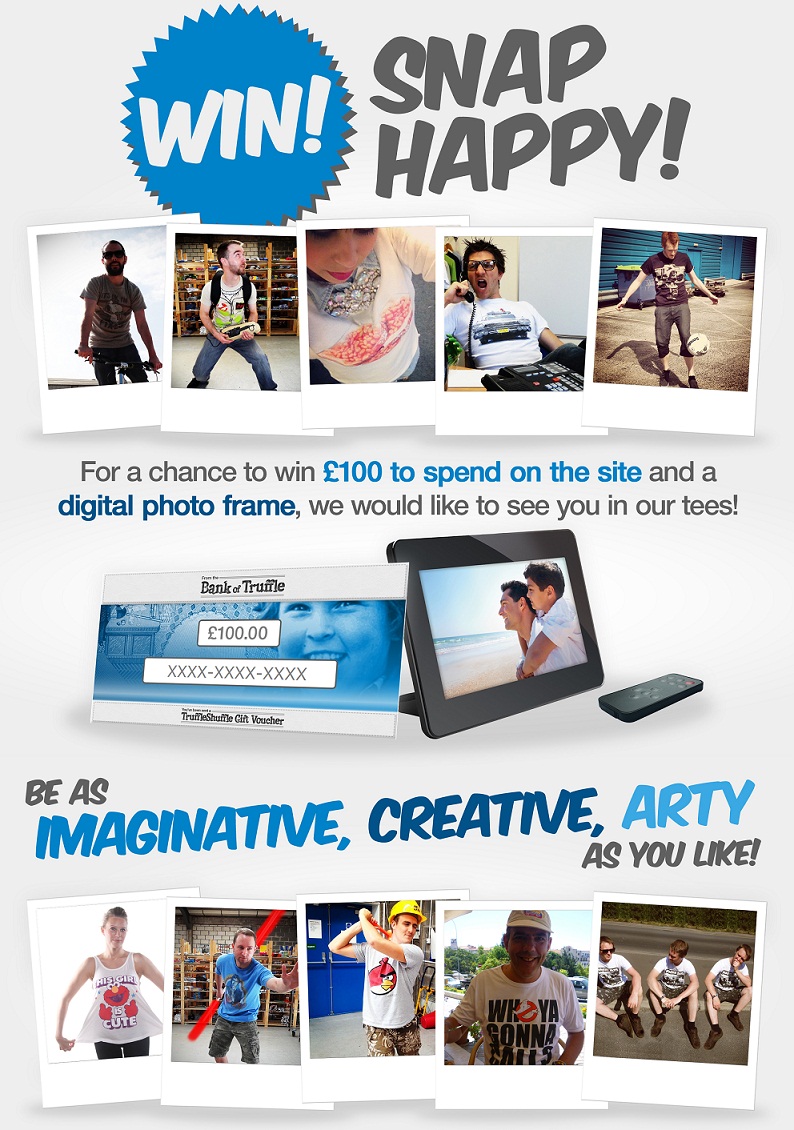 The Prize
We're giving one lucky winner £100  to spend at TruffleShuffle.com on anything you like! Yep…. anything! Make sure you have an account with us and we will instantly credit it with your winnings so you can shop right away. Remember, if you spend more than £40 at once you will qualify for our free First Class delivery, saving you a few pennies!
How To Enter
For your chance to win big, all you need to do is send us a picture of you (and your friends) wearing a TruffleShuffle T-Shirt, hoodie, bag, hat… whatever! To make things as easy as possible, you can send us your entry a few quick ways:
– Email: you can send it to us at competitions@truffleshuffle.co.uk – check for confirmation email

– Facebook: Send us a direct message to our Facebook page with the picture in it.
– Twitter: tweet us directly on our twitter (@truffleshuffle_) adding the picture to the tweet. You can use Twitpic for this.
What will you do with my picture?
Once we have all the entrants by 11:59pm 30th of August, we will collate them into a Competition Facebook album and publish this on to our page for our fans to see and to vote.
How will the winner be chosen?
The winner we be chosen by our Facebook fans who will vote for their favourite by simply 'liking' the picture. The picture with the most likes by 3pm on Friday 31st August will be our lucky winner! Simple!
How will you contact the winners?
The winner will be announced on our Facebook page as a post along with the winners from our Friday competition.
Do I need to 'Like' TruffleShuffle's Facebook page and follow us on twitter?
You do not need to follow us to qualify to enter, however doing so will ensure you're kept in the loop and will make getting any announcements possible.
Good luck! xoxo
Ts & Cs:
*If we do not hear from our winner via Facebook after one day we will contact them either by email, direct Facebook message or twitter depending on how they originally entered. If we have still not heard from them after a further week, we will pick the entrant with the second highest amount of votes as our winner.
*Winner must have a TruffleShuffle account for us to credit their winnings with.
*Only one entry per person will be put forward to the Facebook vote.
*All entries must be received by the advertised closing time and date.
*It is the responsibility of each entrant to ensure that any images they submit have been taken with the permission of the subject and do not infringe the copyright of any third party or any laws.
*By entering the competition and submitting an image, you give TruffleShuffle 80s Clothing Ltd the permission to publish the provided materials via its Official Facebook Page.
*All photos submitted must be the work of the individual submitting them, who must also be the copyright-holder. Each entrant is responsible for ensuring any image they submit has been taken with the permission of the subject and does not infringe the copyright of any third party or any laws