I was VERY tempted to name this blog post  "na na na na na na na na na na na na na na na naaa Batman!" because as you have probably realised by now that's how mature I am. But there's something about superheroes such as Batman that bring out that childish side to you. We all know that the idea of a man getting superpowers after being bitten by a radioactive spider or a man going around dressed as a bat is quite ridiculous yet we're still enticed and get stupidly excited about this fantasy world.
Perfect example of this is of course 'The Dark Knight Rises' which is the third and final instalment of Christopher Nolan's Batman trilogy.
I've never seen so many people- of all ages-get so excited by one film. It is definitely a buzz that only certain movies bring. After all, superheroes are amazing. Growing up I used to love watching superhero films such as Superman and Batman. Even TV series such as Wonder Woman and don't laugh…Captain Planet.
Batman is the one superhero that really takes me back to my childhood. Forget the films; I always preferred Adam West and Burt Ward as the Dynamic Duo in the TV series. I can remember watching the TV series during our summer holidays on Channel 4 around 1.30pm! At the time they were so gripping and totally believable. I never questioned the convenient gadgets (there are 100 flights of stairs and the lifts not working…oh wait we can use the Batjet which is conveniently placed in the Batmobile) or the fact that nobody could tell that it was Bruce Wayne as Batman.  Who can forget the "Bam! Crash! Wallops!"?
It was this cheesy side of Batman that I preferred growing up and despite watching most of the Batman films my allegiance was always to the 1960's caped crusader. But then Christian Bale happened.
Man he's beautiful. But forget his beautiful face for a second if you can…it was his dark and suave Batman that got me gripped. Christopher Nolan's Batman was a far cry from the ones I was used to- and I liked it!
So last week, I too was stupidly excited for the release of 'The Dark Knight Rises'. With the day off from work, I managed to watch it before my friends who are die-hard Batman fans. Ha!
Without spoiling the film for those of you who haven't seen it, it was amazing. I think the words "Oh Em Gee!" really sum it up.
After watching the film, all I wanted to do was put on a mask and go fight crime. But I sort of chickened out. So instead I put on a TruffleShuffle tee and just pretended I was Batman. Safer that way really…
As we've finally got a bit of sunshine, I wore my AWESOME Junk Food slouchy Batman t-shirt with some vintage denim shorts, spotty tights and hi top trainers. Not forgetting my aviators for the sunshiiine.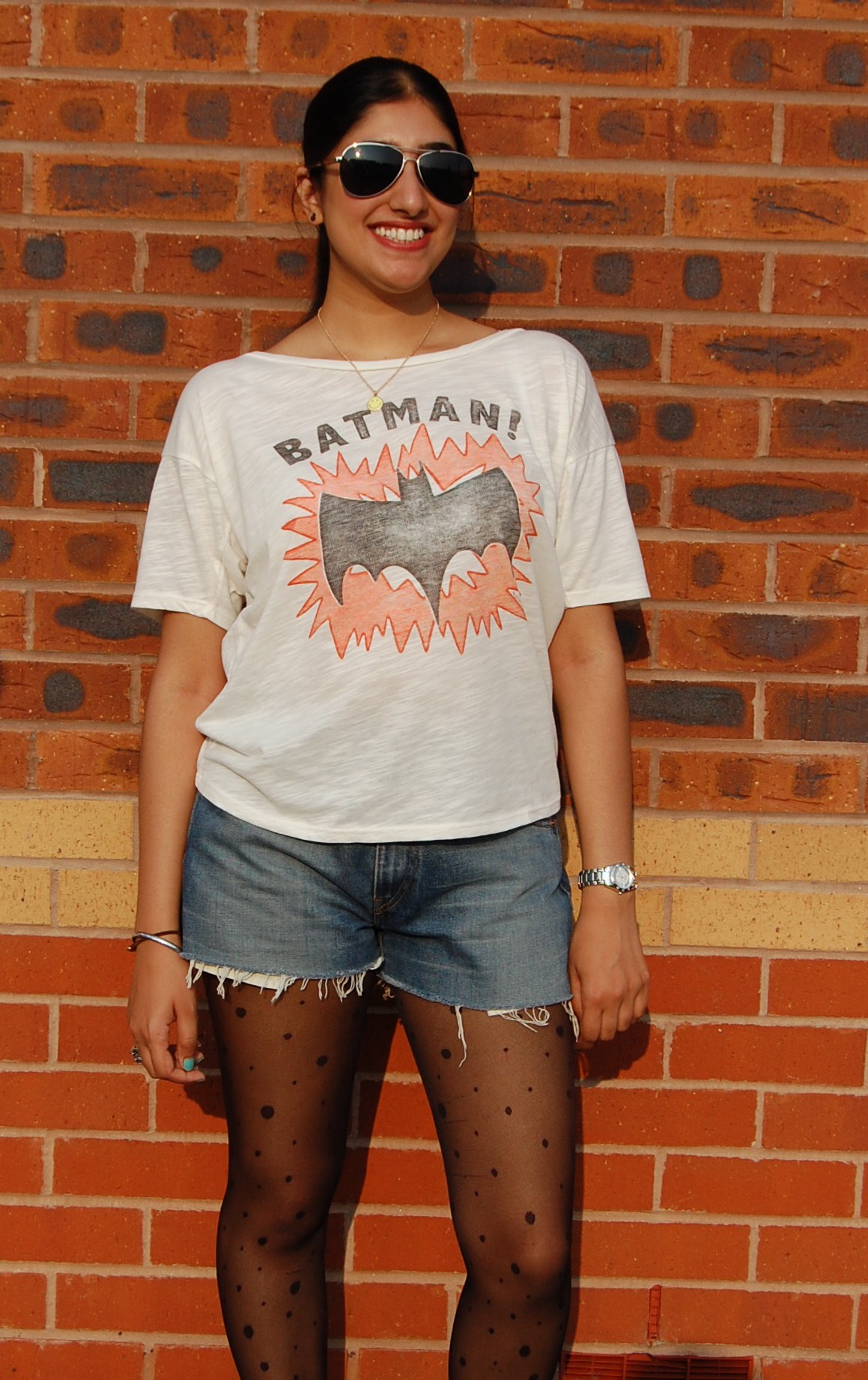 When I first got my latest Junk Food t-shirt (sized Medium) I thought woah this is big but once worn it looked fine as it's meant to be slouchy. Perfect for when the weather is like this as its more comfortable and cooler.
Obviously being me, I couldn't resist putting on a makeshift cape and pretending to be Batman. So mature Sunny, so mature.
I think this is the reason I'm not featured on the 'cool' blogger lists haha. But hey that's the beauty of Truffleshuffle t-shirts. You get to relive your childhood and bring out that fun side of you! Who wants to be a bore!? Not me.
And if you're not a fan of Batman *disappointed face* then there are loads of tees available that you could look cool in. I've got my eyes on the new Rocky t-shirts (yo Adrian!) as well as the Big Bang Theory T-shirts (Bazinga).
But for now, I've got a city to protect from crime and injustice. Ahem…
Sunny
xoxo