Q: What do you get if you cross an 80s legend with a legendary retro t-shirt retailer and some of the UK's most fashionable journalists and stylists?
A: The wackiest, most awesome, fun packed press day you could ever imagine!
A couple of weeks ago, we invited some of our favourite journalists and stylists to join us and our good friend Timmy Mallett to have a sneak peek at our new Christmas t-shirts and gifts, have a bite of yummy oldschool grub and play some classic games – including an actual game of Mallett's Mallet with the one and only Timmy!
Thanks to all that attended, thanks to Timmy for being an amazing host, and thanks to all the TruffleShuffle staff for running round like headless chickens organising rounds of Mallets Mallet, Connect 4, Cluedo and various others!
See some photos and tweets from the press day below…
And we received some great feedback from a lot of happy 80s kids, with their wishes fulfilled after finally being malletted by Timmy!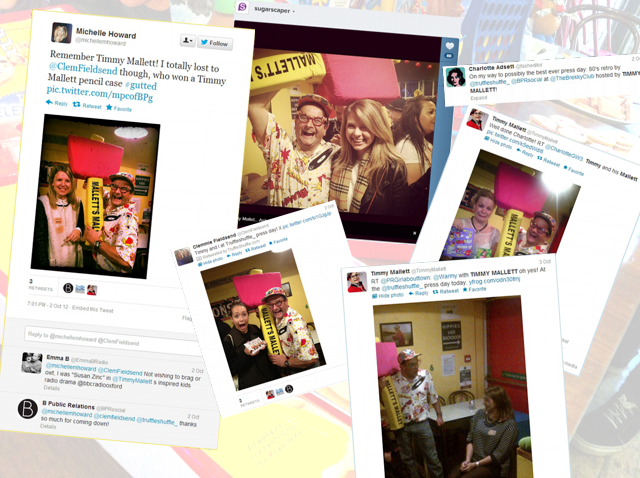 The icing on the cake was dropping Timmy back home and between us trying to fit 60 Pinky Punky's into the back of my car so you lovely customers have the most original retro Christmas gifts to give this year!