We were so excited about launching the amazing brand Cheesy Christmas Jumpers on TruffleShuffle.com. So far, they have gone down a storm and with limited numbers left, are set for complete sell out very soon! The cheesy trend has hit the big time this Winter and we love the vintage, nostalgic feeling, the festive fashion item of choice gives us with every wear!
FOR A CHANCE TO WIN YOURSELF SOME CHEESY CHRISTMAS JUMPER GOODNESS, SEE AT THE BOTTOM OF THIS POST FOR OUR FACEBOOK COMPETITION GIVEAWAY – DEADLINE FRIDAY 9TH NOVEMBER 2PM (TODAY)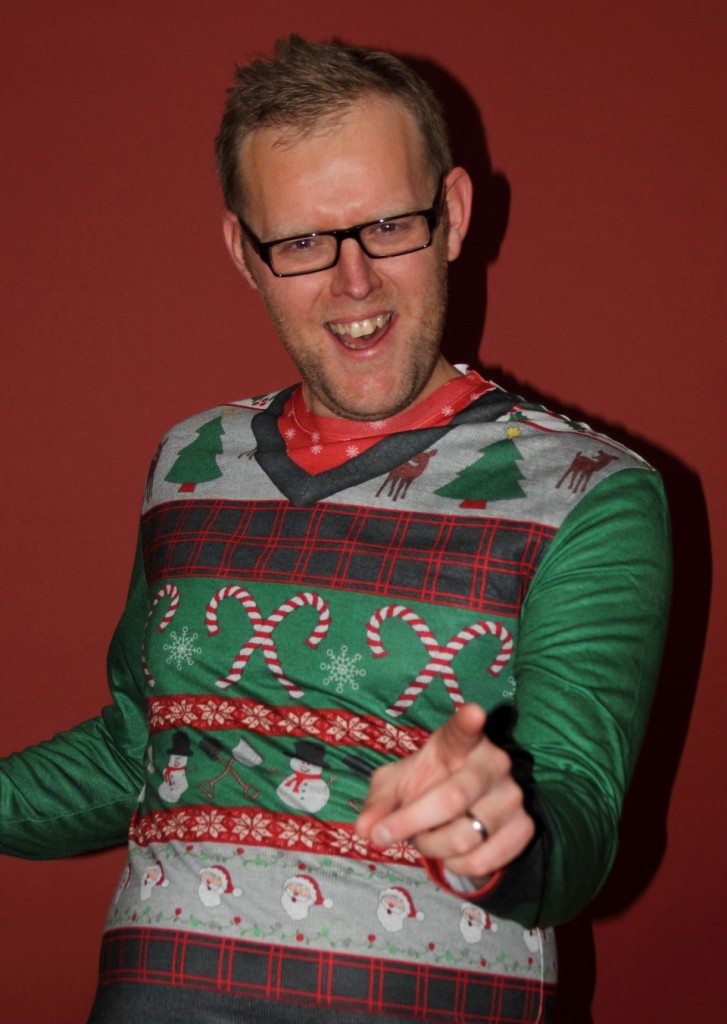 Mark Everett, the enthusiastic co-founder of this fun and funky brand kindly took some time to be interviewed and his sheer passion and love of the brand is clear to see from his answers:
What does a Christmas Jumper mean to you?
For me it's not so much the Christmas Jumper but the whole Festive Season. The season brings about a chance for everyone to stretch the boundaries of what is normally publically acceptable, it's a very liberating, fun and exciting feeling to be able to walk into a shop, nip to my local pub or even book into a high end restaurant wearing a garish, Cheesy Christmas Jumper which rather than the ridicule you would expect at any other time of year, sparks cheers, compliments and the much loved 'where did you get that?'.
A true Christmas Jumper should not fit into the colour scheme of your wardrobe or match your favorite winter scarf. It should contradict everything your inner fashion conscious self says and hideously but marvelously clash with every other item of clothing in your possession. And of course the king of all Christmas jumpers has flashing lights which says to all, look at me I am happy to be different and wear something which I want to wear not what the Catwalks of Milan tell me I should be wearing.
How did it all begin?
The brand was born in 2009 and was the result of a reminiscing session around the family dining table (queue Monty Python's Four Yorkshire men)," where have all the naff 1980's jumpers gone, the jumpers your Great Aunt would turn up with, the jumpers you would spend all day itching in and sweating profusely whilst anxiously waiting for Great Aunt Mildred to finish her snowball and fall asleep before removal of the offending garment was possible!".
It was after this conversation that my father (Cheesy co-founder Paul Everett) and I decided to bring back the tradition of the great Christmas Jumper, minus the itchiness of course! After all who can resist the cheesy characters, over the top colour schemes and out of this world decorations.
Research told me the tradition was still very much alive in the US, but I was unsure if the reserved folks of the UK would be as welcoming. To reduce risks our first products were all made in house, to order and sold using online auctioneer EBay. This low risk strategy meant we had very little overheads and enabled us to keep trading right up to the 23rd December something our competitors manufacturing processes prevented them from doing.
Cheesy was born and has since grown in size and brand awareness year on year. I couldn't be more proud of what has been achieved, but I have a lot more growing and developing to do, we are a 'Tight Knit Brand' who's ethos revolves around hard work, customer satisfaction and fun. I think about Christmas 365 days a year, much to my wife's despair and I am constantly seeking inspiration and new technologies to help put the Cheesy Christmas Jumper firmly onto everyone's Christmas Wish List.
My brand has a very simple structure. I deal with all inputs and outputs and I don't use a complex IT system. I am design, sourcing, manufacturing, marketing, advertising, photographer, model, customer service representative, picker and packer. Most importantly I am aware and in complete control of everything at every stage. The brand is my passion, I live, breathe and sleep my products and truly love every minute of it. How do I do all this?  I am Mr Cheesy Christmas Jumper.

What's your favorite thing about Christmas?
I couldn't possibly pick one thing, but I do love the run up to the big day. Picking and buying the gifts, spending hours badly wrapping them, going to pick the Christmas tree with the family, building the kids toys on Christmas Eve and waiting for the jolly big man in his red suit to arrive accompanied by his old mate Rudolf.
On the other hand it's pretty difficult to beat getting together with my nearest and dearest and listening to the sounds of cheesy Christmas songs, wrapping paper being ripped, over excited kids who would rather play with the empty boxes than the piles of toys,  while the tell tale smell of roast turkey drifts in from the kitchen and mum has one or two glasses of sherry too much and burns the sprouts.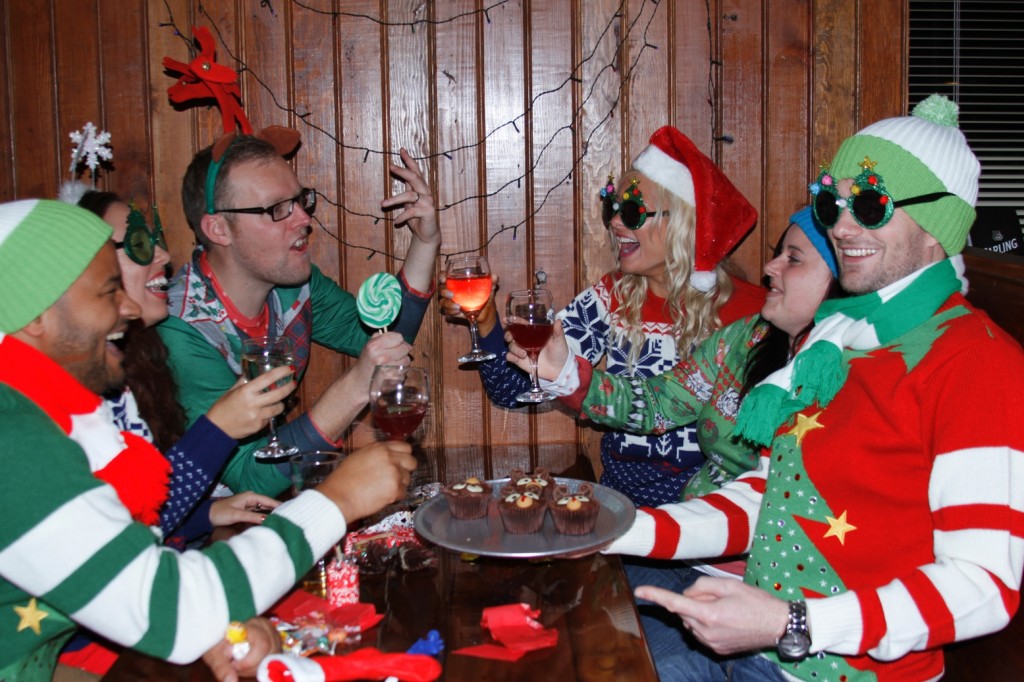 Oh and there is the thrill of trying to wear all your Christmas prezzies at once on the big day, jeans, novelty socks, boxers and flashing Rudolf tie, t-shirt, trainers and of course not forgetting your brand new fabulous Cheesy Christmas Jumper.
So in summary I pretty much just love everything Christmas represents!
What's the best Christmas prezzie you ever got?
I was born in 1979 so the majority and best bit's of my childhood were in the 1980's. In my opinion the 1980's was the ultimate era of toys and gave Santa plenty of exciting ideas to entertain two very over excited boys. A few favorites spring to mind and a couple of good examples are the Scalectric which my dad spent months building in the loft and transforming into a mini Silverstone for me and my brother and the good old Atari 2600 with chopper command, pitfall and stampede.
But my favorite by far has got to be He-Man complete with Castle Greyskull. My brother got Snake mountain and Skeletor the same year so we had hours of fun with some epic battles. 'By the Power of Greyskull… I Have the Power! Team He-Man or Team Skeletor????
What is your favorite Christmas song?
There's nothing like a good old Christmas song and the cheesy 70's and 80's classics are defo my favorites.  But to me nothing says Christmas more than 'Merry Christmas Everyone' by Shakin Stevens. A classic festive tune with wonderful bell chimes, up lifting lyrics, a fantastic video featuring the scariest looking Santa ever and Shaky himself even dons a Cheesy Christmas Jumper in the video, legend!
What is your favorite Christmas cracker joke?
Who hides in the bakery at Christmas? A mince spy!
Why do you think Christmas Jumpers are so popular?
Let's face it everyone (although you may have to beat it out of some) loves a good excuse to dress up and stand out from the crowd. Christmas Jumpers are an easy alternative to full on Santa regalia, they can be worn with jeans, leggings, shirts, tights, in trainers, heels or boots. But what really seals the deal is the fact they can be worn to any festive occasion including parties, works night out, Christmas Shopping or even on the big day itself – everyone needs an outfit for Christmas day right? So why not make it extra festive this year!
The popularity of the Christmas Jumper has been demonstrated over the last two seasons by the high street brands following suit and creating a more sedate version of the Christmas Jumper. However for the true Christmas Jumper fanatic, the wilder and bolder designs created by independent brands are the real deal. Stay independent and support the brands which started the Christmas Jumper revolution!
With all your amazing press and celebrity coverage, who were you most proud to be seen wearing you jumpers?
Without doubt Keith Lemon.  He loved the Rudolph garment, looked great in it and went to the trouble of tweeting me to tell me how much he loved the range.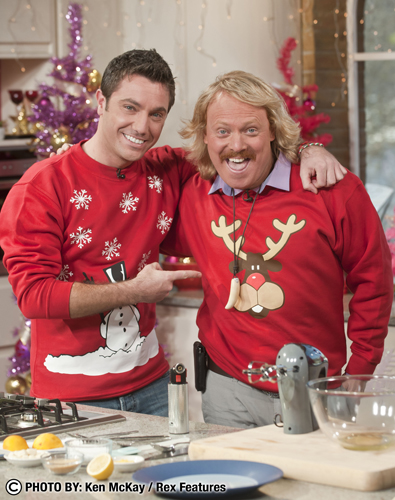 Keith and Gino were the first celebrities to wear our garments in 2010, so that moment will always be special to us.  I especially remember ringing all my family and friends and getting them to set their freeview boxes on record and Gino's face when he realised he was going to have to wear something so garish on national TV!
If you could pick any celeb or personality to wear one of your jumpers, who would you pick and why?
This a hard one because I have so many people that I would love to see wearing a Cheesy Christmas Jumper. For commercial reasons and brand awareness, then at this moment in time I would have to say any or all the members from One Direction.  But from a personal point of view I'd love to see the return of an Only Fools and Horses Christmas Special with both Del Boy and Rodney decked out in our Cheesy Christmas  Jumpers, after all who's Christmas day is not complete without an episode?
What new ideas and designs can we expect from Cheesy Christmas Jumpers in the future?
I'm always playing about with new ideas and designs, I think about Christmas Jumpers 365 days of the year. After two years of developing the LED lighted Christmas Jumpers we are planning to move forward with the light up range for 2013 and take the garment to the next level with new ideas  and technologies for lights etc.
We also aim to take more inspiration from the 80's American ugly Christmas sweater era by creating a garment that will look truly vintage but with the high quality production of a modern knit.
Every time I design a new jumper I always remember the brands name 'Cheesy', this makes me stay within the brands identity and keeps the designs unique to the Cheesy Christmas Jumpers brand. I'm not designing a garment you would find in your high street fashion shops or on a Milan Catwalk.
This year I invested a large amount of time selecting a good colour palette as I wasn't entirely happy with last year's colours, I have found berry reds and off whites give much more aesthetically pleasing garment when compared to the previous year's primary colours.
I aim to further develop our colour palette in the new Christmas 2013 range. I have already had some samples of raw materials for next year's design and struggling to stop the designing bug consuming my days – Watch this space!
*** THE BIG CHEESY CHRISTMAS JUMPER GIVEAWAY COMPETITION ***
Courtesy of Cheesy Christmas Jumpers we have a most fabulously festive competition which takes place on our FACEBOOK Page today from 10am, see the below awesome prizes up for grabs! Answers by 2pm, winners announced shortly after.
1st PRIZE
A Cheesy Christmas Jumper of choice – click here to see the range
A TruffleShuffle Christmas Jumper – click here to see the range
A TruffleShuffle Christmas T-Shirt – click here to see the range
A Christmassy Accessory – click here to see the range
2ND & 3RD PRIZE
A Cheesy Christmas Jumper of choice – click here to see the range
To be in with a chance of winning these most excellent prizes, we want you to tell us your favourite Cheesy Christmas Joke. The corniest, most terrible, most hilarious, most original, most naughty joke will win our super 1st prize and 2 runner up choices will receive 2nd and 3rd place prizes.
………………………………………………………………………………………………..
GOOD LUCK – Winners will be announced on Monday 19th November!!!