We've had an amazing new delivery of awesome new Rock T-Shirts for all you music fans out there!  These fab Band T-Shirts will help pick you out the crowd at any gigs you might have planned in the coming months or, if you're like me, are just as perfect for chilling out at home with a cuppa tea, Rock On!
We love the vintage look of this amazing new Rolling Stones '78 Live In Concert t-shirt from Amplified Vintage. Considered by many fans to be their greatest ever tour, with it's back to basics feel, they travelled the States following the release of the album Some Girls. This trendy tee comes in a cool new skater shape with a looser fit at the hem, scooped neck, rolled sleeves and raw edge detailing. It even comes with a back print showing all the tour dates and venues.
You can also help celebrate 'The World's Greatest Rock & Roll Band' with these fab tour inspired Rolling Stones T-Shirts.
Amplified Vintage have partnered with some of the worlds most iconic bands to create this classic range of official music tees and this one features a distressed style print of the classic Ramones 'Hey Ho Lets Go' logo.
1,2,3,4 this is what we're waiting for!  This awesome Ramones tee is a must. Featuring a 1976 tour design with an eagle print on the front and tour dates on the back, these official, scooped neck, swinging Ramones T-Shirts have a really authentic, original tour tee look.
These iconic Led Zeppelin T-shirts from Amplified Vintage are a nod to the band's world famous 1977 tour of USA and are a replica of the t-shirts that were actually sold at the gig.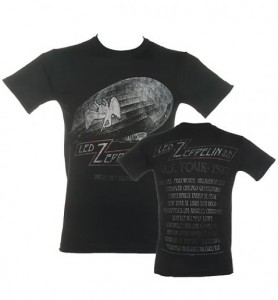 One of the coolest way to show off your music tastes is with the humble band tour t-shirt. Whether you're looking for the 'I was there' look or simply trying to recapture some of the magic from tours gone by, these beauties are the way to go.
Pick up your perfect tee today that matches your taste and style.