It's time to join the party with Dennis the Menace, Gnasher, Minnie the Minx, the Bash St Kids and many more as they celebrate a staggering 75 years of the nations favourite comic, The Beano!  We've always loved the iconic comic and the adventures of it's many troublesome characters and you guys obviously agree after the popularity of our classic range of Beano T-Shirts!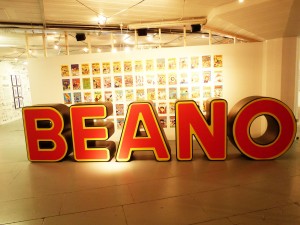 The perfect place to celebrate this birthday is at Beanotown, a recreation of the fictional home of Dennis and the gang featuring a whole host of fun activities to see and do.  It's located at The Southbank Centre in London and is a collaboration between Beano publishers DC Thomson and Wayne Hemingway's design agency, best of all the exhibition is free and can be enjoyed by anyone!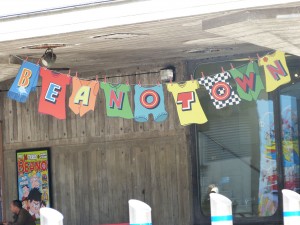 Swot up at the Ultimate Prank Academy; discover the story of The Beano since 1938 (with top secret archival treasures on display for the first time); tuck into a slap-up feed with a personalised Beano toastie; gnash surprise pick n' mix sweets; re-read your favourite annual ever in The Beanotown Library of Laughs; grab a piece of Beano history in the special shop with exclusive new products; and snap yourself, dressed as your favourite character, in the Beanotown photo booth.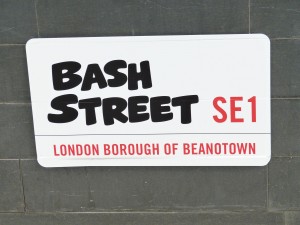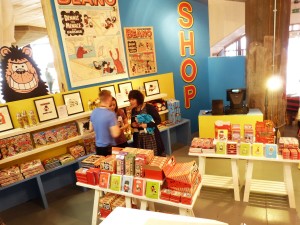 Get involved with loads of free Creative Masterclasses, where you can learn how to draw, create your own comic, DJ a radio show… or even quiz The Beano Editor about the famous characters he'd love to banish at a Q&A!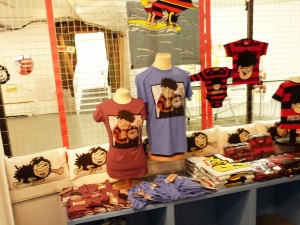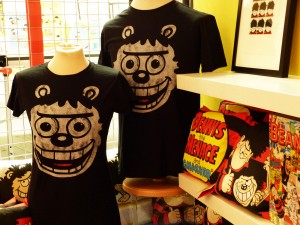 We would love the chance to browse the Beanotown library, imagine the wealth of comic strips you'd have access to!  And the cafe featuring jam and cheese toasties, pickle and Marmite toasties, shark infested custard and rice crispie cakes with added snap, crackle and poop probably has to be seen to be believed.  The exhibition runs till the 8th of September and is open from 11am – 7pm, all of us at Truffle Shuffle can't wait to go so we might even see you there!
If this has gotten you into a Beano state of mind you could show some love with our great range of Dennis The Menace T-Shirts!