We are really pleased to be able to announce the winners of our first ever My Little Pony: Friendship is Magic fan design competition!
We had a massive response, so thanks very much to everyone who visited the blog and voted for their favourites.  The entries were all really strong and every single design got a lot of love from fellow Bronies, but there can only be just three winners and I'm here to reveal the favourites!  We are hoping to be able to get these three amazing My Little Pony T-Shirts on the site as soon as possible so keep your eyes peeled for them by the end of the month. Exciting!
First Place – DeathPwny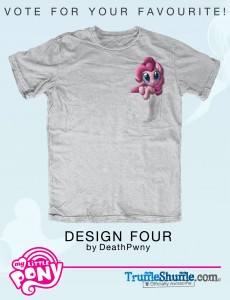 Massive congratulations to Nikita, also known as DeathPwny, for coming in first place!  This simple and classic design featuring the ever bubbly Pinkie Pie really caught your attention and will give you the opportunity to carry her in your pocket where ever you go.
Nikita is a proficient artist with a Deviantart full to bursting with unique Friendship is Magic illustrations, check out some more of his work here http://deathpwny.deviantart.com/
Second Place – Anna Kotrasińska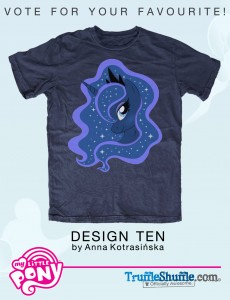 More big congratulations for Anna who secured second place.  We love this subtle and mysterious interpretation of Luna and so did all of you, this will be our first ever T Shirt featuring Luna and we couldn't be happier!
Show Anna some love by visiting her Deviantart profile here http://brandykiss.deviantart.com/
Third Place – Cameron Brannick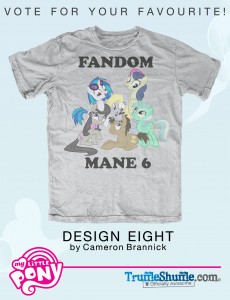 Last but certainly not least is Cameron Brannick who earned third place.  This design features some of the fan favourites characters who don't always get the recognition they deserve.  Derpy, Vinyl Scratch, Lyra Heartstrings, Dr Whooves, Octavia Melody and Bon Bon make up the Fandom Mane 6 on this fab MLP tee.
I'd just like to say another big thanks to everyone who took part in our first MLP fan competition, whether you submitted designs or came along to vote it's all really appreciated.  Hasbro have been really impressed by all the work so fingers crossed for more competitions in the future!  We're really proud of this new collection and are doing all we can to get them on the site before the end of the month, keep checking back and we'll let you know as soon as they are available!
xoxo