We recently ran a literature themed Friday Competition on our Facebook page to celebrate the arrival of our new Out Of Print T-Shirts and the response we got was amazing. The question was….
'If you could create a film from any book that hasn't already had one made, what would it be and WHY?'
We had hundreds of suggestions: some old, some new and some a little strange – The Dictionary and The Phone Book?!! Us bookworms couldn't let this fantastic opportunity go to waste and so we decided to create our very own TruffleShuffle Reading List and thought we would share it with you.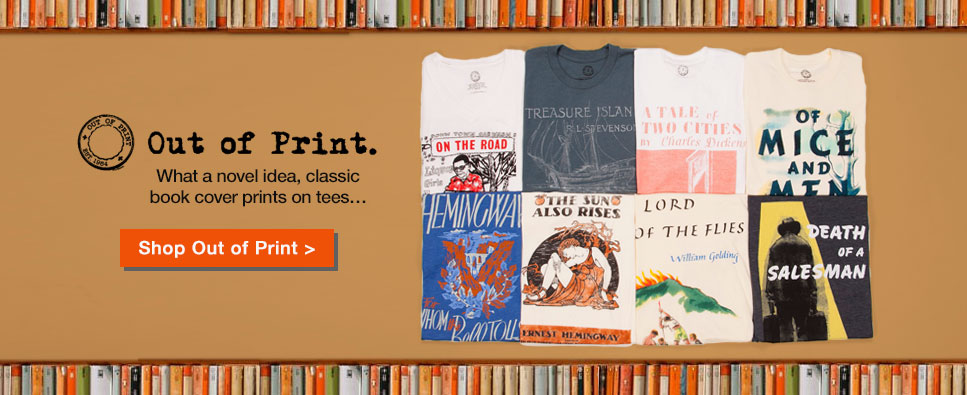 We have something for everyone – funny, sad, horror, thriller, fairy-tale; sadly, we couldn't list them all but there were some firm favourites suggested numerous times and some great write ups, see if any take your fancy!
See if yours made the must read list and see what others have to suggest, our Kindles are now fully loaded with literary delights! 🙂
With 9 mentions the book that came out top (and we can't believe we haven't read!) is:
Catcher in the Rye – J. D. Salinger 'The 100 year old man who climbed out of the window and disappeared' is a modern marvel. It's heartfelt and funny with touching storyline about murder, history, romance and how to reach an old age! It has everything. I don't think Hollywood could do it justice… I'd imagine it to be in the same kind of vein as Fight Club, seeing things that you never saw before. I'm pretty sure it wouldn't be a happy movie, but thought provoking, none the less.
Authors from our childhood featured heavily in your suggestions with Enid Blyton and Roahl Dahl making numerous appearances!
The Naughtiest Girl In The School – Enid Blyton. I loved seeing all the silly things she did to get kicked out and I begged my parents to send me to boarding school just so I could try them out. Also the Malory Towers series by Enid Blyton. Looking at how popular "call the midwife" and "Downton Abby" have been I think something a little old fashioned would be very appealing. It would be good for kids to see boarding school being fun without magic being involved!
Malory Towers – Enid Blyton. Would love to see a boarding school story done as a film that doesn't include magic! (i.e. not Harry Potter or the Worst Witch!). Malory Towers books were a huge passion of mine as a child so much it led me to working in a boarding school! The power of books hey?! 2 votes
The Magic Faraway Tree – Enid Blyton. I know it's a children's book but loved it when I was little and I think it would be a great film full of make believe and adventures and plenty of special effects! 6 votes
Famous Five – Enid Blyton. I don't know many who haven't explored her world of storytelling and I think it reminds me a lot of that fascination we all have when we're young of exploration and discovery! Makes me feel young again just thinking about it!
The Twits – Roald Dahl. It's a great children's book and is one of my favourites (even to this day). It would be great in 3D with all the beard issues and bird pies. 4 votes
George's Marvellous Medicine – Roald Dahl. One of my favourite books as a kid, I've always been upset there wasn't a film adaptation of it. I have fond memories of trying to recreate the medicine in my back garden with everything I could get my hands on and being grounded for using really important stuff! Oops! I remember giggling away at the line "grandma's mouth was puckered up like a dog's bottom". So childish but so funny! I love that story, I used to try and make my own marvellous medicine with things I found around the house! Tasted disgusting, and usually toothpaste was the primary ingredient for some reason! If this was to be made in to a film, it would cause child anarchy in homes all around the country, as children try to recreate. 5 votes
A few authors that were mentioned many times for their various books were brought to our attention:
The Graveyard Book – Neil Gaiman. A wonderful new take on the jungle book and would make an amazing stop-motion feature! If you haven't read it check it out! I've lent my copy to loads of people and then wrestle to get it back. 2 votes
American Gods – Neil Gaiman. Apart from the wonderful imagery, the fact that it amalgamates the iconic feel of "road trip America" with lore from countless mythological pantheons so seamlessly and the diverse characters that each individually feel like their stories could fill a novel, it's a story with a message that should be heard. One of the finest writers of our time at his best. 3 votes
Good Omens – Terry Pratchett, Neil Gaiman. Funny, full of great characters and insightful….plus Death is in it, and he rocks. My most non returned book loan – I've lost 6 copies so far! 2 votes
The Amazing Maurice And His Educated Rodents – Terry Pratchett. Brilliant plot line, lots of twists and turns and hey… a load of talking animals… what's not to like?
Shades Of Grey – Jasper Fforde. It's kind of a Hitch-Hikers Guide slash 1984 slash Harry Potter. Anyway, it's all multi-coloured madness and spoons. Brilliantly descriptive book that would translate fabulously on the big screen!
The Thursday Next series by Jasper Fforde. A kick-ass heroine and characters from dozens of books from Beatrix Potter to Daphne du Maurier and books that never even got published. Wonderfully original and very amusing.
The Eyre Affair – Jasper Fforde. It's such a clever nerdy but fun book and the visuals of a world that's like ours but not quite (e.g. with Air ships instead of planes, Dodo's for pets and Croquet the most popular sport instead of football) would be amazing to see on the big screen. 2 votes
The Firework Maker's Daughter – Philip Pullman – A brilliant tale of courage and dedication, it would be great to see Lila's adventures on screen! Ah and not forgetting the Girl Power element!
The Golden Compass aka Northern Lights – Philip Pullman
His Dark Materials – Philip Pullman
The Long Walk – Richard Bachman aka Stephen King I never thought I'd be unable to put down a book about a group of teens walking! Post-apocalyptic settings seem to be popular and with the success of The Hunger Games I think this one would do well! I loved that book, couldn't put it down! I agree it would fit nicely with other survival films of today. 2 votes
The Stand – Stephen King. An epic book that I read in a day and definitely his best work in my opinion! Everyone should read it and in my little mind its like watching a film as you read!
Black House – Stephen King. Because they owe it to Stephen King to make at least one of his horror books into a GOOD film!
The following books received multiple mentions:
The Book Thief – Markus Zusak. Death narrates the lives of citizens in Nazi Germany (so you know it isn't going to end particularly well) with focus on a young girl who saves (steals) the books the Nazis deemed unsuitable to read. It's absolutely heart breaking in parts but such an amazing story about friendship, family, loyalty and defiance. It's a story that should be shared with all. 3 votes
Flowers In The Attic – Virginia Andrews. Such a brilliant book, it has a great storyline and I would love to see the characters come alive on screen. 2 votes
Adrian Mole Diaries – Sue Townsend. Watching a boy grow into a man with all the drama of being a teenager in between! I think it would be funny and well related to. 2 votes
The Night Circus – Erin Morgenstern. Reading the book takes me into another world, and seeing it on the big screen would be a visionary feat for my eyes. It would make a beautiful film. It would be so sumptuous to look at, like Moulin Rouge. 2 votes
Other suggestions – we tried to condense it but they were just too good!
The Shakespeare Secret by J L Carrell. It's like the DaVinci Code but with Shakespeare and better.
Don't Say Goodbye – Fiona Stanford. A heart-warming novel about a military wife and her children living while her husband is deployed. It shows what military wives, girlfriends and families do to survive while loved ones are away and exactly what the military life is like coming from a wife's perspective. Coming from this background I would love to see something like this being made in to a film just so everyone else can see just exactly what we go through and how hard this way of life is.
False Memory – Dean Koontz. Oh my gosh I have never read anything like it – such a thriller with so many plot twists and as the book progresses you realise what is happening is so much more sinister and unexpected to what you think will happen at the beginning. It is such an original plot as well; I have never come across a story like that anywhere else. It is not my favourite book and I don't read much stuff like that but I have always said it would make an EPIC film and I know it would make millions and millions. Writing this is making me want to read it again!
The Owl Who Was Afraid Of The Dark – Jill Tomlinson. My favourite childhood book follows the inspiring story of 'Plop' the barn owl as he attempts to overcome his biggest fear. Along the way he meets some awesome people who show him that darkness can be beautiful. Plop finds the courage to explore covered by the majestic night sky! -Go-On-Plop!
Daughter of Smoke and Bone – Laini Taylor. It's about a world connected to ours inhabited by angels and chimaera … It is one of the best fantasy/magical novels I have read in a long time (And I read a lot!) the whole premise of this as a movie would be like a magical/Labyrinth style film. I would love to see something like this which has pure writing style and not too much 'fluff' something almost believable … Like Labyrinth was for me when I was younger. I knew it wasn't real… But there was always that possibility…you know what I mean ???!
Scarlett – Alexandra Ripley. Written in 1991, it was a sequel to Gone With The Wind by Margaret Mitchell people slated the 823 page book saying it was nothing like the original but it was never meant to be that's why it was a sequel and will always be remembered by me for my first 'epic' read. I just felt that the portrayal onto film could have been excellent and the making were there for another epic film that has faded into the sands of time
The Shack – William P Young. A story that inspires hope, faith, courage, forgiveness & understanding from a tragic loss. I've a great imagination and love to get lost in my little book world but even I struggled to imagine parts of this book so would Love to see how it would be done as a film. Plus it's definitely a book that everyone should read (or if it was a film, viewed)!
The Fault in Our Stars – John Green!! It may not be that well known, but it's the only book that's ever made me sob hysterically!!!
The Glass Books Of The Dream-Eaters – Gordon Dahlquist. It's about a secret cabal of powerful people who are recording peoples exciting (usual sexual) memories into glass books and using them for them own ends, usually blackmail. It's a fantastic magical realism story, it has a solid female heroine, a mystery, murder, romance, sex, science and political conspiracy. Most importantly it's set in a time when revolvers are thin on the ground, so there are proper fights with crashing furniture and swords and everything. Take that Marvel.
Johnny Be Good – Paige Toon. It's about a PA who falls in love with Rock God Johnny who spirals out of control with sex drugs and alcohol and eventually breaks her heart and she leaves LA with his best mate! And then there's a massive twist which leads to one of her other books Baby Be Mine (i.e. second movie!)
The World House – Guy Adams. One of my favourite books and really sent me into a world of fantasy like a children's fairy-tale. Brilliant and mad, and slightly a more adult take on Jumanji. Seeing the house and all its sections such as the giant playroom and the book worm animated, and on full screen, would be amazing.
The Magician by Raymond E. Feist. An amazing book and I think the story & characters are far better than The Lord of The Rings. As a book it's one that you revisit time after time so it would be incredible to see it brought to life.
The Curious Case Of The Dog In The Night-Time – Mark Haddon. Because it captures so well how a learning disability such as Asperger's can affect an individual and really raises awareness of it in a sensitive and interesting way. Something like that should be shared in as many ways as possible.
The Book Of Lost Things – John Connolly. It's a fresh take on fairy-tales and who doesn't love a good fairy-tale?
The Shadow Of The Wind – Carlos Ruiz Zafón. It's about a boy called Daniel and his father takes him to the secret Cemetery of Forgotten Books, a huge library of old, forgotten titles lovingly preserved by a select few. It's an amazing book and I got all my family hooked on it.
The Silver Sword – Ian Serraillier. It's about three children, who go on a quest to find their parents, set against the backdrop of WW2. An absolute classic, I can't believe it's not already been picked up – it would look epic on the big screen!
The Machine Stops – E. M. Forster. Anybody who uses the Internet should read this book. It is a chilling, short story masterpiece about the role of technology in our lives.
If you "feel the need, the need to read" you can see the full list of suggestions on our Facebook competition page.
You can show your appreciation for a "good read" with one of our many book tees while losing yourself in some of these brilliant suggestions. Thanks to all our fans to participated in our Funday Friday Facebook Competiton, we love how passionate and involved you all got on the subject of a good book!
xoxo