We are very excited to reveal a brand new bunch of exciting TruffleShuffle own brand T-Shirts.  We've worked with a load of classic licenses that we know you guys love, such as Roald Dahl, She-Ra, My Little Pony, Rainbow, Labyrinth and many more to create a range of clothing that is perfect for any retro enthusiast!  These in house designs are also exclusive to us, you won't find them anywhere else!
We are absolutely honoured to have this exclusive range of Roald Dahl T-Shirts available at TruffleShuffle! Combining the best author of our time, with the world's best children's illustrator – the results speak for themselves.
This Georges Marvellous Medicine t.shirt comes in red and features a front cover illustration of the classic kids book. A must have for any Roald Dahl fan.
Any book worm types will adore this fabulous Matilda t-shirt design featuring Quentin Blake's authentic illustration of Matilda surrounded by her beloved books. Printed on bright pink tee, it's sure to delight fans of the extraordinary girl with ordinary parents!
This design features that Roald Dahl classic, The Twits. Mr and Mrs Twit, expertly illustrated by Quentin Blake appear on this tee in a fun, book cover style image. A must have for any fan!
Loving this punk vs cartoon mash up! Inspired by the single artwork for The Sex Pistols, God Save The Queen, these wicked She-Ra T-Shirts features one of our all time favourite heroines. God Save The Princess Of Power!
This is a class we would've liked to be in back in '83! A fab, new addition to the exclusive TruffleShuffle range on our custom made, scoop neck tee, this particular My Little Pony T-Shirt features a delightful class of '83 pony print. A great retro find for all you MLP lovers out there!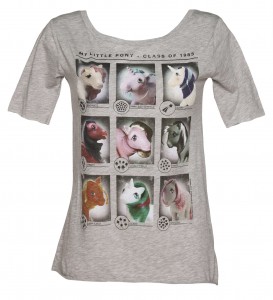 Between the years 1982 to 1990 we were treated to an utterly fabulous TV series featuring one of Britain's most loved ventriloquist and puppet duos, Orville The Duck and Keith Harris! We are super psyched to have these wonderful Orville T-Shirts featuring the cute and cuddly duck alongside an I Wish I could Fly slogan, taken of course, from the that classic hit, Orville's Song which charted at number 4 in 1983.
This real 'gem' of a tee is a real nostalgic trip, bringing back memories of Jem and her band the Holograms rocking out in the cult US cartoon series! Everyone will love this amazing new Jem and the Holograms T-Shirts!
These Mr Bean T-Shirts brings back memories of all the little chuckles we had whilst watching the silly character, Mr Bean, played by the amazingly talented Rowan Atkinson. He is looking particularly fancy on this Cool Beans slogan tee, sporting a trendy pair of red wayfarers and a bow tie, he's one dapper chap!
Well hello there Sailor Zippy!  This nautical inspired tee features Rainbow's cheeky little character Zippy aboard his boat taking to the seas, all kitted out in his cute sailor gear! Ahoy there, we are totally smitten with these Rainbow T-Shirts, hook, line and sinker!
Rizzo had true girl power, a no-nonsense gal, we loved her character in the cult movie, Grease! This awesome new Grease T-Shirt really captures that attitude, along with the slogan, Get My Kicks While I'm Young!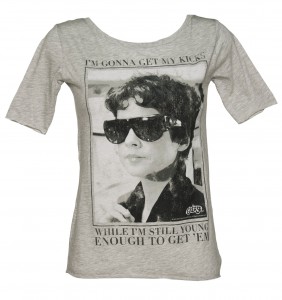 The worm and his wife were kindly fellows in the cult 80's movie Labyrinth and this wicked, exclusive Ello Worm tee references a scene in the movie where Sarah is welcomed into their home and offered tea. A great find for those in the know!
If you know the Big Bang Theory like we do, then you will instantly recognise each of the nerdy chaps from the US show by their haircuts alone! Another fab Big Bang Theory T-Shirt to hit the shelves at Truffle Towers!
This geek chic Big Bang Theory tee is based on the catch phrase Bazinga! Created by Sheldon Cooper and features the cast in a retro pixelated design for extra nerdy appeal!
We don't think there is a person on the planet who has not heard of the most iconic of all drinks brands, this sparkling new Coca Cola T-Shirt is an exciting addition to our official and exclusive range and just the ticket for adding a real pop to your wardrobe! With a classic, vintage distressed logo set against a funky speckled crop tee, it's a real summer staple which will always be fresh and cool!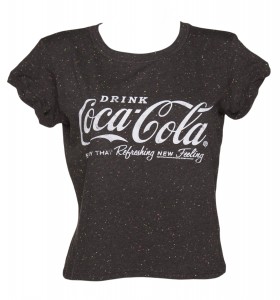 Step back in time to the 80's and re-live an early TV obsession, these awesome new Raggy Dolls T-Shirts features all the key characters including, Claude, Sad Sack, Dotty, Princess and Lucy! Cos Raggy Dolls are happy just to be Raggy Dolls, Raggy Dolls, dolls like you and me…
We love the vintage feel of this very cool new Asterix T-Shirt, exclusive to TruffleShuffle.com! Featuring Asterix and chums in a fab, comic strip style print, it's a fab way to celebrate the French comic which has been ever so popular since it's first appearance in Pilote magazine back in 1959.
There should be something for everyone in this collection, I hope you've found something you love!  Keep checking back as well because we are constantly updating our ranges, if you have any comments or suggestions we would love to hear them!
xoxo