Heads up peeps! We've had an arrival of brand new retro tees and old favourites on new colours and garments that are perfect for any retro 80s/90s enthusiast!
Let me take you through our new collection, featuring a range of inspired 90s T-Shirts, Count Duckula, Labyrinth and Roald Dahl. Something for everyone I'm sure you'll agree and these vintage T-Shirts are exclusive to TruffleShuffle, so you won't find them anywhere else!
Yin and Yang feature on this awesome 90's inspired tee! Light and dark, high and low, hot and cold, fire and water, life and death – all summed up on one cool t-shirt! Utter harmony!  Available on a Ladies Speckled Cropped Black Tee and a Men's Dark Heather Tee.
Show some 90's attitude with this wicked Word. slogan tee!  Did you know that this urban slang is a shortened version of US inmates saying, 'my word is my bond', well there you go!  Available on Ladies White Burnout Tee and a Grey Curved Hem, Cropped Vest.
Oh no! You didn't follow the rules…you can't sit with us!  Inspired by the 2004 hit, Mean Girls – the slogan has been given some modern day sass with the likes of Rhianna and Cara Delevingne sporting their appreciation! According to the 'Burn Book' this tee is a must have for all fans!  Available on a Ladies White Tee and Pink Vest.
Wow! This t-shirt is music to our ears! Whether you're a walkman kinda guy, an I-pod enthusiast – or if you prefer nothing more than your favourite track on vinyl, this Music t-shirt is a must have! While flaunting your appreciation for music through the years – you'll get massive high fives from music lovers from every era!  Available on a Ladies Scoop Neck Tee and a Mens Long Sleeved Ringer Shirt.
'Don't worry my Ducky Poos, Nanny's here, she knows what to do!'  First aired in 1988, Count Duckula has become one of the nations favourite animated creations to hit our TV screens! Celebrate this great existence with our awesome comic style print tee, a must have for any fan.  Available on a Ladies Blue V-Neck T-Shirt and a Mens Heather Royal Tee.
Featuring a print of the legendary David Bowie as Jareth and inspired of course by his famous Dance Magic Dance moves and lyrics – this exclusive Labyrinth design, now available on a ladies vest, is the perfect tribute to one of the most loved scenes from the classic movie.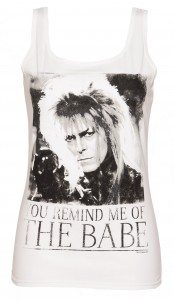 Game on! As geek-chic is in season, EVERY season – we suggest you seriously flaunt your love for Old Skool cool with this exclusive design, now available on a baby blue ladies tee! Score some points with fellow gamers and look cool at the same time! *Win-Win*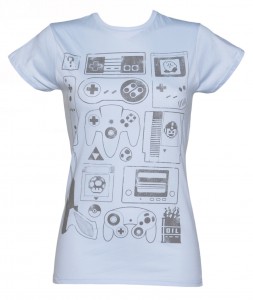 We are absolutely honoured to have this exclusive Roald Dahl range available at TruffleShuffle! Combining the best author of our time, with the world's best children's illustrator – the results speak for themselves. This vest comes in white and features a front cover illustration of the classic book, Charlie and The Chocolate Factory! A must have for any Roald Dahl fan.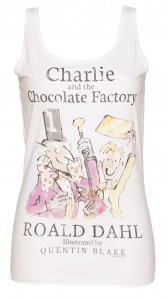 Pick up one of these little beauties of your very own today from just £19.99. See you there!
xoxo