Happy Halloween TruffleShuffle fans!!
Can you believe it's been a year already?! Frankly we're 'shocked' at how fast this has come around and how much we still love it. We are the biggest of bigs kids 🙂
With the nation getting all dressed up in their fancy dress finest ready to hit the streets (or bars) for some good ol'fashioned trick or treating, or having a night in full or frights and some traditional but smelly pumpkin carving (a very typecast veg these days the poor thing) we've decided to give you guys some last-minute inspiration with some amazing retro inspired pumpkin…. well….pieces of art in our eyes. Take a peep and give them a go!
Why not turn your humble pumpkin into something pretty sinister with these amazing Star Wars ideas!
As you know, you should NERVER feed these little guys after midnight, but luckily for us this amazing pumpkin idea will keep burning until the early hours with no risk of chaos.
Inspired by the king of pop, this stunning Michael Jackson carving is just the ticket to scare off any unsuspecting trick or treaters with his classic Thriller style that will have everyone moon walking back where they came from.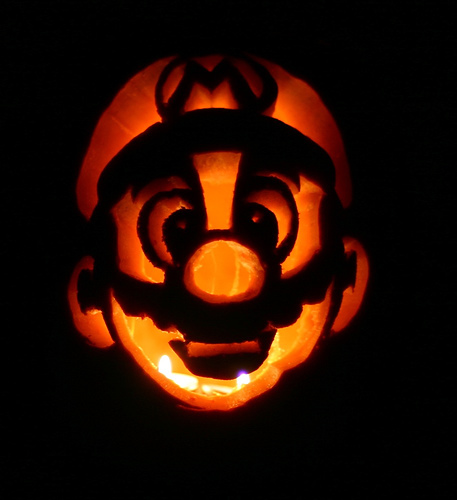 Love Mario? Who doesn't right? Whether you're carting or carving this year, you'll love this super cool pumpkin featuring his cheeky little face. Oh this take us back.
Now this one has gone to a whole new level! Inspired by the evil TMNT supervillain Krang, this seriously cool carving not only looks amazing but tasty too 🙂
No one can think about cult classic E.T without looking back at the classic Halloween scenes with him all wrapped up either bumping into stuff or flying off on a bike. Such a great way to combine an 80s classic with its Halloween setting.

Ahh they're taking over! Okay maybe only in the game but this amazing Space Invaders pumpking is a real geek must-make!
Whatever you're up to this Halloween, stay safe, keep it spooky and have fun!
xoxo