Love Star Wars? Indiana Jones? Labyrinth? American Graffiti? or The Land Before Time? Well! You certainly have one man to thank for all of these! Whether it be directing or producing, George Lucas as been a huge part of some of our favourite and the most iconic films ever!

Yep without the mighty George Lucas we would never have imagined a galaxy full of Jedi, Sith, stormtroopers, droids, Wookiees, Ewoks and AT-ATs. We would never have re-enacted outrunning a big boulder while trying to swipe a Golden Fertility Idol. Heck, without Lucas we'd never have known the power of the Force! Can you imagine that?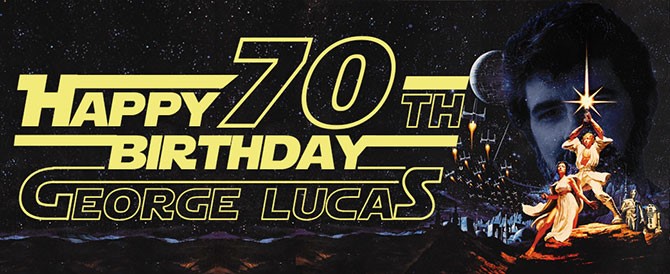 Yep the big man himself is turning a cool 70 today which has just given us another reason so get digging into the weird and wonderful world of the Internets and sniff out some cool and perhaps lesser known facts about the man himself. Oh how we spoil you!

Take a peep below at some of the things we've discovered about our movie hero….
1. He was a camera operator in the Rolling Stones 1967 concert film Gimme Shelter.
2. Lucas is a major collector of the American illustrator and painter Norman Rockwell. A collection of 57 Rockwell paintings and drawings owned by Lucas and fellow Rockwell collector and film director Steven Spielberg were displayed at the Smithsonian American Art Museum.
3. His Skywalker Ranch facility in Marin County CA is located off of Lucas Valley Road, a fact that is purely coincidental as Lucas Valley Road was named after the 19th-century rancher John Lucas.
4. Lucas was actually rejected from joining the US Air Force because he had too many speeding tickets. Naughty boy!
5. Although a very wealthy man, Lucas has given a simply huge amount of money to some amazing causes including The Giving Pledge led by Bill Gates and Warren Buffett. He has pledged to give half of his income to charity and even more recently donated $4.05billion from his Disney deal to his education charity (George Lucas Educational Foundation). He also donated $175 million to his alma mater film school
6. Long before he became obsessed with film making, he actually really wanted to be a race-car driver, and he spent most of his high school years racing on the underground circuit  – A major crash that nearly killed him changed his mind. Smart move.
7. He originally came up with the story idea behind Indiana Jones while on vacation in Hawaii with Steven Spielberg. Lucas decided to produce while Spielberg would direct. BFF's!
8. This is just too cool! He modeled Chewbacca after his own dog, an awesome Alaskan Malamute. The same dog, named Indiana, was also the namesake for the Indiana Jones series. HERO!
9. While at University of Southern California School of Cinematic Arts, he shared a dorm room with future musical film 'Grease' director Randal Kleiser.
10. His nickname in high school was Luke. This later became the name of the hero of his original Star Wars trilogy, Luke Skywalker.
From everyone here at TruffleShuffle, Happy Birthday George! Weird to imagine a childhood without his work.
Show your love for these classics and this great man of the movies with a selection of our Movie T-Shirts including Star Wars T-Shirts and exclusive Labyrinth T-Shirts!
xoxo
Save