Zorro's mask! Can you believe it's the weekend already?!
Even better news though movie fans! Today's Retro Movie Rundown is the 100th edition! Yes we've been giving you the low down on the top movies to catch each week for 100 weeks! To make this one just that little bit extra special, we thought we would cover your film needs for the Bank Holiday Monday too! Oh how we spoil you 🙂
So! Like the still young at heart birthday girl blowing out their 100 candles on their birthday cake, let us be your deep breath as we puff  out yet even more retro movie knowledge while friends and family wait eagerly to cut up and tuck into some cake goodness, capturing their moment onto celluloid wonder!
Have a happy retro weekend!
SATURDAY 24th MAY
Free Willy (1993) Sky Movies Family 12:00pm-2:00pm (2 hours)
A troubled youngster befriends a captive killer whale while working at a marine park. However, their friendship looks set to be short-lived when he learns the park's greedy owners plan to kill the animal, forcing the boy into a race against time to release the creature back into the ocean. Family drama, starring Jason James Richter, Lori Petty and Michael Madsen.
The Goonies (1985) 5* 4:45pm-7:00pm (2 hours 15 minutes)
Seven youngsters discover an old map and set out on the adventure of a lifetime to save their homes from a land developer by finding a legendary pirate's hidden treasure. However, they first have to navigate a series of booby-trapped underground caverns and outwit a family of crooks also after the loot. Children's adventure, starring Sean Astin, Corey Feldman, Josh Brolin and Martha Plimpton.
Happy Gilmore (1996) Sky Movies Comedy 6:15pm-8:00pm (1 hour 45 minutes)
A second-rate ice-hockey player with a thuggish temperament discovers he has a powerful golf swing. He decides to enters a prestigious tournament to raise enough money to save his debt-ridden grandmother's house from falling into the hands of tax inspectors. Comedy, with Adam Sandler, Christopher McDonald, Carl Weathers, Julie Bowen and Frances Bay.
Die Hard 2 (1990) E4 9:00pm-11:30pm (2 hours 30 minutes)
Tough cop John McClane arrives at an airport to pick up his wife, but finds himself plunged into a bloody life-or-death struggle. He must battle terrorists who have seized control of the terminal as part of a campaign to secure the release of a convicted drug baron. Action thriller sequel, starring Bruce Willis, Bonnie Bedelia, William Sadler, Franco Nero and William Atherton.
No Way Out (1987) BBC1 London 12:15am-2:05am (1 hour 50 minutes)
A navy officer unwittingly has an affair with a politician's mistress, and becomes involved in the investigation after she is murdered. However, he soon suspects the plan is to find a scapegoat rather than the real killer – and that he is the most likely candidate to take the fall. Political thriller, starring Kevin Costner, Gene Hackman, Sean Young, Iman and George Dzundza.
SUNDAY 25th MAY
The Fifth Element (1997) 5* 1:50pm-4:25pm (2 hours 35 minutes)~
In the 23rd century, the world faces destruction from a seemingly unstoppable force of pure evil. Meanwhile, a New York cab driver encounters a mysterious woman destined to save the Earth from its fate, and has to protect her from a scheming arms dealer and a horde of alien mercenaries. Luc Besson's sci-fi adventure, starring Bruce Willis, Milla Jovovich and Gary Oldman.
Hocus Pocus (1993) Channel 4 3:35pm-5:30pm (1 hour 55 minutes)
A teenager in Salem, Massachusetts, breaks into a spooky house on Halloween and accidentally resurrects three witches who have been dead for 300 years. The sorceresses are soon causing chaos while seeking a suitable sacrifice for a ritual to give them eternal youth. However, an old foe – a boy they turned into a cat – is on hand to help stop their mischief. Supernatural Disney comedy, with Bette Midler, Sarah Jessica Parker, Kathy Najimy and Omri Katz. Edited for violence.
Big (1988) Film4 4:50pm-6:55pm (2 hours 5 minutes)
A boy ridiculed for his size makes a wish on a fairground machine to become bigger – only to wake up as a 30-year-old man. Driven from his home by his terrified mother, the bewildered youngster trapped in a grown-up body makes his way to New York, where he rises high in the ranks of a toy manufacturing company and applies his youthful enthusiasm to the complexities of adult life. Comedy, starring Tom Hanks, Elizabeth Perkins and Robert Loggia. Edited for daytime broadcast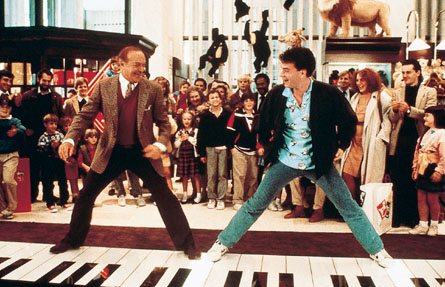 The Lord of the Rings: The Return of the King (2003) Sky Movies Action & Adventure 8:00pm-11:20pm (3 hours 20 minutes)
As hobbits Frodo and Sam near the end of their journey into the dark lands of Mordor to destroy the One Ring, the evil Sauron unleashes the full might of his armies on Middle-earth. Meanwhile, Aragorn must fulfil his destiny of becoming king by leading his people into a climactic battle with the forces of darkness. Conclusion of the fantasy adventure trilogy, starring Elijah Wood, Viggo Mortensen, Ian McKellen and Sean Astin.
MONDAY 26th MAY
Explorers (1985) Film4 12:55pm-3:05pm (2 hours 10 minutes)
Three boys build an interplanetary craft and go in search of the source of a signal from outer space. However, the aliens responsible are not what the young astronauts expected them to be. Sci-fi adventure, starring Ethan Hawke, River Phoenix, Jason Presson, Dick Miller, James Cromwell, and Robert Picardo in three roles.
Stand By Me (1986) 5* 4:15pm-5:55pm (1 hour 40 minutes)
Four 12-year-old best friends embark on a life-changing adventure in the Oregon wilderness in search of a missing teenager's body, unaware of the trials and triumphs that await them. Rob Reiner's 1950s-set coming-of-age drama, based on a novella by Stephen King, starring River Phoenix, Wil Wheaton, Jerry O'Connell, Corey Feldman, Kiefer Sutherland and Richard Dreyfuss.
Jurassic Park (1993) Sky Movies Family 5:50pm-8:00pm (2 hours 10 minutes)
Scientists are given a sneak preview of a safari park inhabited by genetically engineered dinosaurs created by an eccentric tycoon. However, it all goes wrong when a greedy employee sabotages the security systems, allowing the prehistoric beasts to roam free and hunt the visitors. Steven Spielberg's action adventure, starring Sam Neill, Laura Dern, Jeff Goldblum, Richard Attenborough and Samuel L Jackson.
Full Metal Jacket (1987) Sky Movies Superheroes 10:00pm-12:00am (2 hours)
Raw recruits undergo harsh training under a domineering Marine drill sergeant after being called up for service in the Vietnam War, but his brutal methods lead to the breakdown of one of his cadets. Eventually, some of the fully trained soldiers get their first taste of combat in 1968. Stanley Kubrick's drama, starring Matthew Modine, Adam Baldwin, Vincent D'Onofrio and R Lee Ermey.
Whatever you're up to this weekend, remember to stop, look and listen, and always enjoy yourselves.
xoxo