Can you believe it! Henson meets Bowie (Jareth) classic Labyrinth was first released in the US today back in 1986! Scary to think!

This cult icon well known for those trousers it's quirky story line and of course classic characters has been a firm favourite for many 80s kids and of course generations after and it's not hard to see why!

Although initially this flick was seen as a commercial hiccup, not even grossing half of it's $25million budget in the cinemas, Labyrinth gained a strong cult following and has been widely known as one of the best films from the 80s ever since.
A staggering 28 tears on (oh how old do we feel!) this film is still going strong in the eyes of many and is certainly still in all of our top lists.

The classic story follows 15 years old Sarah accidentally wishes her baby half-brother, Toby, away to the Goblin King Jareth (David Bowie). Jareth tells Sarah that he will give back her brother if she can solve his super high-tech and oh-so 80s Labyrinth within just thirteen hours. He then whisks them both off to the Labyrinth, leaving Sarah there to start her quest.
She quickly meets Hoggle, a grumpy and obstinate dwarf who initially refuses to help her. Soon after Sarah has trapped herself in an oubliette. Jareth sends Hoggle into the oubliette to free Sarah and sneakily misdirect her back to the beginning of the labyrinth. However, Sarah makes a trade with Hoggle while in the oubliette, and convinces him to take her as far as he can through the Labyrinth instead.
Through a series of twists and turns, she runs into even more weird and wonderful characters such as Ludo, the iconic 'ello worm', Sir Didymus, Fire Gang and is faces with ever greater challenges including the Bog of Eternal Stench, a room full of stairs and even the odd peach trance. Phew!


.
With so much love for this retro icon, naturally we've been so busy over the years designing and creating our very own range of exclusive and 100% official Labyrinth T-Shirts including designs inspired by the Goblin Kind, Ello Worm, Ludo and more. Take a look at some of our top picks from this great range…..
Competition Time!!
.


As you know, we love a good comp!

To help celebrate this big day from one of our all time favourite films, we're giving one lucky winner the chance to get your eager 80s loving hands on one of our amazing new Labyrinth Tees featuring our exclusive Sarah and Jareth design!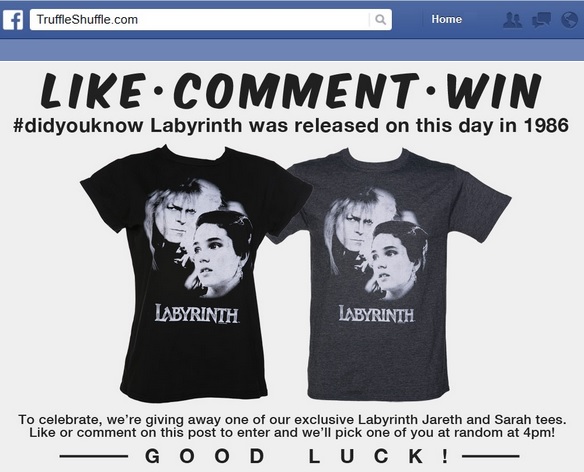 To enter, simply head on over to the TruffleShuffle Facebook page and hit 'Like' on the picture you can see above, that's it! Easy or what?

Closes at 4pm today when one winner will be picked at random after.

Good luck everyone!

xoxo