To celebrate the impending launch of the brand new Transformers flick, Transformers: Age of Extinction and the release of our exclusive Transformers Are Dangerous tribute tees, we've teamed up with the folk at Hasbro and put together a huge bundle of Transformers goodies to give away to one lucky winner!


.
The film begins after an epic battle that left a great city torn, but with the world saved. As humanity picks up the pieces, a shadowy group reveals itself in an attempt to control the direction of history… while an ancient, powerful new menace sets Earth in its crosshairs. With help from a new cast of humans, Optimus Prime (voiced by Peter Cullen) and the Autobots rise to meet their most fearsome challenge yet. In an incredible adventure, they are swept up in a war of good and evil, ultimately leading to a climactic battle across the world.
Directed by the god of explosive entertainment Michael Bay, this is the fourth film in the global blockbuster franchise and as huge Transformers fans, we figured it was only right that we put together something special to celebrate?!.
The Prizes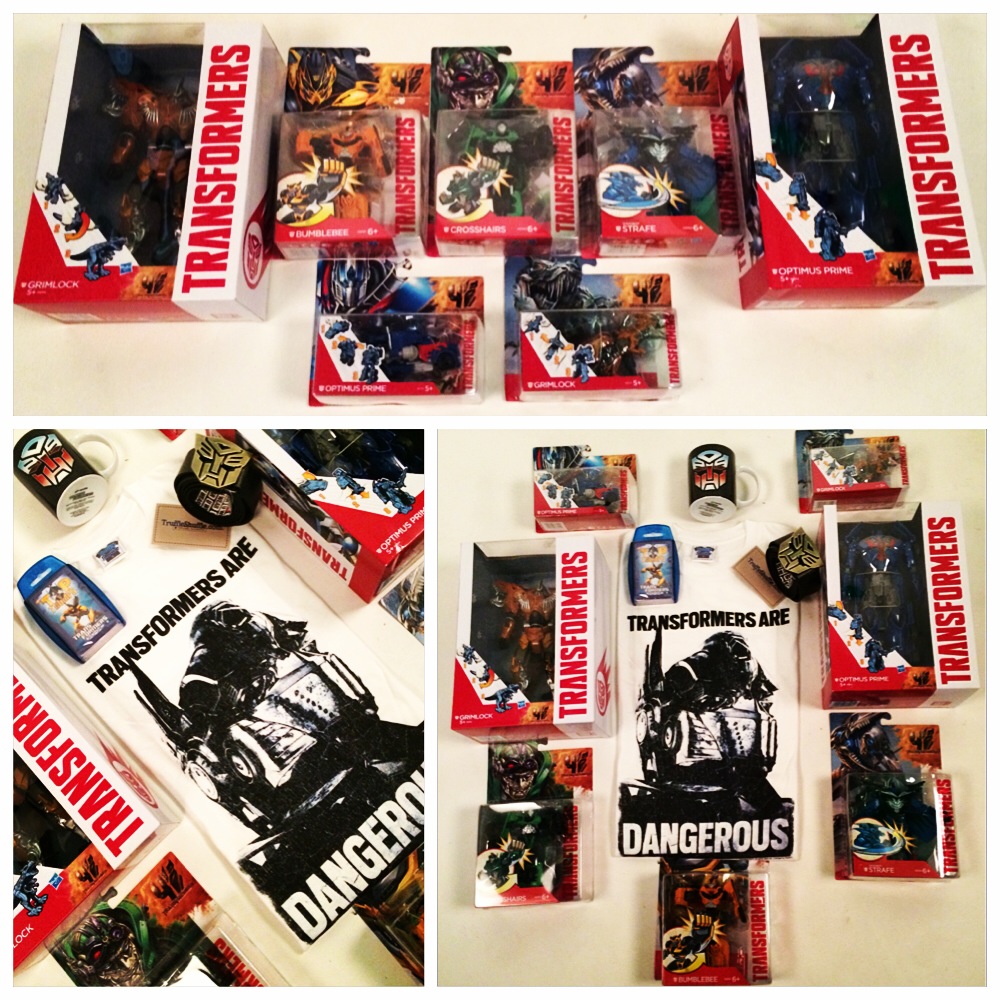 The lucky winner will receive the following….
Transformers Age of Extinction – Flip and Change Grimlock Figure
Transformers Age of Extinction – Flip and Change Optimus Prime
Transformers Age of Extinction – Optimus Prime One-Step Changer
Transformers Age of Extinction – Grimlock One-Step Changer
Transformers Age of Extinction Bumblebee Power Attacker
Transformers Age of Extinction Crosshairs Power Attacker
Transformers Age of Extinction Strafe Power Attacker
Transformers Gold Head Buckle PU Belt
Boxed Retro Transformers Mug
Transformers Top Trumps Card Game
Transformers Are Dangerous Age Of Extinction Movie T-Shirt

Cool huh! 🙂Co.
How to Enter
.


We're using the RaffleCopter system to make things as easy and fair as possible and to give you as many chances as possible to WIN! Remember, the more ways you enter, the more chances you'll have of winning!
a Rafflecopter giveaway
How will you pick the winner?

.


Well…at random! Keeping things nice and fair, the RaffleCopter system will dive into all the entries and pick up one at random.

How long do I have to enter?

.


The competition will close at midnight tonight (23rd of June) so be quick!


.
How will I know if I've won?

.


Once the winner has been selected, we will contact them directly via one of the methods they used to enter (Facebook, Twitter, Email etc) as well as announcing it on our Facebook and Twitter profiles. Further to that, we will also publish a closing competition post right here on the TruffleShuffle blog which will detail who the lucky winner is.`


.
Questions?
Email us on competitions@truffleshuffle.co.uk and we will get back to you as soon as possible.


.
T's&C's
T-Shirt sizes are subject to availability.
There will be no cash alternative for the prizes offered.
Only 1 winner will be selected at random.
If we do not hear back from the winner after 1 week, another will be chosen at random.
We reserve the right to close/cancel the competition at any time.