For some of us it doesn't seem so long ago when Top of the Pops was overrun with Britpop bands, you had your hair cut like Rachel from Friends and Saturday night TV was about watching celebrities getting gunged. But believe it or not, enough time has passed for the 90s style to come swinging in with full neon glory back into fashion again.


.
As we all know with this decade, this is tricky territory, as a step too far can turn you into Edina from Ab Fab. So whether you were watching Mighty Morphin Power Rangers or Men Behaving Badly at the time, here are some fashion icons of the era you should be taking notice of if you want to get the 90s revival look right. Enjoy!
Cher Horowitz
Starting with the ultimate 90s fashion icon, Cher from 90s smash hit Clueless. The most popular girl in Bronson Alcott High School, she had the lifestyle, the attitude and was always perfectly dressed for the occasion – with the help of some awesome virtual wardrobe software that I still to this day wish I had. This summer, if you're going to rock the 90s revival look, channel Cher and go for cute matching two piece suits for the office and a strappy top worn over a t-shirt for the gym.


.
Will Smith
If you're a guy you have it easy, because Will Smith during his time starring in the Fresh Prince of Bel Air is a one-man 90s fashion guide. If you're not sporting a snapback cap and a ludicrously bright t-shirt you are most certainly not Da Bomb. This look may be a little tricky to carry off, but as long as you're prepared to muck about with your mates, have fun and still be morally correct in the face of a sticky situation, then it'll work for you – it worked for Will!


.
Gwen Stafani
Back when Gwen Stafani was still known as 'that hot singer in No Doubt', her carefree hippie-grunge attire made her even more popular for her leading fashion sense, on top of her singing talent. Take inspiration from Gwen by mixing and matching cultural styles by donning a crop top, a sari style skirt and wearing your hair up in multiple knots. If you get it right you'll be an ultra cool summer babe, but beware of the accidental mono-brow effect bindi abuse can cause.


.
Clarissa Darling
I'm not condoning all of Clarissa's looks, but Clarissa Explains It All pretty much showcased the whole spectrum of 90s fashion female and male (look up her best bud Sam Anders). So choose carefully from some of Clarissa's many styles, most of all various quirky choker pendants, Dr. Martin boots, dinosaur earrings and shirts over strappy tops. Especially if you can source a gem like this Lichtenstein-esque cartoon strip patterned shirt.


.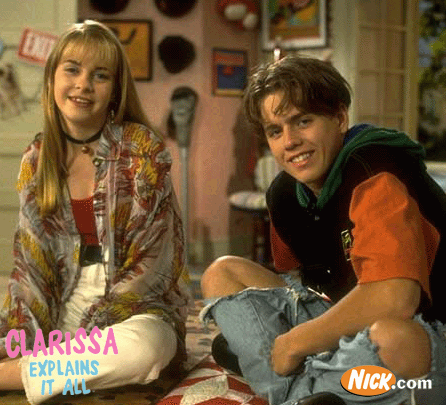 Spice Girls
The Spice Girls deserve honourable mention. Being a huge influence of the times they went through many phases in fashion. In my opinion the best thing they brought us was the platform trainer. This love child of a PE trainer and a corrective shoe was made popular by the girl group in the 90s ensuring anyone brave enough to don this fashion accessory an embarrassing tumble at the school disco.


.
This year's take on the casual platform transform sneakers, DM style boots and even jellies into platforms. You'll be uber cool if you're seen wearing them, just watch your step!


.
Kelly Kapowski
Finally, Kelly Kapowski was the most popular character in Saved By The Bell. Girls wanted to be her and guys wanted to be with her. She rocked the bralet and jacket combo, she owned matching floral crop top and trousers look and nailed the knotted t-shirt.


.
Although my personal favourite was Lisa Turtle who was always immaculately dressed and, let's face it, was less flaunty. So what if Kelly got Zach Morris? Lisa was fighting off the boys, even if that was mostly Screech…
This is an exciting time for those of us who grew up in the 90s as we'll finally get the chance to wear all the things our pocket money wouldn't stretch to, or our mothers wouldn't let us go out in. Who knows, maybe my VHS collection will be worth something and turkey dinosaurs will become a delicacy. We can only hope.
Get some 90s clothing of your very own! Yes we'd welcomed the amazing brand Hero and Cape into the TruffleShuffle family.
Starting back in 2011, Hero & Cape has a fab fun and tongue-in-cheek approach to pop graphics and authentic hand-printed clothing all with a 90s inspired design.
Screen printed by hand, each and every design is unique and lovingly crafted from the hand-illustrated designs to the manual screen printing on organic cotton. Amazing! Take a peep…..


.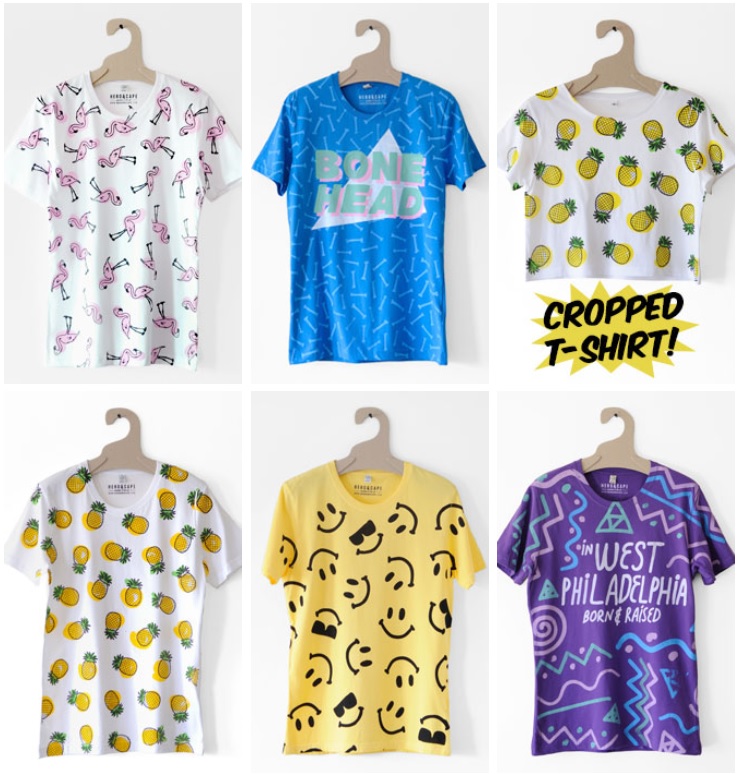 Don't forget to check out the rest of our amazing range including plenty of 90s T-Shirts from all of the classics. Enjoy and see you soon!


.


By Abi Ponton