Well Turkey sandwiches and mince pies! It's only the weekend and that was only Christmas!
With a house still full of empty boxes, piles of wrapping paper and presents that are yet to be explored, our retro film review rolls on through to help clear a path and steer the ship of television greatness ever forward to far and great lands where treasures and adventures only found in the deepest of dreams await. We'll tuck into the Christmas remains before sitting back to gaze at the weekend's celluloid wonder.
Have a happy retro weekend!
SATURDAY 27th DECEMBER
.
Star Trek: The Motion Picture (1979) Film4 1:10pm-3:50pm (2 hours 40 minutes)
A mysterious, planet-sized energy cloud is heading for Earth, destroying everything in its path. Admiral James T Kirk returns to the bridge of the Enterprise to stop the invader, but he has to contend with a bitter rival and the possession of one of his crew by the alien force. Sci-fi adventure, the first movie based on the TV series, starring William Shatner, Leonard Nimoy, DeForest Kelley and Persis Khambatta.
The Secret Garden (1993) Channel 5 12:45pm-2:45pm (2 hours)
An orphan is sent to live with her uncle in his forbidding Yorkshire mansion, where she meets her bedridden cousin – a boy she knew nothing about. She also stumbles across a marvellous but neglected garden, and sets about nursing them both back to health, with the help of a lad from a nearby village. Children's drama, based on Frances Hodgson Burnett's book, with Kate Maberly, Heydon Prowse, Andrew Knott, Maggie Smith and John Lynch.
Back to the Future Part III (1990) ITV London 2:30pm-4:40pm (2 hours 10 minutes)
Time-travelling teenager Marty McFly is transported back to the days of the Wild West, where he strives to save his eccentric scientist friend Doc Brown from death at the hands of a villainous gunslinger. Final instalment in the sci-fi comedy trilogy, starring Michael J Fox, Christopher Lloyd, Mary Steenburgen and Thomas F Wilson.
The Lost World: Jurassic Park (1997) ITV2 4:35pm-7:10pm (2 hours 35 minutes)
Scientist Dr Ian Malcolm reluctantly joins a research team on the island where his employer first designed genetically engineered dinosaurs. Meanwhile, a big-game hunter takes the chance to bag the biggest prize of all – a Tyrannosaurus Rex. Steven Spielberg's dinosaur adventure sequel, starring Jeff Goldblum, Julianne Moore, Pete Postlethwaite and Richard Attenborough.
Predator 2 (1990) Sky1 10:00pm-12:05am (2 hours 5 minutes)
A Los Angeles cop, working to bring down the city's drug gangs, suspects Jamaican criminals when he discovers several of his targets killed and skinned alive. However, the culprit behind the murders reveals himself to be an alien big-game hunter – with the stealth and guile to outwit the police and criminals alike. Sci-fi sequel, starring Danny Glover, Bill Paxton, Gary Busey and Maria Conchita Alonso.
Fun Fact: At one point Arnold Schwarzenegger was going to co-star in the film, but chose to do Terminator 2: Judgment Day (1991) instead.
McVicar (1980) ITV4 11:10pm-1:25am (2 hours 15 minutes)
Fact-based crime drama telling the story of notorious bank robber John McVicar. The film follows his rise to become London's most wanted, his capture and incarceration in a maximum security prison, his incredible escape and eventual reformation. Starring Roger Daltrey, Adam Faith, Steven Berkoff and Cheryl Campbell.
SUNDAY 28th DECEMBER
.
Jurassic Park (1993) ITV2 12:25pm-2:50pm (2 hours 25 minutes)
Scientists are given a sneak preview of a safari park inhabited by genetically engineered dinosaurs created by an eccentric tycoon. However, it all goes wrong when a greedy employee sabotages the security systems, allowing the prehistoric beasts to roam free and hunt the visitors. Steven Spielberg's action adventure, starring Sam Neill, Laura Dern, Jeff Goldblum, Richard Attenborough and Samuel L Jackson.
ET: The Extra-Terrestrial (1982) ITV London 3:20pm-5:35pm (2 hours 15 minutes)
A lonely boy befriends an alien who has been left stranded on Earth. The two develop a psychic connection as the boy helps the alien to contact his own people and seek rescue. However, living on Earth begins to have a devastating effect on the visitor's health, while a government operative is determined to capture him for study. Steven Spielberg's sci-fi fantasy, starring Henry Thomas and Drew Barrymore.
Raiders of the Lost Ark (1981) BBC1 London 3:45pm-5:35pm (1 hour 50 minutes)
Intrepid archaeologist Indiana Jones goes in search of the legendary Ark of the Covenant, a biblical artefact of devastating power. His quest leads him to Egypt, where the Nazis are plotting to use the Ark to further Hitler's plans for world domination – aided by Jones's deceitful French rival. Steven Spielberg's action adventure, with Harrison Ford, Karen Allen, Paul Freeman and John Rhys-Davies.
Fun Fact: Steven Spielberg and Melissa Mathison wrote a script during shooting breaks on the location of this film. Mathison was there to visit her husband, Harrison Ford and Spielberg dictated to her a story idea he had; that script was eventually called E.T. the Extra-Terrestrial (1982).
Independence Day (1996) Film4 6:00pm-8:50pm (2 hours 50 minutes)
A fleet of huge flying saucers launches a devastating and unprovoked attack on Earth. As survivors try to flee the seemingly unstoppable alien invaders, the courageous US president, an ace pilot and a computer genius come up with a plan to take the fight to the enemy and save the human race. Roland Emmerich's sci-fi adventure, starring Will Smith, Bill Pullman, Jeff Goldblum, Mary McDonnell, Randy Quaid, Robert Loggia and Harry Connick Jr.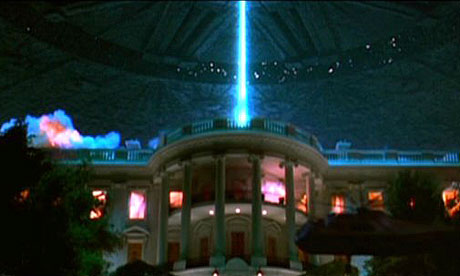 Born on the Fourth of July (1989) ITV4 9:00pm-11:55pm (2 hours 55 minutes)
Oliver Stone's fact-based drama chronicles the life of Ron Kovic, an eager-to-impress, patriotic Marine Corps recruit, who endures terrifying experiences during the Vietnam conflict that leave him paralysed from the chest down. On his return home, he undergoes a harrowing journey of physical and mental recovery that leads him to question the whole purpose of the war. Starring Tom Cruise, Willem Dafoe, Kyra Sedgwick and Josh Evans.
Face/Off (1997) Watch 11:25pm-2:10am (2 hours 45 minutes)
FBI agent Sean Archer captures terrorist Castor Troy, the man who killed his son. While Troy is in a coma, Archer has the crook's face surgically grafted onto his own so he can go undercover and locate a bomb planted somewhere in Los Angeles. But then Troy regains consciousness – and in turn takes on Archer's identity. John Woo's action thriller, starring Nicolas Cage, John Travolta, Joan Allen, Gina Gershon and Dominique Swain.
Whatever you're up to this weekend, make sure you thank the chef and always wait for everyone to be at the table.
xoxo