Can you believe it! One of the most-loved and iconic retro TV shows ever to hit the small screen (and now big screen!) first helicopter stunted, car chased and exploded its way into our lives way back in 1983!


.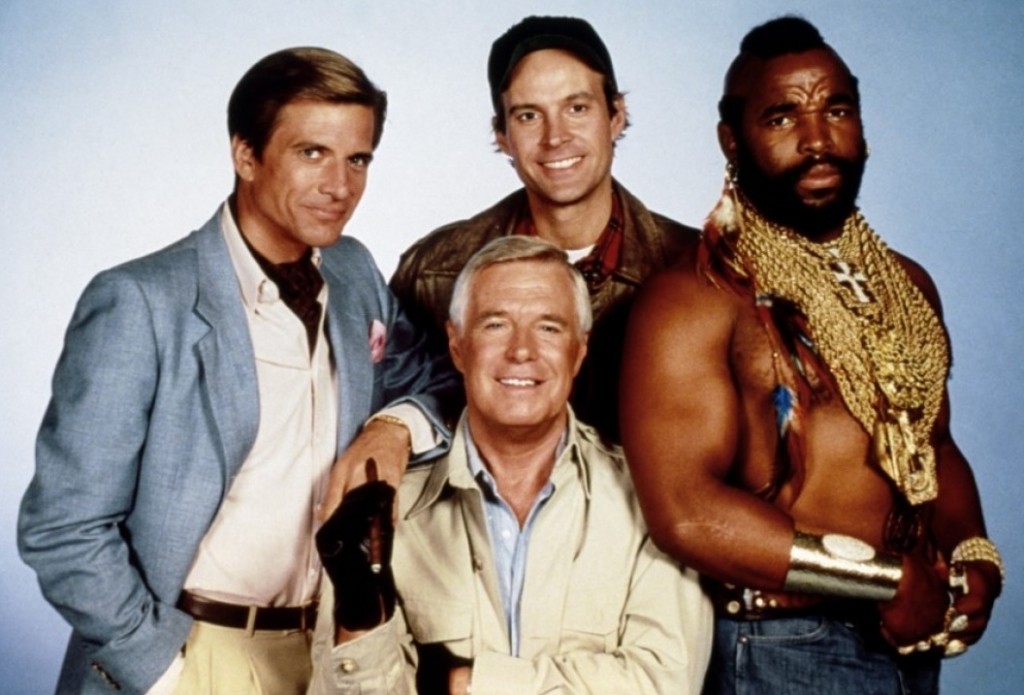 Following the story of a crack team of ex-special forces soldiers on the run from the military police for a crime they didn't commit but did, but didn't. Mr T (B. A. Baracus), Dirk Benedict (Face), George Peppard (Hannibal) and Dwight Schultz (Howling Mad Murdock) were mercenaries for hire and would find themselves in some of the most explosive situations possible helping innocent victims and people in need It was mega!

This real retro legend had everything you would ever need, a story of good vs evil, plenty of action and fights, catchphrases, the most amazing van ever made and of course the best opening titles EVER! Not that we're biased or anything 🙂

So! To help celebrate this 80s hero, we thought we would do some digging around ourselves and sniff out some of our favourite facts and trivia about the show and anyone who made it all possible. Sit back, take notes and enjoy our 32 facts about The A-Team!

1- In the opening credits, Dirk Benedict reacts to a passing metallic "Cylon warrior". Cylons were the nemesis in Benedict's earlier series, Battlestar Galactica (1978).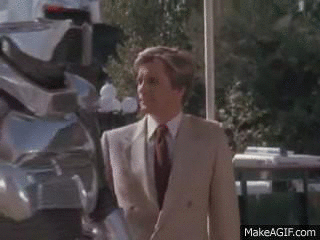 2- Guest stars of the show included; Dean Stockwell, Boy George, Hulk Hogan, Rick James, John Saxon, Isaac Hayes and Pat Sajak.
3- Although the show has been heavily criticised for its violence, people do not bleed or bruise when hit (though they might develop a limp or require a sling), nor do the members of the A-Team kill people.


.
4- Although he was their pilot on the Hanoi bank raid, Capt. H.M. "Howling Mad" Murdock was technically not part of the A-Team and was never hunted or tried by the military.


.
5- The gold that was worn by Mr. T during filming varied in weight, usually between 35 and 40 pounds or around 16kgs to you and us. Madness!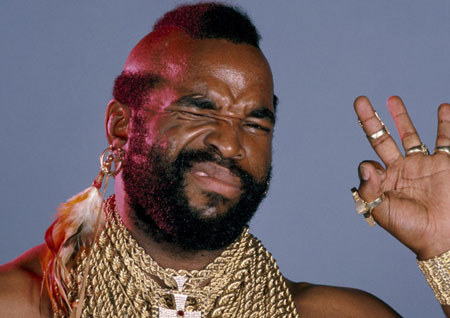 6- Amazingly, there are actually only two instances of anyone ever being hit by a bullet throughout the 98 episodes.


.
7- B.A Never Actually Says, "I pity the fool." This actually happens a lot with shows and films, "Beam me up Scotty", "play it again Sam" and even Breaking Bad's "Science Bi*ch" are never actually said in the shows. Weird huh! He did however say in in Rocky 3 when asked about the rematch. Great branding 🙂
8- The show suffered from a lot of continuity errors because of the iconic A-Team van, sometimes if had a sunroof, and other times (usually during stunts) it didn't.
– In the third season's "The Bells Of St. Mary's", in a scene where Face jumps from a building onto the roof of the van. There is clearly no sunroof. Moments later, in an interior studio shot, Face climbs in through the sunroof. Oooops!


.
9- While filming the fourth season premiere on a cruise ship, T had just suffered a loss in his family. Also the air-conditioner was annoying him. He had himself helicoptered off the set and phoned the producer with a list of demands, at which point he was "fired." But the two were able to work out their grievances and filming resumed.


.
10- The Spanish (Spain) version of the series has two significant changes with character nicknames. "Face" is called '"Fenix" and "B.A." Baracus is known as "M.A."


.
10- Amazingly, most of the episodes were filmed just five weeks before they aired.


.
11- The name A-Team comes from a military nickname which stood for Alpha team who move into action first, backed up by Bravo Team etc.


.
12- Hulk Hogan was actually asked to make more appearances in the show because he got on with George and Mt T so well but WWF commitments meant he couldn't do it.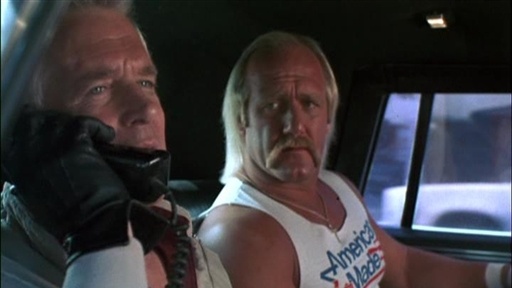 13- According to Stephen J. Cannell, the writers had a running gag where they would stage these horrific car crashes, but the people would come out unscathed. They would do this to test the limits of realism on purpose.


.
14- NBC executives originally wanted Murdock to be taken out of the show because they felt that he was too over-the-top. Test audiences for the pilot actually loved Murdock and gave him the highest ratings of all so the executives had to change their minds.


.
15- The A-Team's cool GMC van was not black and red, as commonly thought, but black, red and metallic grey.
16- Three cast members have prior U.S. military experience: George Peppard served in the Marines, while Eddie Velez served in the Air Force, and Mr. T was an MP in the U.S. Army.


.
17- The crime the team didn't commit was that their commanding officer in Vietnam, Colonel Morrison, ordered them to rob the Bank of Hanoi. The hope was that this would help bring the war to an end. The mission was successful, but when they returned to headquarters, the A-Team found it burned to the ground, and that Morrison was murdered by the Viet Cong.


.
18- The show's producer Stephen Cannell was fired from ABC in the early 1980s, after failing to produce a hit show for the network. He was then hired by NBC and his first project was The A-Team!


.
18- The first regular episode which was aired on January 30, 1983, reached 26.4% of the TV audience.


.
19- The show ran for a total of 98 episodes from 1983 to 1986.


.
20- Laurence Tureaud's role as Mr T was actually written for him rather than him being cast as a character.


.
21- Marvel Comics produced a three-issue A-Team comic book series, which was later reprinted as a trade paperback.
22- The iconic and instantly recognisable theme tune was written by Mike Post and Pete Carpenter who separately also wrote the theme songs for; Quantum Leap, Magnum, P.I., Bewitched, Law & Order, NYPD Blue and more. Also winning Grammy's!


.
23- During its time, The A-Team was nominated for 3 Emmy Awards: In 1983 (Outstanding Film Sound Mixing for a Series) for the pilot episode, in 1984 (Outstanding Film Sound Mixing for a Series) for the episode "When You Comin' Back, Range Rider?" and in 1987 (Outstanding Sound Editing for a Series) for the episode "Firing Line".


.
24- The voice during the intro was actually the shows producer (seasons 1-4) John Ashley.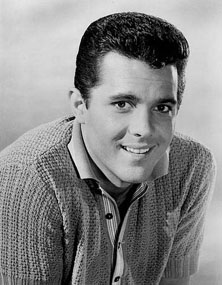 25- Mr. T and George Peppard did not get along very well on the set. Peppard didn't like that Mr.T became the 'star' of the show and also discovered that he was being paid more than him too. According to Dirk Benedict, George refused to talk to Mr. T and would use Benedict as a messenger between them. Eeeeek!


.
26- Tim Dunigan actually played Face in the pilot for the show but was later dropped because he looked too young on camera to be considered a war vet.


.
27- Melinda Culea was fired from the series over 'creative differences' with the producers. Culea wanted to have more lines, and be more involved in the fight scenes. The other cast member always made it clear they didn't want a female in the show as a distraction.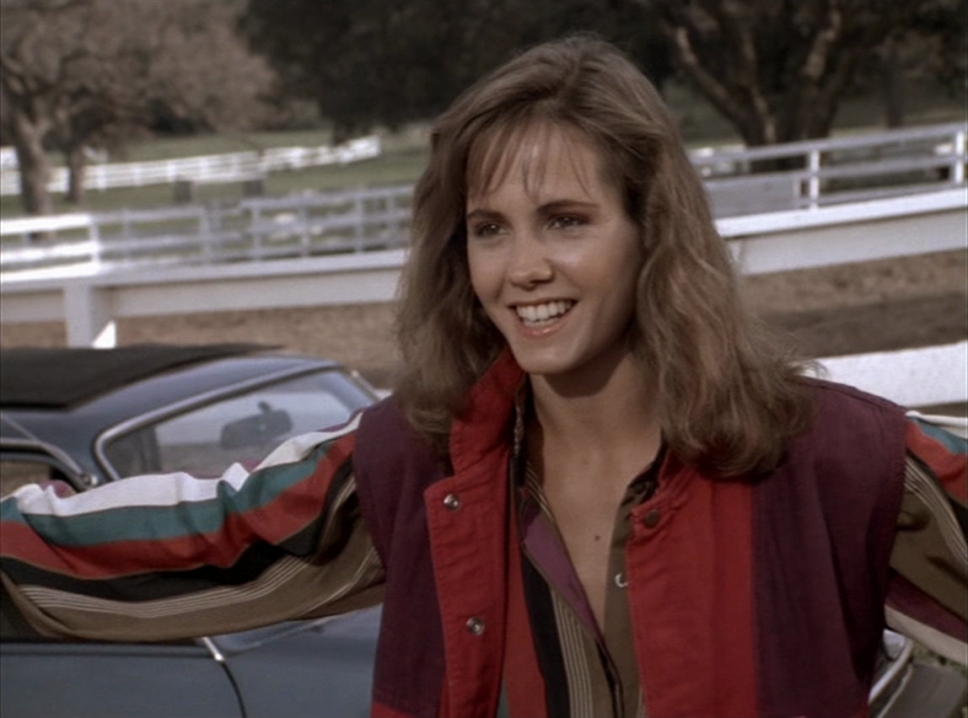 28- According to Dirk Benedict, Robert Vaughn was added to the cast in the fifth season because he was a long time friend of George Peppard's and it was believed that he could ease the tensions between Peppard and Mr. T.
29- "Howling Mad" Murdock's real first name is never really revealed throughout the series.


.
30- George Peppard was kicked off the game show Password Plus for fighting with and shouting at the producers while the cameras were rolling. Bad*ss


.
31- Better late than never, the B in B.B Baracus stands for Bosco….but he likes to think it's Bad Attitude. Oh and the A stood for Albert.


.
32- After four years on Tuesday, NBC decided to move The A-Team to a new time slot on Friday for what would be its final season. Ratings continued to drop, and after seven episodes, The A-Team fell out of the top 50 altogether. Booo!


.
So there you have them folks! Sooooo much to take in but hopefully there are a few gems in there that you might not have known.

Did you love the show too? Why not take a quick peep at some of our range of cool Mr T merchandise including Mr Tea Teapot, Mr T Fancy Dress Costume, or Mr T mugs!

See you there!

xoxo