For many of us, the kitchen is the real heart of the home. It's usually the first place people head to when they get home, the place where people can have a chat with a nice cuppa and perhaps where for at least once a day the whole family can sit down together and argue over who has more food on their plate.
Naturally, it's a pretty important place so is certainly one room in your house that's important to get just right and perhaps add a touch of you in there with some carefully selected goodies that will help to stamp your mark on your home. There are loads of things in there we all need, utensils, plates, mugs, pot and pans etc….but why not make them cool and stand out in true TruffleShuffle style with some of our amazing range of retro goodies!
Get stuck in and express yourself with something from our 15 Perfect Items You Need To Geek Up Your Kitchen!…
1) Boxed DC Comics Justice League Set Of 4 Tin Canisters
Make your morning cuppa with a touch of superhero style with these amazing canisters. Perfect for storing your tea, coffee, biscuits, sugar and perhaps the odd crime fighting gadget or two!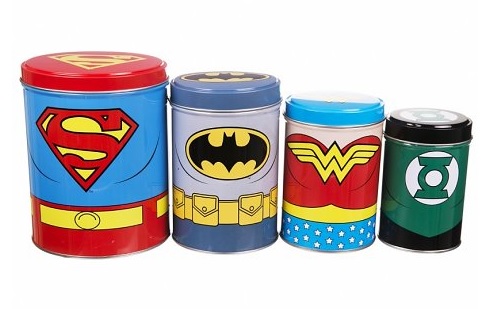 2) Doctor Who Ceramic Tardis Cookie Jar
Protect your precious cookies in style thank to this official TARDIS cookie jar. Fit's a surprising amount!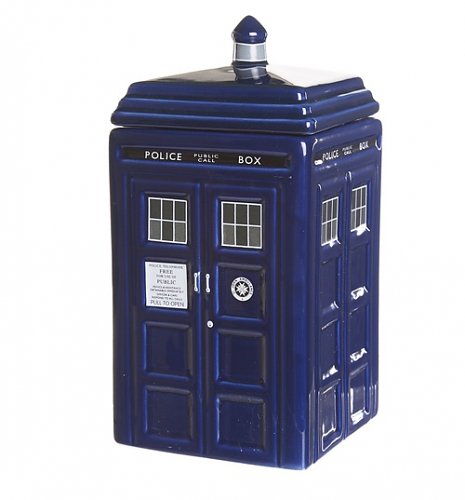 3) Star Wars Darth Vader Costume Apron In Tube
Cook up a MEAN feast thanks to our funky Darth Vader Aprons! Perfect for all you kitchen dark lords out there.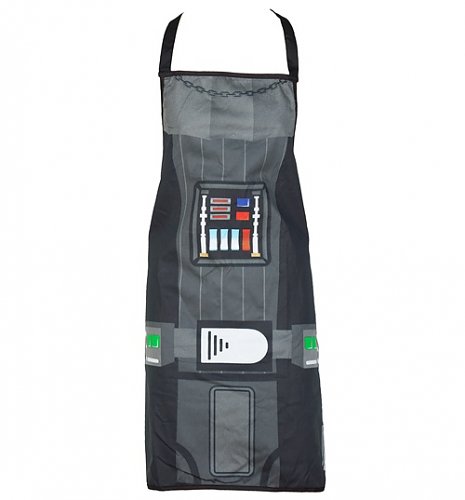 4) Mr Tea Teapot And Cup For One Set
So if you 'ain't getting on no plane' and would rather sit back and have a nice brew, this tea set is for you!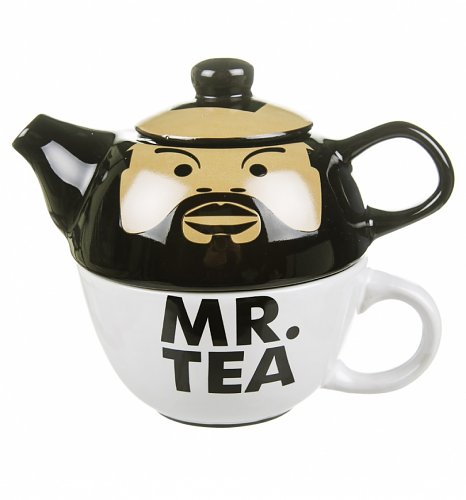 5) Star Wars X-Wing Knife Block
Surely the ultimate in kitchen hardware! This seriously cool X-Wing Knife Block is not only a lot of fun, but it's also incredibly stylish and is sure to complete any sci-fi geek's kitchen.
6) Sesame Street Cookie Monster Oven Mitt
Who better to join you in the kitchen for your next baking session than Sesame Street's resident sweet toothed superstar, the Cookie Monster. The perfect kitchen companion and sure to add plenty of retro cool to your home.
7) Wonderland Eat Me Cake Stand
add a touch of vintage cool to any tea party with this Alice's Adventures in Wonderland inspired Cake Stand. Perfect for any lovers of this classic tale.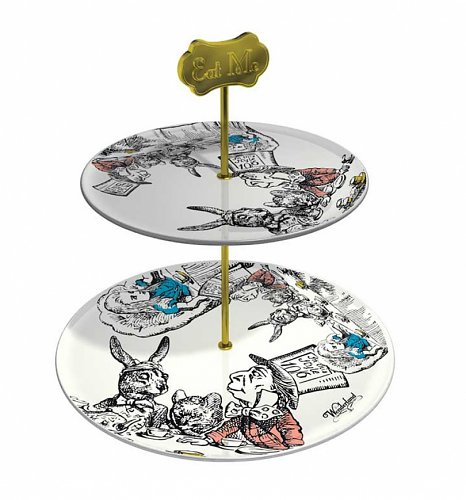 8 ) Star Wars Death Star Worktop Saver
That's no moon… it's a Death Star worktop saver! Made from toughened glass with non-slip rubber feet, this bis a hygienic, odour and stain resistant work surface.
9) Adventure Time Jake 3D Ceramic Cookie Jar
Adventure Time's most flexible character, Jake has shape-shifted into a rather glorious Jake cookie jar!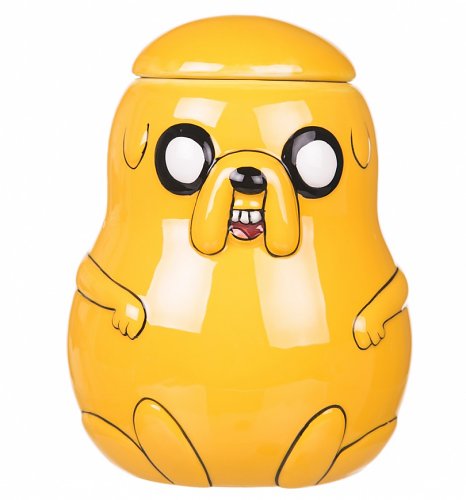 10) Star Wars R2-D2 And C-3PO Set Of 2 Glasses
We are over-droid with these amazing pair of glasses! Such a subtle way to show some love this these retro characters and won't break the bank too.
11) Transformers Optimus Prime Egg Cup And Toast Cutter
Battle breakfast with help from this awesome Optimus Prime Egg Cup and Toast Cutter! THE perfect way to start any day.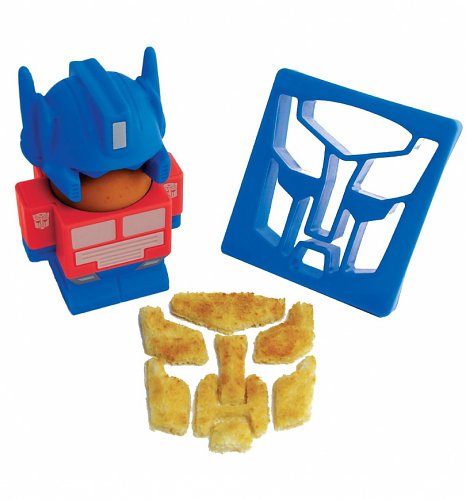 12) Doctor Who Dalek And Tardis Pack Of 2 Tea Towels
Always ready for action when it comes to cleaning up a messy situation, these amazing TARDIS and Dalek towels will make their selves right at home in any fans kitchen.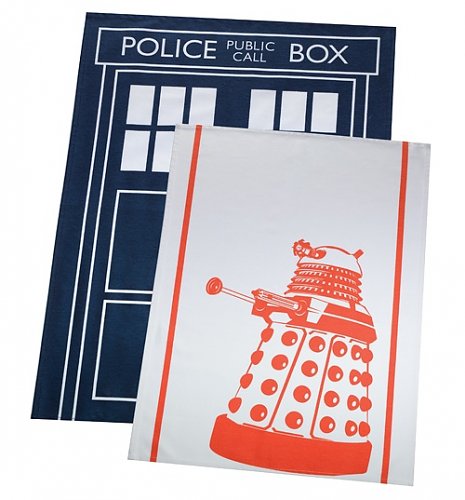 13) PAC-MAN Colour Change Pint Glass
There isn't much cooler than having a nice cold beer with some of your favourite retro game characters right? Well…why not do just that with our simply awesome Pac-Man pint glasses!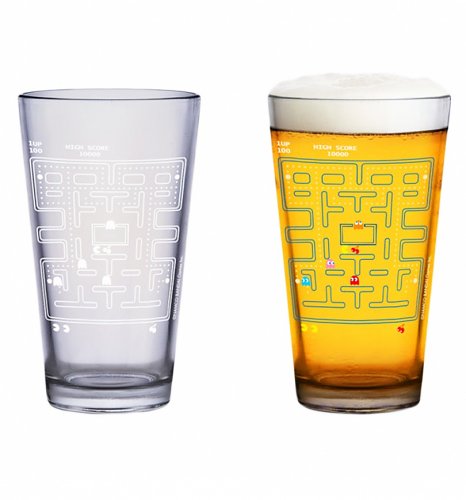 14) DC Comics Wonder Woman Costume 3 Piece Apron Set
Become the Warrior Princess of the kitchen with this Wonder Woman apron set.
15) Boxed Star Wars Set Of 4 Stacking Mugs
Join Darth Vader, Boba Fett, Chewbacca and the Stormtroopers with this awesome stack of mugs! If you like your coffee a little on the dark side, you'll know which one to pick 🙂
There they are folks! What cool ways do you have to show off some good old fashioned geek love in your kitchen?
For all these and so much more, check out our huuuuuge range of retro homewares and pick out the perfect items for you passion, needs, and style! See you there 🙂
xoxo