Pot the black! It's only and gone and been the weekend again!
Like a young and highly skilled Snooker player at the top of their game, we find ourselves once again taking a step back to assess the whole situation, movie options and our angle of attack for the weekend's delights. Setting our sights on our target which will earn us the most nostalgia points and set us up nicely for the next movie goodness, we'll take a deep breath before resting the cue on our fingers and bracing over the smooth green cloth. We'll take our time before striking with great accuracy and power, sending our cue ball cracking into its target and our movie of choice onto our screens.
Have a happy retro weekend!
SATURDAY 13th June
.
Harry Potter and the Prisoner of Azkaban (2004) ITV London 3:40pm-6:10pm (2 hours 30 minutes)
The teenage wizard is alarmed to learn a dangerous fugitive sorcerer is searching for him. Meanwhile, a new teacher at Hogwarts helps the bespectacled youngster to protect himself from the school's soul-sucking security guards. The third in the fantasy adventure series, starring Daniel Radcliffe, Emma Watson, Rupert Grint, Gary Oldman, David Thewlis, Michael Gambon, Robbie Coltrane and Alan Rickman.
Planet of the Apes (1968) Film4 4:45pm-6:55pm (2 hours 10 minutes)
A spaceship crash-lands on a mysterious planet where humans are mute creatures who find themselves at the mercy of intelligent apes. The world's simian rulers are horrified when one of the crew reveals he can speak and plan to have him killed, but two chimpanzee scientists intervene, determined to learn from the new arrival. Sci-fi drama, starring Charlton Heston, Roddy McDowall, Kim Hunter and Maurice Evans.
Honey, I Shrunk the Kids (1989) 5* 5:05pm-7:00pm (1 hour 55 minutes)
A professor invents a ray with the power to reduce objects in size. Unfortunately, his kids and their meddling friends trigger it off and are shrunk to microscopic proportions. When they are accidentally thrown out with the rubbish, the children have to contend with all kinds of animals and insects on their journey home across the backyard. Disney comedy, with Rick Moranis, Marcia Strassman and Amy O'Neill.
Fun Fact: The neighborhood seen in the film is not real, it was built at the back lot of Churubusco Studios. An English garden located at the studio served as the "backyard," and the houses were cleverly placed around the garden to hide the studio buildings from most directions.
RoboCop (1987) Syfy 9:00pm-11:10pm (2 hours 10 minutes)
A police officer in a future Detroit ravaged by crime is seemingly killed in the line of duty, but is rebuilt as a law-enforcing cyborg by the corporation that has taken over running the force. He begins to remember his human life and seeks to bring his killers to justice – a mission that leads him to turn on his corrupt corporate masters. Sci-fi thriller, starring Peter Weller, Nancy Allen, Ronny Cox and Miguel Ferrer.
Old School (2003) BBC1 London 11:20pm-12:50am (1 hour 30 minutes)
Category: Comedy Rating 6.9 41 votes An embittered lawyer decides to relive the wild, crazy days of his youth after his girlfriend is unfaithful, and enlists the help of two equally disillusioned friends in setting up a fraternity house next to his former college campus. Comedy, starring Luke Wilson, Will Ferrell, Vince Vaughn and Juliette Lewis.
SUNDAY 14th June
.
Jurassic Park (1993) ITV London 1:35pm-4:00pm (2 hours 25 minutes)
Scientists are given a sneak preview of a safari park inhabited by genetically engineered dinosaurs created by an eccentric tycoon. However, it all goes wrong when a greedy employee sabotages the security systems, allowing the prehistoric beasts to roam free and hunt the visitors. Steven Spielberg's action adventure, starring Sam Neill, Laura Dern, Jeff Goldblum, Richard Attenborough and Samuel L Jackson.
The Man in the Iron Mask (1998) Channel 5 1:50pm-4:15pm (2 hours 25 minutes)
The Three Musketeers set out to depose the villainous King of France and reinstate his long-imprisoned twin brother. However, they face an unexpected threat in the form of old friend D'Artagnan, who has remained loyal to the evil monarch. Swashbuckling adventure, starring Leonardo DiCaprio in a dual role, alongside John Malkovich, Jeremy Irons, Gerard Depardieu, Gabriel Byrne, Anne Parillaud and Hugh Laurie.
Big Business (1988) Film4 3:05pm-5:00pm (1 hour 55 minutes)
The first-born babies in two sets of identical twins are mixed up at birth by a short-sighted nurse, leading to their being raised in very different social circles. In later life, one pair, brought up in a poor mining town, visits New York to challenge a powerful conglomerate – only to find their respective siblings are in charge of the company. Comedy, starring Bette Midler and Lily Tomlin in dual roles alongside Fred Ward and Edward Herrmann.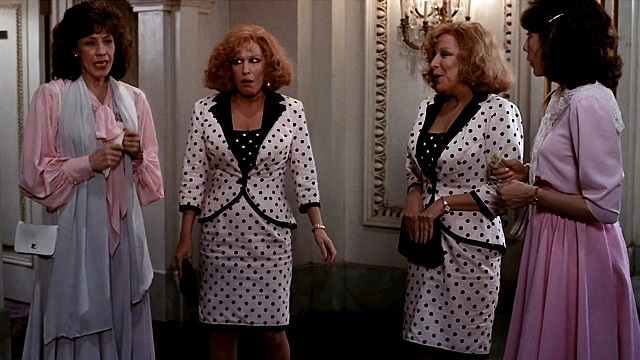 Air Force One (1997) Sky Movies Action & Adventure HD 4:15pm-6:25pm (2 hours 10 minutes)
The American president is forced to take drastic measures to save his family when their plane is hijacked by Russian terrorists demanding the release of a jailed radical general. Meanwhile, the vice president tries to manage the crisis from Washington and has to decide whether to shoot the aircraft down. Action thriller, starring Harrison Ford, Gary Oldman, Glenn Close, Dean Stockwell and William H Macy.
Roxanne (1987) GOLD 6:50pm-9:00pm (2 hours 10 minutes)
A sensitive fireman believes he has no chance of ever winning the heart of a lovely astronomer owing to his large nose, and instead agrees to help a handsome colleague woo her, causing himself no end of heartache. Romantic comedy based on Cyrano de Bergerac, starring Steve Martin, Daryl Hannah, Rick Rossovich and Shelley Duvall.
Iron Man (2008) Film4 9:00pm-11:25pm (2 hours 25 minutes)
Arms manufacturer Tony Stark is taken hostage by a terrorist group and realises the weapons his company build have been falling into the wrong hands. Using his engineering skills to construct a hi-tech armoured suit, he manages to escape and then puts the technology to good use in the fight against evil around the world. Superhero adventure, starring Robert Downey Jr, Jeff Bridges, Gwyneth Paltrow and Terrence Howard.
Whatever you're up to this weekend, remember to pick up some milk and that some things are just better left to the professionals.
xoxo