So! You've snapped up something totally awesome from TruffleShuffle.com (huuuuuge thank you!) and you're now proudly showing it off to the world to see. That's the end right? Wrong!
You can now enter for your chance to WIN a cool £50 spending money totally FREE just by leaving us a little review and letting us know what you think. It's as easy as that!
Leaving a Review
Entering for your chance to win really couldn't be simpler too – all you have to do is pop your thinking caps on, head on over to TruffleShuffle.com then simply find the product you wish to review and tell us all about your shopping experience with us.
The review at the end of the month that makes us laugh, smile or simply saw 'awww' the most will be out lucky winner. Easy. as. that!
All you have to do is find the product you ordered (whenever you ordered it), and click on either 'Be the first to review this product.' or 'Write a review of this product' depending on if you're the first – and tell us about your purchase and experience.
You can also review the site and us as a whole over on TrustPilot. This is a separate review site from us but is super helpful as these will be seen by everyone who finds us on a search engines and will let them know who we are and what we're like and importantly, if we can be trusted so help put people's minds at rest.
.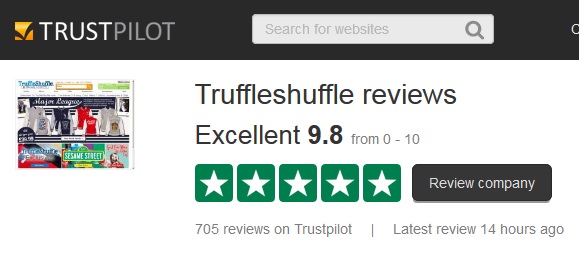 Find us here: www.trustpilot.co.uk/review/www.truffleshuffle.co.uk
So what could you say?? Maybe have a think about…

What did you love about the product? Fit well? Good print?
Did you enjoy our website and your shopping experience?
Did your order arrive nice and quickly? Was it packaged well?
Is there anything you would change?
Would you recommend us to your friends/family?
Our lucky winner will be chosen and contacted on Monday 3rd of August so stay tuned!
Good luck!
xoxo