Flash! Bang! Ohhhhhh! It's only the weekend again!
Getting geared up for another wet and windy fireworks extravaganza, we find ourselves once again faced with an evening or delight ahead of us. Like some of the most iconic retro movies around, a good old display will brighten up our faces in the dark, get our senses tingling and leave us smiling and always wanting more! We'll enjoy our evening with a nice hot cup or coco before getting to warm up by the fire and let all that we see take us back to years gone by.
SATURDAY 7th NOVEMBER
.
The Hunt for Red October (1990) Dave 3:30pm-6:00pm (2 hours 30 minutes)
A Soviet submarine commander creates an international crisis by piloting his experimental nuclear vessel, which is invisible to sonar, toward the American coast. The US and Russian navies think he is planning to attack and set out to destroy the submarine, but a CIA analyst suspects he intends to defect to the West. Cold War thriller, based on Tom Clancy's novel, starring Sean Connery, Alec Baldwin and James Earl Jones.
Death Becomes Her (1992) ITV London 3:45pm-5:45pm (2 hours)
Two romantic rivals are both granted the secret of eternal youth by a mysterious mystic. However, as they battle to get their claws into a plastic surgeon, they discover their now-immortal bodies are capable of taking whatever damage they can dish out. Black comedy fantasy, starring Goldie Hawn, Meryl Streep, Bruce Willis and Isabella Rossellini.
Star Trek II: The Wrath of Khan (1982) Dave 6:00pm-8:20pm (2 hours 20 minutes)
The Enterprise crew faces a bitter battle to the death with an old enemy. Khan, a genetically engineered superhuman tyrant, has escaped exile on a barren planet and hijacked a starship to take his revenge on Admiral Kirk, while also scheming to turn an experimental planet-creating device into a doomsday weapon. Sci-fi adventure sequel, with William Shatner, Leonard Nimoy, Ricardo Montalban and Kirstie Alley.
Mission: Impossible (1996) Film4 6:50pm-9:00pm (2 hours 10 minutes)
Secret agents suspect there is a traitor in their organisation when their latest assignment ends in disaster. The sole survivor is accused of being the mole, forcing him to go on the run to clear his name. However, in the process, he discovers a former Russian spy is selling information about the world's leading undercover operatives. Action thriller based on the 1960s TV series, starring Tom Cruise, Jon Voight and Ving Rhames.
Bill & Ted's Excellent Adventure (1989) ITV2 7:10pm-9:00pm (1 hour 50 minutes)
Two dim-witted teenagers with dreams of rock stardom seem doomed to fail a school history project, unaware the future of the human race depends on their success. A time traveller is given the job of making sure they pass the test by sending them on a series of adventures in the past. Comedy, starring Keanu Reeves, Alex Winter and George Carlin.
Transformers: Revenge of the Fallen (2009) E4 8:00pm-11:00pm (3 hours)
The war between the shape-shifting robots erupts once again, as the first of the evil Decepticons leads an attack on Earth to locate an ancient planet-destroying machine. Hapless teenager Sam Witwicky is caught in the middle of the ensuing conflict as he holds the key to discovering the location of the device. Sci-fi adventure sequel, starring Shia LaBeouf and Megan Fox.
The Fast and the Furious (2001) ITV2 9:00pm-11:10pm (2 hours 10 minutes)
In a move to identify suspected hijackers, an undercover police officer infiltrates the high-octane world of illegal late-night street racing by rival gangs. He is befriended by a champion driver, but when he also forms a bond with the racer's sister, he is pitched into a conflict of loyalties. Thriller, starring Vin Diesel, Paul Walker, Michelle Rodriguez and Jordana Brewster.
Tremors (1989) ITV4 9:00pm-11:00pm (2 hours)
A dull American town in the middle of the desert is suddenly attacked by huge man-eating subterranean creatures. Luckily, two dimwitted but brave handymen step into the breach to lead a ragtag bunch of locals and a mismatched pair of survivalists in the battle against the gruesome worm-like monsters. Comedy horror, with Kevin Bacon, Fred Ward, Finn Carter, Michael Gross, Reba McEntire and Bobby Jacoby.
Raw Deal (1986) ITV4 11:00pm-1:10am (2 hours 10 minutes)
An FBI agent is discharged for insubordination after assaulting a suspect, and ends up reduced to being the sheriff of a backwater Southern town. He is later offered his old job back – on the condition he will infiltrate a gang of Chicago mobsters and bring their leader to justice for killing the son of the Bureau's chief. Action thriller, with Arnold Schwarzenegger, Sam Wanamaker, Kathryn Harrold, Ed Lauter and Darren McGavin.
Fun Fact: According to Arnold Schwarzenegger, Dino De Laurentiis decided to produce this film because he needed quick cash for his long gestating project Total Recall (1990).
See No Evil, Hear No Evil (1989) Channel 5 11:50pm-1:35am (1 hour 45 minutes)
A blind man and his deaf friend go on the run to clear themselves of a trumped-up murder charge. However, all kinds of oddball characters are on their trail, determined to get hold of a top-secret microchip that the duo do not realise they have. Comedy, starring Richard Pryor, Gene Wilder, Kevin Spacey, Joan Severance, Alan North and Anthony Zerbe.
SUNDAY 8th NOVEMBER
.
The Simpsons Movie (2007) Channel 4 4:50pm-6:30pm (1 hour 40 minutes)
Homer unwittingly pollutes Lake Springfield, so the US government decides to isolate the city underneath a giant dome. The Simpsons manage to escape and plan to start a new life in Alaska – but learn Springfield is about to be destroyed, and return to save their friends. With the voices of Dan Castellaneta, Julie Kavner, Nancy Cartwright and Yeardley Smith.
| | |
| --- | --- |
| | |
Space Jam (1996) ITV2 4:55pm-6:40pm (1 hour 45 minutes)
Aliens arrive on Earth to abduct the Looney Tunes gang as a new attraction at their failing intergalactic theme park. To keep their freedom, Bugs Bunny and friends challenge the invaders to a high-stakes basketball game, calling on Michael Jordan to save the day and send the extraterrestrials back where they came from. Live action and animated comedy, starring Bill Murray and Danny DeVito, with the voices of Billy West and Bill Farmer.

Fun Fact: When Stanley comes into Michael's hotel room and says "C'mon, Michael, it's game time. Slip on your Hanes, lace up your Nikes, take your Wheaties and your Gatorade, and we'll grab a Big Mac on the way to the ballpark." All of those things were products that Michael Jordan had been a sponsor for around that time.
Kindergarten Cop (1990) ITV2 6:40pm-9:00pm (2 hours 20 minutes)
A tough detective is forced to pose as a preschool teacher in a bid to capture a drug dealer whose son is one of the pupils. However, his biggest challenge turns out to be controlling a class full of five-year-olds. Comedy, starring Arnold Schwarzenegger, Penelope Ann Miller, Linda Hunt, Pamela Reed and Richard Tyson.
Tommy Boy (1995) AMC 7:00pm-9:00pm (2 hours)
A clumsy, dim-witted college graduate becomes a travelling brake-pad salesman in a last-ditch bid to save his late father's business from financial ruin. Comedy, starring Chris Farley, David Spade, Bo Derek and Dan Aykroyd.
Eraser (1996) ITV4 9:00pm-11:20pm (2 hours 20 minutes)
An arms industry executive is placed in danger after she exposes evidence of illegal deals by an international corporation. The authorities respond by assigning her to the custody of a government agent who specialises in helping federal witnesses disappear from the system. However, when the operative is framed for murder, he is forced to balance his duties with efforts to clear his own name. Action thriller, starring Arnold Schwarzenegger, James Caan, Vanessa L Williams and James Coburn.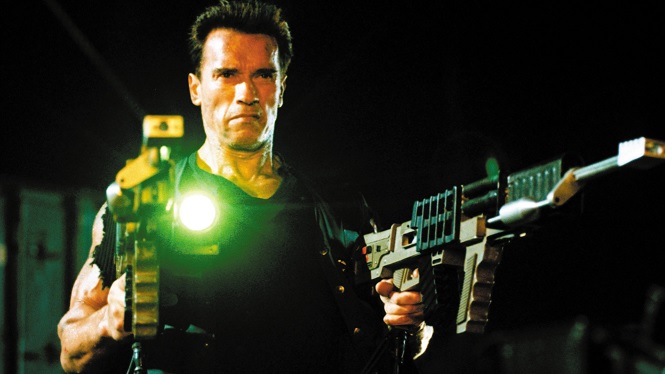 2 Fast 2 Furious (2003) ITV2 10:00pm-12:10am (2 hours 10 minutes)
A disgraced former cop is arrested by the FBI for illegal street racing, but his one-time colleagues offer him freedom in exchange for going on an undercover mission. Teaming up with an old racing friend and a customs official, he has to infiltrate and bring down a drug-trafficking operation. Thriller sequel, with Paul Walker reprising his role from The Fast and the Furious alongside Tyrese Gibson, Eva Mendes and Cole Hauser.
The Wicker Man (1973 ITV4 11:20pm-1:15am (1 hour 55 minutes)
A devoutly Christian Scottish police officer travels to a remote island to investigate the disappearance of a missing girl. As his investigations are disrupted at every turn, the detective is horrified to see the population have embraced an ancient pagan lifestyle, and begins to fear they may intend to sacrifice the child in an occult ritual. Horror, starring Edward Woodward, Christopher Lee and Britt Ekland.
Whatever you're up to this weekend, always buckle up and don't forget to eat your greens.
xoxo