It's Labyrinth's 30th birthday and time to rejoice like the legendary David Bowie here!
Can you believe it? The fantasy cult classic that entranced us with its magical maze, wonderfully wacky puppets, ultra-80s soundtrack and the legendary David Bowie in *ahem* those tights (but more on him later) first graced the big screen all the way back in 1986 and it is still one of those precious films that stir up warm and fuzzy feelings of nostalgia. Here at TruffleTowers we may be a little older, a lot greyer and a whole heap wiser (ish), but we still love it – hey, maybe even more than back in the day! – so we felt it was only right to reflect on what makes this movie so magnificent.
So, without further ado, here are our 5 reasons why Labyrinth is still AH-mazing, 30 years on…
David Bowie's majestic presence…
Need we say more? Probably not, but we're going to anyway. The hair. Those tights. That juggling ability (okay, it wasn't actually him but we reckon he can pull it off with panache). Some SERIOUS swagger. Watching Labyrinth, we fear Bowie, but love him too (obvs) as he brings that unmistakable charisma to the role of Jareth the Goblin King. Who else could steal a baby, make a teenage girl tackle death defying traps (not to mention risk smelling hideous for all time!), attempt to possess her forever and STILL win us over? There were whispers that Prince, Mick Jagger and Michael Jackson were considered for the role in the early stages of production but we think it's impossible to imagine anyone else doing it quite like Bowie.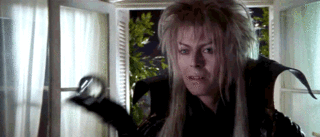 It teaches us about the magic of friendship…
There's no way our heroine Sarah would have made it through the Labyrinth without a little help from her friends… the bravest fox there ever was, Sir Didymus; gentle giant Ludo and even warm and welcoming Worm (okay, he sent Sarah the wrong way but he meant well, didn't he?). Sarah helps her companions, too – our hearts twinge when she rescues lovely Ludo and we love her sweet bond with Hoggle, who Sarah encourages to overcome his cowardly nature and put their blossoming friendship ahead of his loyalty to evil Jareth. And that's the beauty of friendship, right? Giving others a chance and helping people – particularly in a world chock full of ghastly Goblins, traps at every turn and where a glam-rock Goblin King wants to transform your baby brother into a troll. *Gulp*
Should you need some of these lovable characters that Sarah encounters in your own life/wardrobe, head right on over to our cute Labyrinth clothing, for tees, tops and gifts featuring Worm, Ludo and the whole gang!
It's the ultimate Jim Henson nostalgia fest…
With childhoods whiled away watching The Muppets, Fraggle Rock and Sesame Street, Jim Henson holds a very special place in the hearts of any 80s kid (or 60s, 70s, and 90s for that matter!). Whether cute, quirky or just a little bit creepy, Jim Henson was THE master of making the most endearing, unforgettable characters, and Labyrinth's fabulously fun fantasy land of goblins, creatures and marvellous monsters was no exception. Fun fact: In Labyrinth, Baby Toby was played by Toby Froud, son of conceptual designer Brian Froud who worked on Labyrinth and The Dark Crystal, another amazing cult Henson film – and he was clearly taken with Henson's magical puppetry at a young age as he eventually became a puppet designer and even worked at the Muppet Workshop in New York! No-one creates an inspiring, magical world quite like Jim for kids (and big kids!) alike.
The seriously 80s-tastic soundtrack…
As purveyors of all things 80s, it's no surprise we're ginormous fans of Labyrinth's gloriously retro soundtrack! From moody moments like Within You to ballad As The World Falls Down, the biggest tune of all is of course Magic Dance! The super-impressive Magic Dance scene consisted of over 48 puppets, 52 puppeteers and eight people in goblin costumes (perhaps most impressively of all, Bowie was the voice behind the gurgling baby effect in the song (was there any end to this man's talents?!). You'll truly be the babe with the power in our wicked You Remind Me of The Babe T-Shirt, which proudly flaunts a black and white pic of Bowie in all his goblin-dancing glory – perfect for a magic dance of your own! All together now: "You remind me of the babe…"
It reminds us that money doesn't equal success…
Hard though it may be to believe, Labyrinth was a box office failure on its release. But it quickly gained a cult following and was well on the way to becoming the oddball classic it is now. Jim Henson was reportedly devastated when Labyrinth wasn't commercially successful, but his son has since said his father was so happy to see it achieve cult status before he died. There are tons of box office smash hits that aren't loved anywhere near as much as Labyrinth is today – the Labyrinth Masquerade Ball in LA, heaps of outdoor film screenings and amazing fancy dress are testament to the ongoing love for this absolutely 80s classic.
So, that's all folks! All that's left for you to do now is don your best Sarah-style peasant blouse or over-sized blonde wig and tight trousers a la Bowie, blast out 'Magic Dance' and leap around like a loon. Just us? Okay then…
So what do you guys love the most about this retro classic? The action? The songs or just the nostalgia of it all? Let us know below.
(Psst! Make sure you keep your peepers peeled for some AWESOME new Labyrinth goodies coming your way soon – did someone say Labyrinth board game?!)