Deal of the day! Another retro movie weekend is officially here and boy oh boy are we excited!
Travelling through the streets and local fields like a lost squirrel searching for the buried nuts left many months before, we find ourselves glued to our trusty screen as we roam the lands in search of mystical creatures and the all important XP. We'll climb hills, brave the shores and perhaps even make a few friends along the way.
Have a happy retro weekend!
SATURDAY 23rd July
.
Bicentennial Man (1999) Movie Mix 9:10am-11:45am (2 hours 35 minutes)
A family purchases a robot servant to perform menial tasks but quickly realises this is no ordinary droid when he begins to develop human emotions and the capacity to think for himself, a quality encouraged by his owner's children. He asks for his freedom, and spends the next 200 years struggling to come to terms with its humanity. Chris Columbus's sci-fi drama inspired by the books of Isaac Asimov, starring Robin Williams, Sam Neill, Embeth Davidtz and Oliver Platt.
Picture Perfect (1997) Film4 11:00am-1:00pm (2 hours)
An ambitious executive hires a man to pose as her fiance to give her a stable image at work and attract a colleague who is only tempted by unavailable women. However, her fantasy life soon spirals out of control, leaving her unable to tell the difference between fact and fiction. Romantic comedy, with Jennifer Aniston, Jay Mohr, Kevin Bacon, Olympia Dukakis and Illeana Douglas.
Ferris Bueller's Day Off (1986) Film4 4:40pm-6:45pm (2 hours 5 minutes)
A cocky teenager plays truant from school and spends the day dragging his girlfriend and a reluctant friend into all manner of crazy adventures in the big city – while the school's dean of students vows to stop at nothing to prove the youngster is faking illness. Comedy, starring Matthew Broderick, Mia Sara, Alan Ruck, Jennifer Grey, Jeffrey Jones and Charlie Sheen.
Ferris Bueller's Day Off TShirts
Grease (1978) Channel 4 5:55pm-8:00pm (2 hours 5 minutes)
Rebellious American teenager Danny falls for innocent Australian girl Sandy during the summer holidays, but when he later finds out she is a new student at his school, he risks losing her love by trying to act cool in front of his friends. Romantic musical set in the 1950s, starring John Travolta, Olivia Newton-John, Stockard Channing, Jeff Conaway, Didi Conn and Sid Caesar.
Liar Liar (1997) ITV2 6:15pm-8:00pm
A lawyer, whose underhand ploys to win cases leave him little time to see his son, discovers he is incapable of lying after the boy's birthday wish makes his dad tell only the truth. However, this causes a host of problems as the attorney tries to muddle his way through a high-profile divorce settlement. Comedy, with Jim Carrey, Maura Tierney, Justin Cooper, Jennifer Tilly and Cary Elwes.
A View to a Kill (1985) ITV4 8:00pm-10:40pm
James Bond clashes with a megalomaniac international businessman plotting a global takeover of the computer industry by engineering a devastating earthquake in California's Silicon Valley – and killing millions in the process. Spy adventure, starring Roger Moore in his final appearance as 007 alongside Christopher Walken, Grace Jones, Tanya Roberts and Patrick Macnee.
The Inbetweeners Movie (2011) Channel 4 10:00pm-11:55pm (1 hour 55 minutes)
Awkward teenagers Simon, Will, Jay and Neil plan a holiday to the Greek island of Crete after they finish their exams, hoping to experience drink, sex and debauchery beyond their wildest dreams. However, things do not quite work out as planned. Comedy based on the TV series, with Joe Thomas, Simon Bird, James Buckley and Blake Harrison.
SUNDAY 24th July
.
Honey, I Shrunk the Kids (1989) Film4 1:00pm-2:50pm (1 hour 50 minutes)
A professor invents a ray with the power to reduce objects in size. Unfortunately, his kids and their meddling friends activate it and are shrunk to microscopic proportions. When they are accidentally thrown out with the rubbish, the children have to contend with all kinds of animals and insects on their journey home across the backyard. Disney comedy, with Rick Moranis, Marcia Strassman and Amy O'Neill.
Bill & Ted's Excellent Adventure (1989) ITV2 2:30pm-4:20pm
Two dim-witted teenagers with dreams of rock stardom seem doomed to fail a school history project, unaware the future of the human race depends on their success. A time traveller is given the job of making sure they pass the test by sending them on a series of adventures in the past. Comedy, starring Keanu Reeves, Alex Winter and George Carlin.
King Kong (2005) ITV2 4:20pm-7:55pm
A maverick film-maker and his cast and crew board a ship bound for a mysterious island – but when they arrive, a giant gorilla carries off their leading lady. As the crew makes its way through the teeming jungle to find her, the director concocts a dangerous scheme to capture the great ape and take it back to New York. Peter Jackson's remake of the fantasy adventure, starring Naomi Watts, Jack Black, Andy Serkis and Adrien Brody.
Die Hard (1988) Film4 9:00pm-11:40pm (2 hours 40 minutes)
New York cop John McClane visits Los Angeles to see his family over the Christmas holiday. Stopping off at his wife's place of work, he realises armed men have taken over the building and are holding the corporation's staff to ransom – and only he has the ability to fight back. Action thriller, starring Bruce Willis, Alan Rickman and Bonnie Bedelia.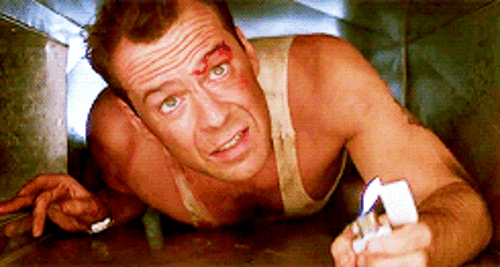 The Others (2001) Film4 11:40pm-1:45am (2 hours 5 minutes)
A woman awaits the return of her husband from the Second World War while struggling to care for her son and daughter. Both children suffer a violent reaction when exposed to daylight, forcing her to keep much of their isolated home on the island of Jersey shrouded in gloom. When the pair claim to see strangers in the house, their terrified mother begins to suspect that the souls of the dead are stalking the halls. Period supernatural thriller, starring Nicole Kidman, Fionnula Flanagan, Alakina Mann, James Bentley and Christopher Eccleston.
Whatever you're up to this weekend, always bring enough for everyone and don't forget to grab some napkins.
xoxo