Sweet Valley High! Another retro movie weekend has landed and is here to whisk us off to far and foreign lands!
With a clip and a clonk, we're re-living our childhoods once again as we connect power cables and controllers to our favourite dusty old game console. Firmly slotting in the well-used cartridge which is packed with data and memories, we'll hit the power switch and begin to jump, run and slide our way around the old familiar lands we once conquered man moons before.
SATURDAY 14th October
.
Lara Croft: Tomb Raider (2001) Syfy 2:20pm-4:30pm (2 hours 10 minutes)
The gun-toting treasure seeker is thrown into a furious battle with a mysterious secret society as she races against time to locate the missing pieces of a legendary artefact that grants the owner the ability to control time. Action adventure based on the video games, starring Angelina Jolie, Daniel Craig, Leslie Phillips, Iain Glen, Chris Barrie and Jon Voight.
Titanic (1997) Film4 2:30pm-6:15pm (3 hours 45 minutes)
A party of explorers studying the sunken remains of the famous liner meets an elderly woman who was a passenger on the ill-fated maiden voyage. She recounts how she boarded the ship while on the brink of being forced into marriage by her family, and was stopped from killing herself by a penniless artist. She fell in love with her saviour, but the disaster on the horizon meant their time together was doomed to be short. James Cameron's Oscar-winning romantic drama, starring Kate Winslet, Leonardo DiCaprio, Billy Zane, Kathy Bates and Bill Paxton.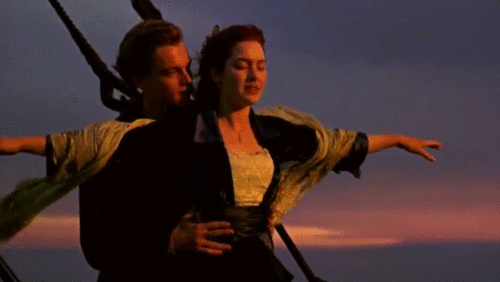 Butch Cassidy and the Sundance Kid (1969) Spike 2:45pm-5:00pm (2 hours 15 minutes)
Two notorious outlaws' routine of bank and train robberies is cut short when a seemingly unstoppable posse is formed to catch them. The pair plan to flee America and start a new life in Bolivia, with the Sundance Kid's schoolmistress lover in tow – but staying ahead of the law is not so easy. Western, starring Paul Newman, Robert Redford and Katharine Ross.
Dirty Dancing (1987) 5STAR 3:55pm-6:00pm
A dance instructor at a 1960s resort hotel fears his career will be jeopardised when his regular partner is forced to pull out of an important show in which they are due to perform. Luckily, a naive teenager is happy to step in, and is treated to a whirlwind holiday education in life, love and expressing herself. Romantic drama, starring Patrick Swayze, Jennifer Grey and Jerry Orbach.
Liar Liar (1997) ITV2 5:45pm-7:30pm
A lawyer, whose underhand ploys to win cases leave him little time to see his son, discovers he is incapable of lying after the boy's birthday wish makes his dad tell only the truth. However, this causes a host of problems as the attorney tries to muddle his way through a high-profile divorce settlement. Comedy, with Jim Carrey, Maura Tierney, Justin Cooper, Jennifer Tilly and Cary Elwes.
Pale Rider (1985) ITV4 9:00pm-11:20pm
An unscrupulous landowner threatens to throw gold-miners off their land and take the riches for himself. As the law turns a blind eye to their troubles, the miners desperately need a saviour – who happens to arrive in the form of a mysterious preacher with formidable gunfighting skills. Western, directed by and starring Clint Eastwood, alongside Michael Moriarty, Carrie Snodgress and Richard Dysart.
SUNDAY 15th October
.
The Dark Crystal (1982) Film4 11:00am-1:00pm (2 hours)
A survivor of a near-extinct race is given a dangerous quest as his world approaches an astronomical event that will decide its future. He must find a way to restore a broken piece to a magical crystal, which has become a source of dark power for the cruel creatures who wiped out his people. Jim Henson's puppet fantasy, with the voices of Stephen Garlick and Billie Whitelaw.
The Mask of Zorro (1998) Sony Movie Channel 12:00pm-2:00pm (2 hours)
The sword-wielding saviour of Spanish California returns after 20 years in prison, tutoring a thief to take over his heroic role and tackle corrupt government officials, who are using slave labour to mine gold illegally. Both mentor and pupil have personal scores to settle with their enemies, led by a ruthless governor and a psychotic military officer. Swashbuckling adventure, with Anthony Hopkins, Antonio Banderas and Catherine Zeta-Jones.
Napoleon Dynamite (2004) Film4 1:00pm-2:50pm (1 hour 50 minutes)
A socially inept high-school student and his lonely unemployed brother find their eccentric home life thrown into upheaval when their meddling uncle comes to stay. The teenage oddball tries to make the best of his changing circumstances, while putting all his skills to the task of helping his new best friend win the class presidency. Comedy, starring Jon Heder, Efren Ramirez and Haylie Duff.
The 'Burbs (1989) Channel 5 1:45pm-3:35pm (1 hour 50 minutes)
The arrival of secretive neighbours sparks an unhealthy curiosity in a group of friends, leading them to go to bizarre lengths to discover the truth about the newcomers. However, their investigations take an even weirder twist when they begin to suspect their unseen fellow suburbanites are part of a cannibalistic cult. Joe Dante's black comedy, starring Tom Hanks, Bruce Dern, Carrie Fisher, Corey Feldman and Henry Gibson.
Smokey and the Bandit (1977) Sony Movie Channel 2:00pm-4:10pm
A truck driver accepts a challenge to deliver a consignment of beer to a party. He claims he can make the 900-mile round trip in just 28 hours, but a pompous sheriff is determined to stop him in his tracks, not least because his prospective daughter-in-law has deserted his son and hitched a ride with the unlikely hero. Comedy, starring Burt Reynolds, Jackie Gleason, Sally Field and Jerry Reed.
Fun Fact: This was such a hit that it became the second highest grossing movie released in 1977, next to Star Wars: Episode IV – A New Hope (1977).
Antz (1998) Channel 4 2:30pm-4:10pm (1 hour 40 minutes)
A neurotic worker ant passes himself off as a soldier to impress a princess. However, he provokes a jealously ambitious general with an accidental act of heroism – so he and his beloved decide to flee the brutal colony and go in search of the promised land of Insectopia. Animated comedy, with the voices of Woody Allen, Sharon Stone, Gene Hackman and Sylvester Stallone.
National Lampoon's Loaded Weapon 1 (1993) Channel 5 3:35pm-5:15pm
A maverick cop and his by-the-book partner investigate the murder of a fellow detective, uncovering a sinister conspiracy to get the people of America hooked on cocaine-flavoured cookies. Spoof of the Lethal Weapon movies, starring Emilio Estevez, Samuel L Jackson, Jon Lovitz, Tim Curry and William Shatner.
Ghostbusters II (1989) Film4 4:40pm-6:45pm (2 hours 5 minutes)
The eccentric spectre-hunters reunite to save New York from a massive river of slime generated by the citizens' negativity and nasty thoughts. Meanwhile, the spirit of a 16th-century tyrant tries to return to the land of the living by possessing the body of a toddler. Sequel to the supernatural comedy, starring Bill Murray, Sigourney Weaver, Dan Aykroyd, Harold Ramis, Rick Moranis and Ernie Hudson.
Ace Ventura: When Nature Calls (1995) Channel 5 7:20pm-8:55pm (1 hour 35 minutes)
The eccentric pet detective is coaxed out of self-imposed exile in a Buddhist monastery to visit Africa and help search for a sacred white bat. However, his unique investigative talents are tested to the limits as he faces a race against time to find the missing creature and prevent a tribal war. Comedy sequel, starring Jim Carrey, Simon Callow and Bob Gunton.
Conan the Destroyer (1984) ITV4 9:00pm-11:05pm
The mighty sword-wielding warrior returns and is hired by a duplicitous queen to retrieve a mystical artefact from an evil sorcerer. Unfortunately, he fails to see that the malevolent monarch has a sinister plan in mind, and intends to kill him once his task is complete. Fantasy adventure sequel, starring Arnold Schwarzenegger, Grace Jones, Wilt Chamberlain and Sarah Douglas.
Highlander (1986) Spike 11:05pm-1:25am
A 16th-century Scottish clansman discovers he is one of a race of immortal warriors who can only be killed by beheading, and who are destined to fight to the death until just one survives. Centuries later in modern-day New York, he prepares for a final showdown with his deadliest enemy. Fantasy action adventure, starring Christopher Lambert, Sean Connery, Clancy Brown and Roxanne Hart.
Whatever you're up to this weekend, always do your best and you'll never be disappointed.
Save