Aww, you can't get much more nostalgic than classic Ladybird books! Their wonderful, hand-drawn illustrations are almost as beloved as the stories themselves and are a real trip down memory lane. Who could forget classic fairy tales like Sleeping Beauty and Cinderella that enchanted us as children, or the Peter and Jane Reading books which helped us learn the world of words?
Buuut we still need a hand into adulthood, right? Taking on modern day dilemmas like how to pull a sickie (ahem) or cope with a hangover from hell, we're huge fans of the hilarious, best-selling Ladybird Books for Grown Ups, which feature original Ladybird artwork alongside brilliantly funny, brand new text.
Our awesome new collection of Ladybird games and gifts are perfect for channeling the books' cheekiness during your next 'grown up' crisis… Check out some of our top picks from the range below!
Ladybird Books For Grown Ups The Hangover Drinking Games Set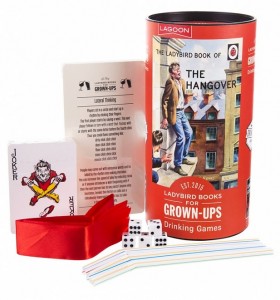 Have a ball at your next party with this box of endless fun, which includes handy tips and props to play 25 classic drinking games, and features hilarious original Ladybird artwork. *Please note, TruffleShuffle cannot be held responsible for your actions under the influence of this level of awesomeness…*
Ladybird Books For Grown Ups The Sickie Recovery Kit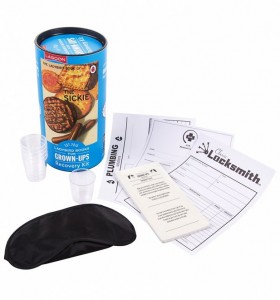 Overdid it the night before (damn that drinking games set!)? Never fear! Inspired by the super-cool Ladybird Book for Grown Ups 'The Sickie', this kit has all you need to get over the night before (and get away with it). With hangover cures, sickie excuses and doctor's notes to fill out, you're in safe hands.
PS. Calling the office at 3.07am is exactly what someone with a cold would do…
Ladybird Books For Grown Ups The Meeting Office Pranks & Jokes Card Collection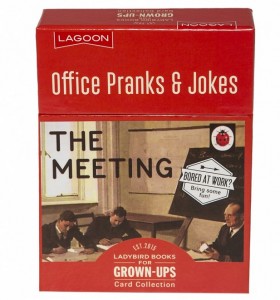 If you're successfully adulting and actually make it into the office (congrats by the way!) everyone knows things sometimes need a little livening up! Got that all-important meeting on the agenda today? Shake things up with this collection of office pranks and jokes. We GUARANTEE your colleagues will appreciate it (we can't promise anything with the big boss though…)
See the whole range of Ladybird merchandise or check our whole collection of quirky gifts!
Save