With tons of totally original designs created by our in-house team (and mega fans of all things retro!), our TruffleShuffle exclusives are ideal if you're looking for a truly unique tee! And this weekend only, we're offering you lovely lot a cracking 25% off your faves from our collection, so you can rock that awesome top on Christmas Day and beyond. Season's greetings indeed!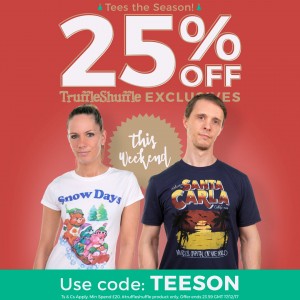 Take a peek at some of our favourite picks from our range of totally top, TruffleShuffle T-Shirts…
Men's Mr Grumpy I Had Fun Once T-Shirt
If your favourite festive phrase is more of a Ho Ho NO, then this Mr Men Mr Grumpy tee is made for you! We had fun once…never again!!
Women's Grey Stranger Things Inspired Upside Down T-Shirt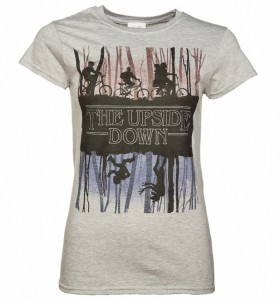 If you're a fan of the Netflix mega hit Stranger Things (and if not, why not and where have you been?!) then you'll know it's all about the mysterious, scary world of the Upside Down. We ourselves are feeling topsy turvy about this ultra-cool Stranger Things T-Shirt, with its super vintage vibes and cool distressed finish!
Women's Harry Potter Happiness Can Be Found T-Shirt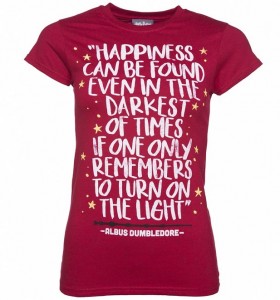 Happiness can also be found…in this T-Shirt! What a wonderful sentiment – this cheery Harry Potter T-Shirt features one of the iconic quotes from Harry Potter and the Prisoner of Azkaban – and has just enough festive sparkle to give you an extra boost of Christmas cheer this season!
Men's Stranger Things Inspired Hawkins Indiana Arcade Heather Blue And Navy Ringer T-Shirt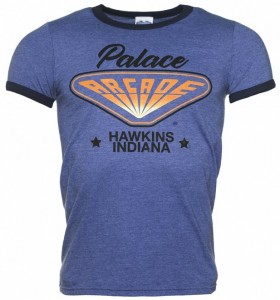 Okay okay so we know we're choosing two Stranger Things tees…but it's too good, we couldn't help ourselves! Inspired by the tee worn by the Arcade Guy in Stranger Things 2, the only accessory you'll need to go with this tee is a packet of crisps and a dose of attitude.
Men's Old School Gamer T-Shirt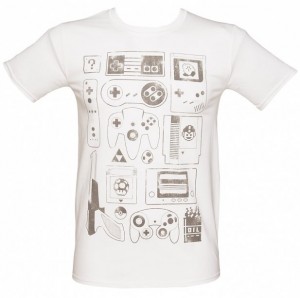 A real gamer-geek's T-Shirt of choice! If you long for the lazy, hazy days of retro gaming glory, bring all your old favourites back to life with this awesome gaming controller tee.
There you have it guys! You won't find these top tees anywhere else so grab your faves before they're gone. With 25% off using code TEESON, it's a tee-sy decision to make (ahem..)