We've got some pretty darn exciting news for you guys and gals!
Short while ago we mentioned on our Facebook page about how much we loved the amazing Point Horror book series growing up, and it turns out we weren't the only ones who did!
The reaction was soooo great and the cries for some awesome designs so loud that we just head to listen and… we have! Since this time, we've been busy working to create our very own collection of Point Horror clothing and now…  here they are!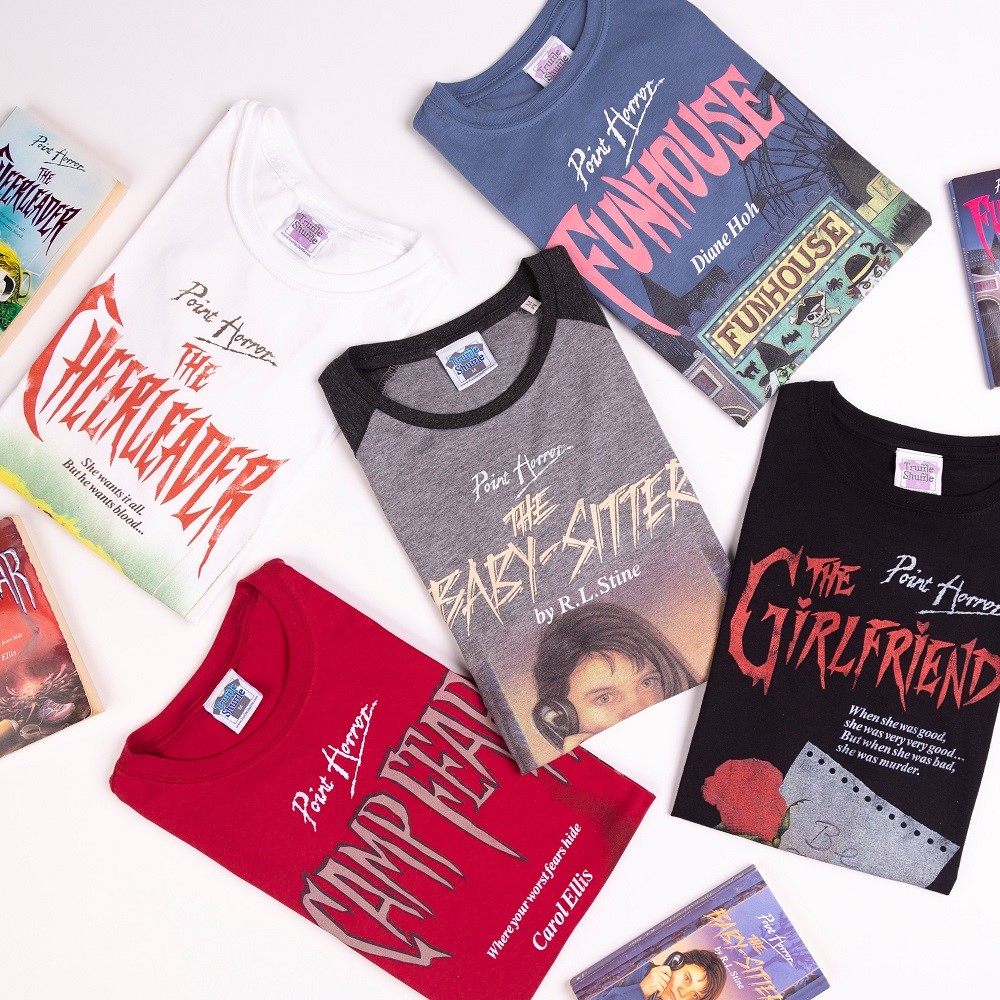 So whats's the story?
Inspired by some of the most iconic titles from this classic series from the late 80s and through the 90s, our latest collection insludes…
The Girlfriend
Scotty has it all – the perfect girlfriend, the perfect future, the perfect life. But then, one weekend, Lora goes away and Scotty meets someone else. Now he has a new girlfriend, one who doesn't want to let him go. She won't take no for an answer and she's prepared to love him to death. Scary stuff, right? Scary cool!
.
Funhouse
There are loads of great rides at the amusement park. The Devil's Elbow is the favourite, and always packed. When it flies off its rails, it causes a terrible accident. But Tess isn't so sure it was an accident. Someone knows what she saw, and someone is out to keep her quiet. Yeeesh! Don't keep quiet about your love for this little gem with our latest designs…
.
The Babysitter
From the minute that Jenny accepts the Hagen baby-sitting job, she knows she has made a terrible mistake. First there is the dark and gloomy Hagen house, filling her with dread and horror. Then the crank phone calls start. When she finds a threatening note in her bag, she realizes that this isn't a harmless game. Loved ready this one growing up! such a blast from the past. If The Babysitter is one of yourr fave books, our cover inspired tee would make the great addition to your collection.
.
Camp Fear
Almost everyone at Camp Silverlake is afraid of something: creepy crawlies, snakes, swimming in the lake. But there is a much deeper, darker fear shared by some of the counselors… the fear that one terrible secret they share will be discovered. For seven years they've kept it hidden – ever since the summer when they were campers themselves. The summer one camper didn't make it home alive… now someone is using their secret – and their fears – to play a terrifying game of vengeance. Love this classic? Flaunt your great taste in literature with these cool tees.
.
The Cheerleader
Cheerleaders are beautiful, popular and exciting – girls that Althea longs to be. But Althea is nobody – she gets no phone calls, shares no laughter and has no friends. Then one day she meets him, a vampire who offers to make her a cheerleader in exchange for a simple bargain.
.
So which of these classics have you read? Head over the site for all this exclusive new Point Horror Merchandise and all our other book-inspired clothing and get stuck into some book lovers gold!