It's finally here peeps and we're about as excited as a kid at Christmas who has just seen the one big present under the tree with their name on! If you see what we mean.
Launching on Netflix just this week, all our telly streaming prayers have been answered as we can launch ourselves straight back into the action in Hawkins, Indiana.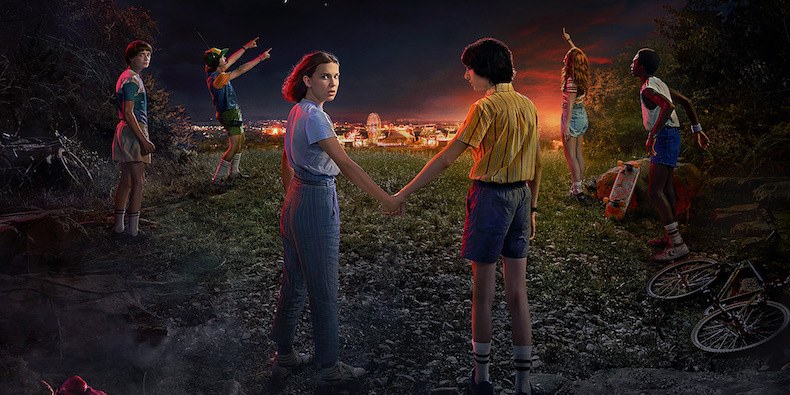 .
As you can imagine, while we've been waiting to get stuck into this, we've been busy creating some of our very own exclusive Stranger Things TShirts and mugs…. and here they are!
Let's take a look at our latest arrivals…
Scoops Ahoy!
Referencing the Ice Cream parlour where Steve Harrington and Robin work, these ace Scoops Ahoy TShirtsare made with a stunning embroidered logo design to really set this apart and give it all kinds of cool flavours.
Also available for the guys with the same embroidery treatment, we're sure fellow fans will totally get this subtle nod to the show too.

Let's face it… if Scoops Ahoy were real we would TOTALLY go there and grab ourselves a mug as a souvenier! Well… now you can get pretty close to doing just that but snapping up our exclusive Scoops Ahoy Mug!
Starcourt Mall anyone?
If it's a premium shopping experience you're after… apart from checking our at TruffleShuffle.com, we can also suggest heading to Hawkins' Starcourt mall.
Well… you can really, but you can at least say you had been there and got the tshirt with one of our exclusive new Starcourt Mall TShirts!
Once again, also available in a men's style and also both coming complete with an embroidered logo design for a real premium feel.
Sti away your favourite drink in neon 80s style with a little help from our funky Starcourt Mall Mug too!
Off on an adventure? YOu'd better be prepared for anything!
If there is one thing we've learned from Stranger Things, it's expect the unexpected! Doing just that, keep yourself ready for action with one of our ace new Stranger Things Upside Down Metal Water Bottle…
So what do you think of season three peeps? Loving it? Let us know below or via whichever social media platform you use.