Think you know you're retro and pop culture telly, movies, characters and more? We've to a treat for you!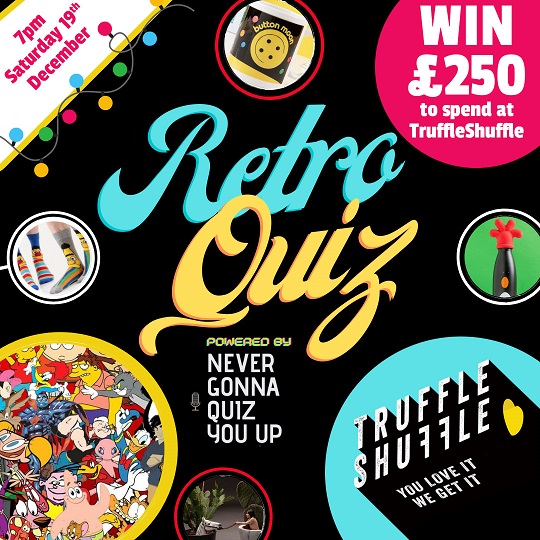 .
We're teaming up with the incredible Never Gonna Quiz You Up run by Tom Finkill to bring you and any TruffleShuffle fans exclusive quiz! Run totally just for us and our amazing fans, this will be the ultimate test of 70s, 80s and 90s knowledge and will promise to be packed with fun and plenty of nostalgia!
WHEN?
Our big quiz will be taking place at 7pm (UK time) on Saturday, December 19th. Get a little tipple ready and get cosy!
WHERE?
This is purely an online virtual quiz so really… anywhere you like! You'll need a computer screen to watch and join the Zoom video call and a phone handy to enter your answers. You won't have to show yourself on the video if you don't wish to. Totally fine.
PRIZE?
We're giving our winning team a whopping £250 voucher to spend on TruffleShufle.com! All to play for peeps!
HOW DO I PLAY?
Our amazing host Tom will be running the quiz through a Zoom call (we're used to them by now, right?) and via the Speed Quizzing Live App (available on Apple or Android).
The video call will be to listen to Tom and see the questions which can be on a computer, laptop or tablet and the app will be for you to enter your answers. We find a phone is easy for this.
Check out this video featuring full details on what to expect…
Entry is 100% FREE and the quiz is open to 100 people and will be first come, first served so be quick and sign up! If you sign up and can't make it, let us know and we can offer the space to someone else.
Sign-ups will close at 4pm on Friday 18th December.
HOW DO I SIGN UP?

To enter a team, simply sign up using your email address on this online form. One email required per team.
[Entries CLOSED]
Any questions about this at all, please just let us know on Facebook, Instagram or Email.
Thanks all and good luck!