There's no place like Oz… Talking scarecrows, tin men and lions, good witches, bad witches, munchkins, a glorious yellow brick road and a shiny Emerald city.
The magical Unique Vintage x The Wizard of Oz collection is all the pretty's a fan could ever desire. A magnificent tribute to an absolute classic of a movie. With a vintage-inspired fully-swishable skirt, t-shirt and hair scarf, this highly covetable collab proves the dreams that you dream of really can come true!
Somewhere over the rainbow, way up high… there's a land that I've heard of once in a lullaby…
Transport yourself to the magical land of Oz with this mesmerising Wizard Of Oz swing skirt from Unique Vintage. With a wonderful scene design, the skirt features the characters Dorothy, the Scarecrow, Tin Woodman and Cowardly Lion trotting along the yellow brick road towards the Emerald City.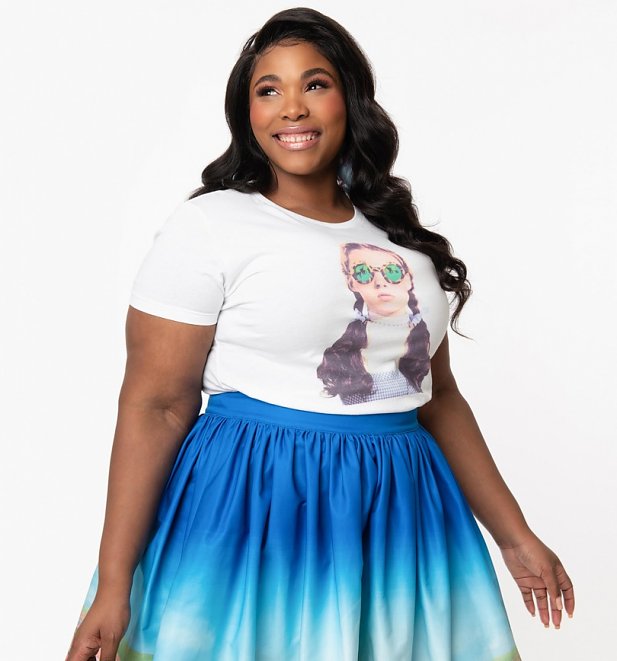 The Emerald City is a truly dazzling sight and so each guest is required to wear a pair of special green glasses to protect their eyes from its brightness and glory. This fun Wizard of Oz Dorothy Glasses T-Shirt from Unique Vintage UK features Dorothy Gale decked out in these snazzy specs and is also, in itself, ​a real spectacle to behold.
Channel some Kansas-gal style with this sweet gingham print Wizard of Oz Gingham Hair Scarf from Unique Vintage. Featuring Toto peeping out of his basket, the famous red slippers and some beautiful rosy blooms, this vintage style scarf is a fabulous tribute to one of the greatest movies ever made.
For all the magical finds and our complete collection of Unique Vintage clothing, available in the UK, head over to TruffleShuffle.co.uk!