You love it, we get it! You asked for them so we made them.
Inspired by all of your most precious memories, quotes and more from this total 80s cult classic, we've created a dreamy new range of official Labyrinth merchandise featuring classic and all-new styles.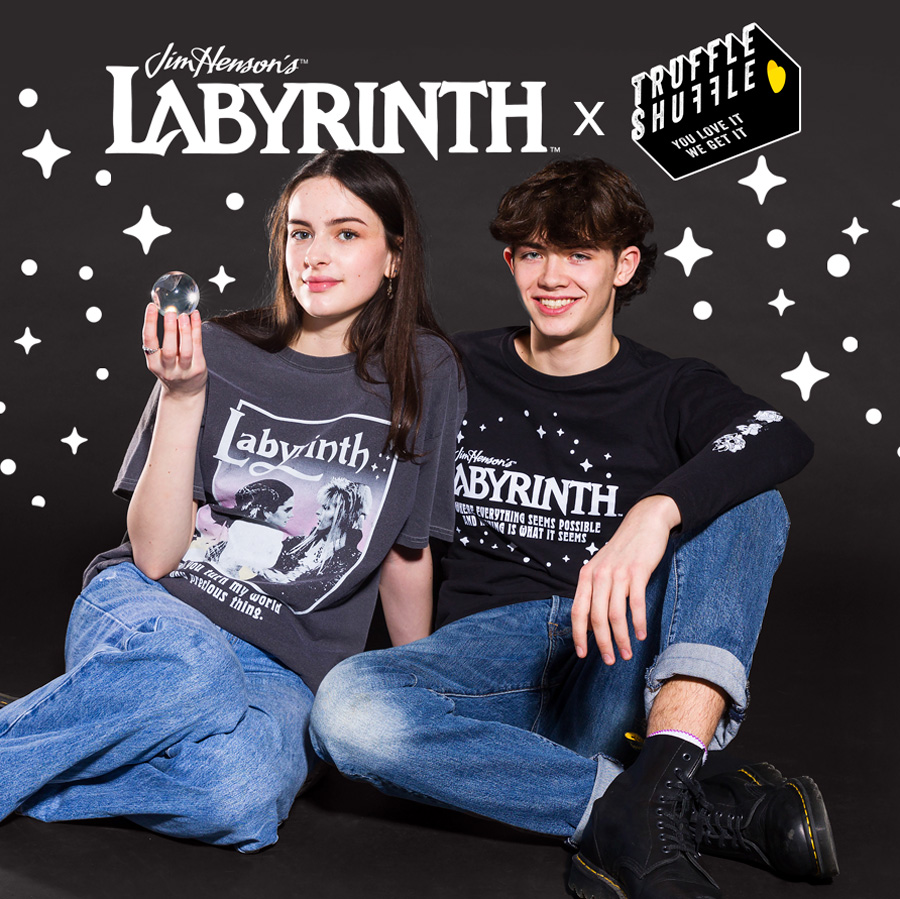 .
Reaching out to the biggest Labyrinth fans in the land… you guys… we asked what your dream Labyrinth collection would look like and have worked our magic over many months to bring you exactly that!
Moving the stars, we're not only bringing you amazing cool tshirts you've come to expect from us but an all-new collection of exclusive all-over prints, embroidery, denim jackets, smock dresses, coloured tote bags and more!
Prepare to be a-mazed and check out some of our latest styles…
Exclusively designed in-house, the Labyrinth Fear Me Love Me Back Print Black T-Shirt features a white-on-black print combining Jareth's eyes, stars and a crystal ball. Pure magic!

Name a more iconic duo, we'll wait! Let's not pretend just a little part of you would give in to the power of the Goblin King, after all he has done for you. Now you can proudly rock one of our all-time most requested quotes on this minimal Labyrinth World Upside Down Back Print White T-Shirt that still somehow says it all. We know you'll move the stars to pick this one up!
Guaranteed to keep you cosy forever, even when you're down in the underground. This exclusively designed Labyrinth It's Only Forever Back Print Navy Zip Up Hoodie will keep an all-too-familiar, ever-watchful eye on you when things cool down, featuring one of your favourite lines from David Bowie's legendary soundtrack. Finished with an embroidered Labyrinth logo to the front, pick it up now before those pesky goblins get hold of them!
Time to remind everyone that you're the babe with the power! Our first ever in-house designed denim jacket, this super cool Labyrinth You Remind Me Of The Babe Denim Jacket features the lyrics to one of our favourite soundtracks of all time. Embroidered, embellished, adorned with the majesty of King Jareth himself – look no further for a jacket that proves you're one of us… forever.
Representing lust, love, danger and rebellion, there's something seriously alluring about bad boy Jareth the Goblin King. Our exclusive Labyrinth Vintage Precious Thing Charcoal T-Shirt features a much-quoted line from David Bowie's mesmerising soundtrack. Fear him, love him, do as he says and he'll be your slave…
We may not be able to re-order time or turn the world upside down for you but we are bringing you this epic Labyrinth Stars Black Long Sleeve T-Shirt. You're welcome. Featuring the classic movie logo tagline as seen on the original posters, this tee is a fitting way to show your love for Labyrinth. The front logo print is accompanied by Hoggle, Ludo, Worm and Didymus on the sleeve. Or is it? Maybe it just seems like it is. Nah, only kidding. It really is.
Now you can keep your copy of The Labyrinth close to hand at all times, and you'll never forget the most important line – "You have no power over me!". We've got you covered with the key to defeating Jareth, it's up to you to fill this Labyrinth Book Cover Red Tote Bag up with all you need to journey through life's labyrinth…
A friendly reminder that not all of Jareth's advice is good advice! 13 hours is still plenty of time to grab this Labyrinth Turn Back Sarah Tote in Black featuring a beautifully dark still from the iconic fantasy movie. Fill it with all your favourite gear and get started on an adventure through the maze. It'll only take forever, not long at all.
For all these stunning new and totally exclusive Labyrinth clothing and more, beat the clock and head over to TruffleShuffle.co.uk before they go!