Rolling into another retro movie filled weekend like a pool ball heading towards the pack for a big break, we're lining up plenty of classic movies for you to sink and score big!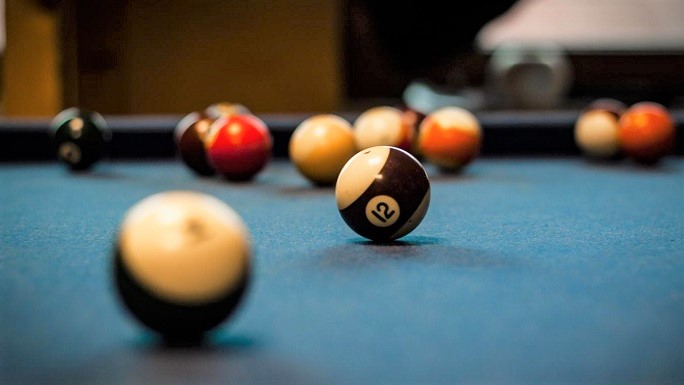 SATURDAY 12th February
City Slickers (1991) Film4 4:35pm-6:50pm
Three middle-aged men take a break from the rat race and their mid-life crises to join a two-week cattle drive from New Mexico to Colorado. Together with a bunch of fellow urbanites, they find the going much tougher than expected, and it is down to a real-life cowboy to whip them into shape. Comedy adventure, starring Billy Crystal, Daniel Stern, Bruno Kirby and Jack Palance, who won an Oscar for his performance as grizzled trail boss Curly.
Indiana Jones and the Temple of Doom (1984) E4 6:40pm-9:00pm
The intrepid archaeologist, with his young sidekick and a nightclub singer in tow, is stranded in India, where he takes on a mission to recover magical sacred stones from the hands of an evil cult engaged in human sacrifice and child slavery. Steven Spielberg's action-adventure, starring Harrison Ford, Kate Capshaw, Ke Huy Quan and Amrish Puri.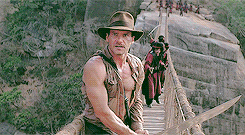 .
Meet the Parents (2000) GREAT! movies 6:50pm-9:00pm
A male nurse delays proposing to his girlfriend until he has won the approval of her strict father, a former CIA agent who does not suffer fools gladly, and vows to be on his best behaviour during a visit to her family home. However, his efforts to impress soon collapse into a catalogue of disasters. Comedy, starring Robert De Niro, Ben Stiller, Teri Polo, Blythe Danner and Owen Wilson.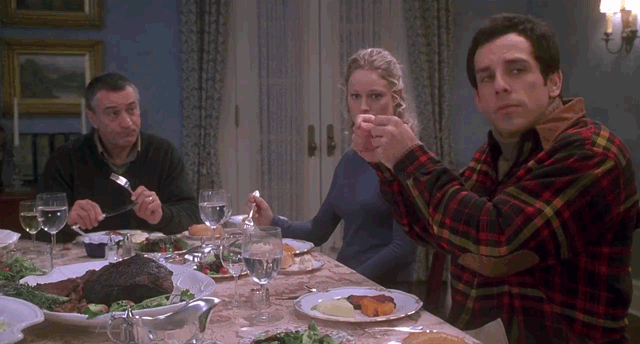 .
Six Days Seven Nights (1998) 5STAR6:55pm-9:00pm
A headstrong fashion journalist and a grouchy pilot find themselves stranded on a desert island, and face a series of dangers as they struggle to survive. However, the bickering castaways' initially hostile feelings soften with the passage of time. Romantic adventure, starring Harrison Ford, Anne Heche, David Schwimmer and Jacqueline Obradors.
Next of Kin (1989) 5Action 9:00pm-11:10pm
A truck driver ends up murdered by the nephew of a powerful crime boss during the hijacking of his vehicle. The victim's two brothers each seek justice in their own way – one, a cop, wants to see the killer in jail, but the elder of the two favours taking the law into their own hands. Action thriller, starring Patrick Swayze, Liam Neeson, Bill Paxton, Adam Baldwin and Helen Hunt.
Panic Room (2002) GREAT! movies 9:00pm-11:25pm
A single mother is determined to keep her daughter safe from harm when burglars break into their home. The pair hide out in a specially constructed sealed room, but the shelter becomes a prison when the robbers refuse to leave empty-handed. Thriller directed by David Fincher, starring Jodie Foster, Kristen Stewart, Forest Whitaker, Jared Leto and Dwight Yoakam.
Bridget Jones's Diary (2001) ITV 10:40pm-12:30am
A single woman begins a new year with resolutions to find love, quit her bad habits and take a step up the career ladder. Her plans crumble as she tries to deal with her mother's infidelity, get over a passionate fling with her boss and come to terms with her feelings for an uptight lawyer. Romantic comedy based on Helen Fielding's novel, starring Renee Zellweger, Hugh Grant and Colin Firth.
Black Rain (1989) Film4 11:00pm-1:25am
Two New York cops arrest a hitman working for the Japanese Mafia and are ordered to extradite him back to Osaka to stand trial. However, the prisoner gives them the slip on arrival, and as the detectives hunt him down with the aid of local law enforcement officers they become snared in a vicious gang war. Ridley Scott's thriller, starring Michael Douglas, Andy Garcia, Ken Takakura and Yasaku Matsuda.
SUNDAY 13th February
Dr Dolittle 2 (2001) ITV2 2:30pm-4:20pm
The vet with a talent for talking to animals comes to the aid of forest creatures that need his help protecting their homes from land developers. He also has to deal with the love life of a circus bear that has fallen for a wild female. Comedy sequel, starring Eddie Murphy and Kevin Pollak, with the voices of Steve Zahn, Lisa Kudrow and Isaac Hayes.
Night at the Museum: Secret of the Tomb (2014) Channel 4 2:55pm-4:50pm
Nightwatchman Larry notices that the living exhibits of his museum are behaving strangely. He discovers that the magical artefact that brings them to life is damaged, so he and his friends travel to London's Natural History Museum to find a way to restore it. Fantasy comedy sequel, starring Ben Stiller, Rebel Wilson and Robin Williams in his final film role.
Indiana Jones and the Last Crusade (1989) E4 6:30pm-9:00pm
The intrepid archaeologist sets out to find his estranged father, who has gone missing while searching for the Holy Grail. Once reunited, the duo team up to finish the task and locate the sacred relic before the Nazis get their hands on it. An action-adventure sequel directed by Steven Spielberg, the third instalment in the successful franchise. Harrison Ford stars as the titular hero, alongside Sean Connery, Alison Doody, River Phoenix, Julian Glover and Denholm Elliott.
Star Trek Beyond (2016) Film4 6:40pm-9:00pm
The USS Enterprise sets out on a rescue mission which turns out to be a deadly trap set by a mysterious warlord. The crew are left stranded on an unexplored planet and join forces with a fugitive alien scavenger to find a way off the hostile world and prevent a terrible weapon from being unleashed upon the galaxy. Sci-fi adventure, starring Chris Pine, Zachary Quinto and Idris Elba.
.
Deadpool (2016) E4 9:00pm-11:05pm
A fast-talking former mercenary develops terminal cancer and agrees to be the subject in a shady experiment in the hope of a cure. The procedure leaves him horribly disfigured, but also possessing superhuman abilities which he immediately puts to use in a quest for revenge on the man responsible for his hideous appearance. Superhero comedy adventure, starring Ryan Reynolds and Morena Baccarin.
.
Sirens (1994) 9:00pm-10:50pm
A prudish English vicar visits an Australian artist to ask for the withdrawal of a controversial painting and is shocked by the sexually liberated lifestyles of the painter, his wife and the three models who stay with them. However, the cleric's repressed wife finds their Bohemian outlook awakening her own sexuality. A comedy-drama, with Hugh Grant, Tara FitzGerald, Sam Neill and Elle Macpherson.
In the Line of Fire (1993) ITV4 10:00pm-12:25am
An ageing secret service agent, tormented by his failure to save the life of John F Kennedy in 1963, is drawn into a battle of wits with a sinister CIA-trained assassin out to kill the current president. As the day of reckoning draws closer, the agent's nerves are tested to the limit – and nothing seems to be going his way. Wolfgang Petersen's thriller, starring Clint Eastwood, John Malkovich, Rene Russo and Dylan McDermott.
Whatever you're up to this weekend, remember not to get hung up on route numbers. If you have to, finish only 2/3 of a chapter or 27 minutes of a workout, you moved forward and that's what counts.