Not long to go kids! Yep, Mother's Day is right around the corner (March 27th… don't forget!) which means it's time to get hunting for the perfect Mother's Day gifts for the special ladies in your life.
Now, we all know all the amazing mum's out there should be wildly celebrated all year round for everything they do and for just being totally awesome, right? So Mother's Day should be just a little added special day in your year to not only make them feel as loved as possible but to treat them to something you know they will be thrilled with and cherish for years to come.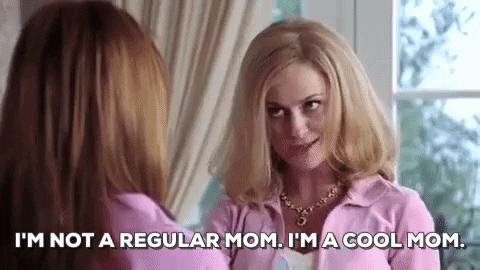 .
As luck would have it, our incredible collection of gifts for her is totally brimming with amazing Mother's Day gift ideas that feature some of the most iconic movies, characters, titles and more making it quick and easy to find something you know they will love.
To help you on your pressie hunt this year, we've picked out some of our top gifts for Mother's Day that is as unique and wonderful as they are. Enjoy!
I'm not a regular mom, I'm a cool mom. Right, Regina?
surely all mums are cool, right? We sure think so but why not let them know with this throwback Means Girls mug featuring the iconic quote from Regina's totally cool mum!
Do you know a real-life superhero? It's time to let them reveal their hero credentials in total style with these oh-so cosy and retro-cool Wonder Woman socks!

Is there anything more magical than Disney? Hmm, maybe some Disney jewellery perhaps? Yeh, we think that wins which is why we think our Minnie and Mickey Mouse Heads Charm Bracelet is sure to be a real winner.
Sure to bring plenty of extra love to their space, add some Harry Potter charm to their world with this adorable Harry Potter Amortentia Love Potion Table Vase. – Don't forget to buy flowers to give with it too!
Give them a whole heap of warm and cosy feelings with this handy and totally loveable Moomin Water Bottle. Can keep cold drinks cool and hot drinks warm for whatever adventure they are on.
Make sure they feel like the Belle of the ball whatever they're up to with this bargain Beauty And The Beast Belle Makeup Bag. An ideal way to show some love for the timeless Disney classics!
Turn any checkout moment into a 'check this out' moment with this magical Luna Lovegood All Over Print Zip Around Wallet that's showing some major love to one of the most cherished Harry Potter characters ever!
Turns every cuppa into a real fairytale moment by giving them a touch of classic Disney with this stunning Cinderella Carriage Shaped Mug. Such a great find for the Disney-loving mums out there.
Talk about a classic! Add some major 70s vibes into their life with this iconic Fleetwood Mac Rumours Black T-Shirt. If they love this, they're one rockin' mum!
If there is one thing we know about a lot of mums, it's that they always have a solid biscuit choice! Let them store their tasty treats in total style with this handy and totally cool Friends Glass Central Perk Biscuit Barrel.
Packed with the warm fussy glow of nostalgia, keep them extra toasty with this soft and cosy Care Bears Teddy Borg Hoodie. A TruffleShuffle exclusive and a solid 80s find.
Give their space a fun transformation with this magical colour changing Harry Potter lamp designed to look just like the Polyjucice bottle! Ideal mood lighting for their next Potter movie night in.
The perfect way to add some Jim Henson charm to their day, pick up this exclusive Labyrinth Book Cover Red Tote Bag. Such an 80s throwback and the ideal find for any fan of this cult classic.
Guaranteed to add a whole lot of extra sweetness to the cuppa, take them back to the 80s with this dreamy Care Bears mug featuring all their favourite bears.
Did they grow up with Winnie? Bring back all those childhood memories and let them share the love wherever they are with this adorable Loungefly Disney Winnie The Pooh Crossbody Bag.
Are they the babe with the power? Damn, right they are! Let them cosy up with their favourite 80s throwback with our exclusive Labyrinth pyjamas with all-over print pyjamas bottoms.
There's no need to be in a flap about finding the perfect gift this year, this magical Harry Potter Hedwig Wall Vase is here to swoop in and save the day! Such a cute find for the Potter fan in your life and ideal when gifted with flowers too!
Do they love nothing more than curling up and getting stuck into a classic Potter movie? We're right there with them if so! Add a whole heap of cosy cool to their downtime with this ultra-comfy Harry Potter Slytherin Crest Oversized Hooded Blanket.
Sure to take them on a trip down memory lane, if they're an 80s aficionado they're going to just love our exclusive Care Bears Rainbow Lavender Hoodie.
Just say it how it is and give a giggle at the same time with this fun Mean Girls mug! Ideal find for all the cool mums out there.
Retro, cute, fun and totally handy, how perfect is this Care Bears tote bag?! Guaranteed to pick up plenty of love from fellow fans along their travels too.
Still on the hunt for that one special thing for the mums in your world? No worries! You can check out our complete collection of great gifts for mums featuring heaps more ideas for any budget and interest.
Head over to TruffleShuffle.co.uk to discover more!