Fisherman's Friend! It's only the rootin'-tootin' weekend already!
Like an eager angler who loves nothing more than to hit the river banks, we're loading up our bags with all the weekends' essentials before heading out to stalk the deep waters. We'll cast out into only the perfect spots using only our finest and most secret baits before waiting patiently but apprehensively for that float to drop down below. Instantly… we're on and with great skill and determination we have caught the finest retro movies there is to offer before weighing in and capturing this mighty beast onto celluloid wonder for the world to see.
Have a happy retro weekend!
SATURDAY 30th MAY
.
Toys (1992) More4 11:05am-1:30pm (2 hours 25 minutes)
A dying toy-maker leaves the company to his brother, a power-mad general, who turns the friendly family factory over to the production of weapons. It falls to the general's zany nephew and his equally childlike sister to stand up for their father's benign world-view. Comedy, starring Robin Williams, Michael Gambon, Joan Cusack and Donald O'Connor.
Harry Potter and the Chamber of Secrets (2002) ITV London 2:40pm-5:40pm (3 hours)
The young wizard and his friends return for their second term at Hogwarts School of Witchcraft and Wizardry to discover a strange serpentine power is petrifying the other students. Meanwhile, Harry is haunted by a sinister voice in his head urging him to uncover the dark force that is stalking the corridors of the school. Fantasy adventure sequel, starring Daniel Radcliffe, Rupert Grint, Emma Watson and Kenneth Branagh.
The Princess Bride (1987) 5* 2:45pm-4:45pm (2 hours)
A cynical youngster becomes entranced by his grandfather's magical tales, which revolve around a stable-boy's heroic quest to rescue his lost love from the clutches of an evil prince, with the aid of a vengeance-seeking Spanish swashbuckler and his hulking sidekick. Rob Reiner's comic fantasy adventure, with Cary Elwes, Robin Wright, Chris Sarandon, Mandy Patinkin, Peter Falk and Fred Savage.
Fun Fact: Writer William Goldman was on set during one of the flame burst scenes in the forest when Robin Wright's dress caught fire. Although Goldman knew this was intentional, he was so caught up in the moment that he shouted, "Her dress is on fire!", ruining the take.
Batman (1966) Horror Channel 3:00pm-5:05pm (2 hours 5 minutes)
The caped crusader and his sidekick Robin discover that four of their worst enemies are now working together. The villains plan to use a machine that turns people into dust at a gathering of world leaders, allowing them to seize power. Comedy adventure based on the TV series, starring Adam West, Burt Ward, Burgess Meredith and Frank Gorshin.
Jurassic Park (1993) ITV2 5:25pm-8:00pm (2 hours 35 minutes)
Scientists are given a sneak preview of a safari park inhabited by genetically engineered dinosaurs created by an eccentric tycoon. However, it all goes wrong when a greedy employee sabotages the security systems, allowing the prehistoric beasts to roam free and hunt the visitors. Steven Spielberg's action adventure, starring Sam Neill, Laura Dern, Jeff Goldblum, Richard Attenborough and Samuel L Jackson.
Mission: Impossible (1996) Film4 6:50pm-9:00pm (2 hours 10 minutes)
Secret agents suspect there is a traitor in their organisation when their latest assignment ends in disaster. The sole survivor is accused of being the mole, forcing him to go on the run to clear his name. However, in the process, he discovers a former Russian spy is selling information about the world's leading undercover operatives. Action thriller based on the 1960s TV series, starring Tom Cruise, Jon Voight and Ving Rhames.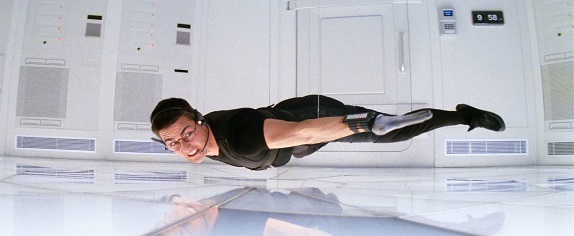 Mortal Kombat (1995) ITV4 11:55pm-2:00am (2 hours 5 minutes)
An evil sorcerer organises a deadly martial arts tournament between warriors from Earth and his own dimension. A secret agent on the trail of a ruthless crime boss, an action movie star trying to prove he can fight in real life and a man seeking revenge for his brother's death fight on behalf of the human race, with the Earth facing conquest if they lose. Fantasy adventure based on the video game, starring Christopher Lambert and Robin Shou.
SUNDAY 31st MAY
.
Junior (1994) ITV London 1:10pm-3:15pm (2 hours 5 minutes)
A fertility expert pioneers a treatment enabling men to become pregnant and carry babies to full term. When the authorities cancel funding for the research, he decides to test it on himself, but gives little thought to how difficult it will be to keep it a secret. The situation is further complicated when he starts to fall for the woman whose child he is carrying. Comedy, with Arnold Schwarzenegger, Danny DeVito, Emma Thompson and Frank Langella.
Harry and the Hendersons (1987) 5* 2:00pm-4:15pm (2 hours 15 minutes)
A hapless family's camping holiday in the mountains is brought to a sudden end when they accidentally hit the legendary Bigfoot with their car. They decide to adopt the endearing creature, but have more trouble than expected trying to keep him concealed and to avoid arousing their neighbours' suspicions. Comedy, starring John Lithgow, Melinda Dillon, David Suchet, Don Ameche and Kevin Peter Hall.
American Pie (1999) Sky Movies Comedy HD 3:15pm-4:55pm (1 hour 40 minutes)
Four teenage boys make a solemn pact to lose their virginity before the high-school prom, and though their antics cause them huge embarrassment and public humiliation, the friends also learn about love and affection in their relations with the opposite sex. Coming-of-age comedy, starring Jason Biggs, Shannon Elizabeth, Chris Klein, Alyson Hannigan, Mena Suvari, Seann William Scott and Eugene Levy.
Fun Fact: When submitting his script to studios, screenwriter Adam Herz titled it, "Untitled Teenage Sex Comedy That Can Be Made For Under $10 Million That Most Readers Will Probably Hate But I Think You Will Love". It was later changed to "East Great Falls High", then "Great Falls", and finally, "American Pie".
Who Framed Roger Rabbit (1988) Sky Movies Family HD 3:50pm-5:45pm (1 hour 55 minutes)
Comedy mixing live action and animation, set in a 1940s Hollywood where cartoon characters are real. A seedy private eye with a hatred of `toons' reluctantly ends up helping to clear an animated rabbit accused of murdering his wife's human lover. Starring Bob Hoskins, Christopher Lloyd, Joanna Cassidy and Stubby Kaye, with voices supplied by Mel Blanc, Kathleen Turner and Charles Fleischer.
Clueless (1995) E4 5:00pm-6:55pm (1 hour 55 minutes)
A rich high-school student uses all her charm and financial clout to boost an awkward new pupil's image, but soon finds she has created a monster – while her own popularity suffers in the process. Comedy inspired by Jane Austen's Emma, starring Alicia Silverstone, Stacey Dash, Brittany Murphy and Paul Rudd.
Freaky Friday (2003) ITV2 5:20pm-7:25pm (2 hours 5 minutes)
A rebellious teenage girl is shocked to learn her mother is planning on getting married again, but soon sees things from her parent's perspective when they magically swap bodies. As the mortified mum rediscovers the highs and lows of adolescence and her daughter gets to grips with working life, they finally begin to understand each other. Disney comedy remake, with Jamie Lee Curtis and Lindsay Lohan.
The Lost World: Jurassic Park (1997) ITV2 7:25pm-10:00pm (2 hours 35 minutes)
Scientist Dr Ian Malcolm reluctantly joins a research team on the island where his employer first designed genetically engineered dinosaurs. Meanwhile, a big-game hunter takes the chance to bag the biggest prize of all – a Tyrannosaurus rex. Steven Spielberg's dinosaur adventure sequel, starring Jeff Goldblum, Julianne Moore, Pete Postlethwaite and Richard Attenborough.
Austin Powers: International Man of Mystery (1997) Comedy Central 10:00pm-12:00am (2 hours)
A velvet-clad, sex-crazed secret agent from the 1960s agrees to be put into a state of suspended animation after his arch-enemy escapes justice. Thirty years later he is defrosted to do battle with the power-mad villain again, but the mission proves nearly as daunting for him as getting to grips with 1990s social values. Spoof spy adventure, with Mike Myers, Elizabeth Hurley, Mimi Rogers, Michael York and Robert Wagner.
Mars Attacks! (1996) ITV4 HD 10:00pm-12:10am (2 hours 10 minutes)
The inhabitants of Earth leap into action to repel an impending invasion by a seemingly invincible Martian army, which possesses superior weaponry, a thirst for destruction and a wicked sense of humour. Tim Burton's sci-fi comedy, starring Jack Nicholson, Glenn Close, Pierce Brosnan, Annette Bening, Natalie Portman, Danny DeVito and Tom Jones.
Whatever you're up to this weekend, always check the weather and don't forget that sometimes even the smallest things can mean the biggest.
xoxo