As you may or may not know, we really lurrrve working with blogs and bloggers who really help us to showcase our designs by taking something from the site and transforming it into something simply amazing of their own! Each blogger has their own style, ideas and of course personality which is so great for us as we can see just how you guys might style up our creations and really express yourslves.
One thing we've learnt over our many experiences with some simply amazing fashion bloggers is just how versatile a humble tee shirt is! We've seen designs look as just at home in a rocky/ grunge look as they are in a more geektastic style. We're always amazed at just how people with a keen eye see our designs and the looks they can create around them.
To show you guys just what we mean, we thought we would take a quick look back and showcase some of our latest blog features. Let's dive in!
Amy has got an splendid sense of style and we love the rock chick vibe she pulls together with our awesome Joy Division t-shirt, leather skirt, top knot and sunnies on her blog, 'The Little Magpie'!
Olivia's blog 'What Olivia Did' delightfully focuses on fashion, style, beauty and general ramblings! Our Pink Floyd tee looks stunning with a tasselled, suede jacket, skinnies and fedora hat.
The amazing girlies Tara and Jade over at The Style Rawr certainly know their stuff! Jade recently turned our very own God Save the Princess of Power She-Ra T-Shirt into a punk rock masterpiece with an amazing studded leather jacket, tartan skirt and boots. Love!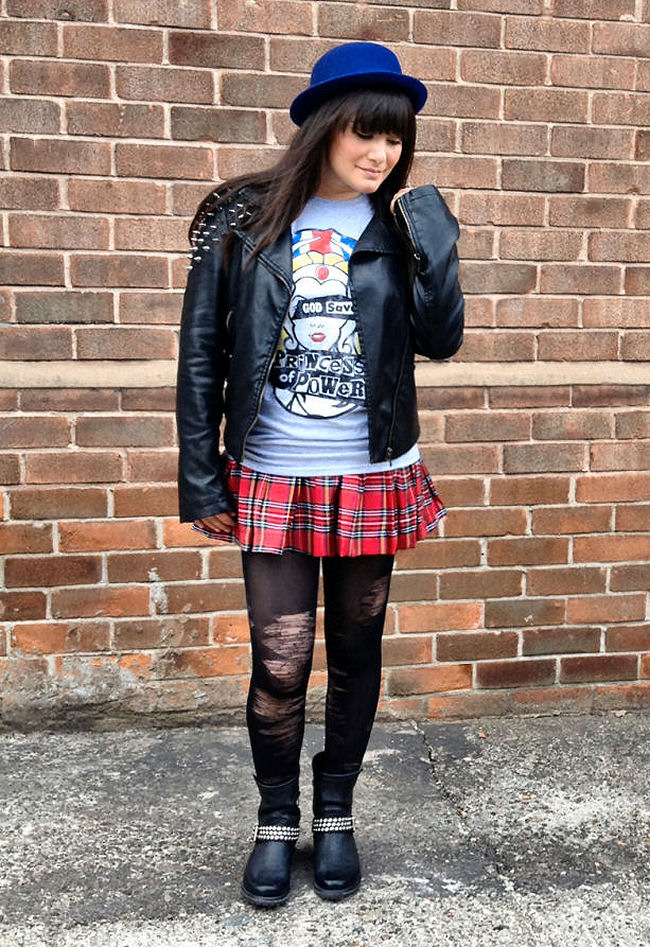 Fashion Journalism student and Editor Stephanie opted for our amazing Grease sweater inspired by the Rhydell High Chearleaders. Coupling this with some dark shorts, white collar top and of course…some classic black wayfarers, we really love this look.
Fashion blogger Gwen re-lived some amazing moments from Heaton Park with our Stone Roses I Wanna Be Adored T-Shirt from Amplified Vintage. Matching this amazing band tee with some blue skinny jeans, converse and gold watch, it's a simple classic style that will live on as long as rock n roll itself!
Aaaand that's all folks! Follow any of these blogs yourself? Or even run your own? If you're interested in featuring some TruffleShuffle on your own blog, let us know with a comment below or pop us an email on pr@truffleshuffle.co.uk and we can see what we can do.
Thanks!