Mop our brow and pour us a drink! It's only another sunny retro movie weekend!
Like an over excited weekender heading to the nearest beach , we find ourselves faced with another few days of adventure, comedy and perhaps a bit or romance as we set up base in the sand for another retro movie extravaganza! With sandy sandwiches and our trusty bucket and spade, we'll wind away the sunny afternoon with the gentle breeze and sound of the crashing waves. With more layers of sun cream on than there are layers on a gob stopper, we'll soak up some Sun before dashing the the ice cream van to grab more treats than we know we probably should. Good times.
Have a happy retro weekend!
SATURDAY 28th May
.
Murder on the Orient Express (1974) ITV 1:15pm-3:50pm (2 hours 35 minutes)
An American businessman travelling on the Orient Express from Istanbul to Paris tries to hire Hercule Poirot to discover the source of the death threats that have been made against him. The sleuth refuses, but wakes up the following morning to learn the man has been stabbed to death while the train was held up by heavy snow – and there is no shortage of suspects among the passengers. Agatha Christie mystery,
Short Circuit 2 (1988) Sony Channel 2:30pm-4:45pm (2 hours 15 minutes)
Manic mechanoid Johnny Five meets an old friend in New York City and embarks on a fact-finding tour – but ends up entangled in a series of escapades culminating in a bank robbery. Sci-fi comedy sequel, starring Fisher Stevens, Michael McKean, Cynthia Gibb and Jack Weston, with the voice of Tim Blaney.
Mannequin (1987) 5STAR 3:10pm-5:00pm (1 hour 50 minutes)
A struggling artist gets a job as a window dresser for a department store, only to discover one of his dummies is a reincarnated Egyptian princess who comes to life at night. As he falls for the living doll, she inspires him to transform the shop's display and make it the most spectacular in town. Fantasy comedy, starring Andrew McCarthy and Kim Cattrall.
Fun Fact: Director Michael Gottlieb got the idea for this film when he was walking by a store window and was startled to "see" a mannequin move by itself. He realized it was just an optical illusion caused by a combination of lights and shadows, but began to wonder what would happen if a mannequin actually DID come to life.
Uncle Buck (1989) ITV2 3:20pm-4:20pm (1 hour) 2 parts
An unreliable but good-natured slob is called upon to look after his trouble-making nephew and nieces while their parents are away – and what starts as a disaster soon changes for the better as the unlikely babysitter gets to grips with the finer points of being a responsible adult. Family comedy, starring John Candy, Macaulay Culkin, Jean Kelly, Gaby Hoffman, Amy Madigan and Laurie Metcalf.
Sister Act (1992) Film4 4:50pm-6:50pm (2 hours)
Nightclub singer Deloris Van Cartier agrees to testify against her gangster boyfriend after witnessing a murder. Placed in protective custody by the authorities, she is less than pleased to discover she is expected to pose as chaste nun Sister Mary Clarence in a convent. Comedy, starring Whoopi Goldberg, Harvey Keitel, Maggie Smith, Bill Nunn and Kathy Najimy.
The Animal (2001) Comedy Central 6:05pm-7:40pm (1 hour 35 minutes)
A man dreams of becoming a police officer, but thinks his chance is lost after a car accident leaves him critically injured. That is, until a deranged scientist offers to rebuild him with the body parts and organs of various animals, making his physique better than ever before. All seems well, until some beastly traits begin to emerge. Comedy, with Rob Schneider, Edward Asner and Colleen Haskell.
Hulk (2003) ITV 7:15pm-8:25pm (1 hour 10 minutes)
Scientist Dr Bruce Banner turns into the rampaging green Hulk after exposure to a huge dose of gamma radiation, prompting the military to embark on a no-holds-barred mission to destroy the monster. Meanwhile, Banner's unstable father resurfaces, holding the secret to his transformation. Comic-strip adventure from director Ang Lee, starring Eric Bana, Jennifer Connelly, Sam Elliott and Nick Nolte.
The Prestige (2006) BBC2 11:00pm-1:00am (2 hours)
Victorian stage illusionists Robert Angier and Alfred Borden engage in a bitter personal and professional rivalry. The pair resort to increasingly brutal measures to sabotage each other's acts, while Angier becomes obsessed with the secret behind Borden's greatest illusion. Christopher Nolan's mystery thriller, starring Hugh Jackman, Christian Bale, Michael Caine, Piper Perabo and Scarlett Johansson, with David Bowie as real-life scientific pioneer Nikola Tesla.
End of Days (1999) Channel 4 11:10pm-1:30am (2 hours 20 minutes)
A world-weary former police officer encounters the Devil himself on New Year's Eve 1999, and is spurred into action to stop the Prince of Darkness exploiting an innocent woman to bring about Armageddon. Supernatural thriller, starring Arnold Schwarzenegger, Gabriel Byrne, Robin Tunney, Rod Steiger, Kevin Pollak, CCH Pounder and Miriam Margolyes.
SUNDAY 29th May
.
Beethoven (1992) ITV2 1:50pm-2:50pm (1 hour) 2 parts
An all-American family adopts a huge St Bernard, but the father is dismayed when it turns into a one-dog disaster zone. He insists the mutt must go to a new home, but when it is kidnapped by a crooked vet, dad has a change of heart and races to the rescue. Comedy, starring Charles Grodin, Bonnie Hunt, Oliver Platt and David Duchovny.
Doc Hollywood (1991) ITV3 4:30pm-5:40pm (1 hour 10 minutes)
An arrogant doctor on his way to California causes an accident in a rural South Carolina town and is sentenced to community service at the local hospital. Initially desperate to leave, he gradually comes to appreciate a slower pace of life. Comedy, starring Michael J Fox, Julie Warner, Woody Harrelson, Bridget Fonda and George Hamilton.
Fun Fact: At one point Hank Gordon says, "I don't trust a man who doesn't eat meat." In real life, Woody Harrelson is a vegan.
Despicable Me (2010) ITV2 5:20pm-6:20pm (1 hour) 2 parts
A criminal mastermind hopes to seal his reputation as the greatest villain of them all by stealing the moon. First he needs to get his hands on a shrinking ray owned by a rival evil genius, and adopts three orphan girls to help him – but finds that fatherhood brings out his long-buried caring side. Animated comedy, with the voices of Steve Carell, Jason Segel, Russell Brand and Julie Andrews.
Big (1988) Film4 4:50pm-6:55pm (2 hours 5 minutes)
A boy ridiculed for his size makes a wish on a fairground machine to become bigger – only to wake up as a 30-year-old man. Driven from his home by his terrified mother, the bewildered youngster trapped in a grown-up body makes his way to New York, where he rises high in the ranks of a toy manufacturing company and applies his youthful enthusiasm to the complexities of adult life. Comedy, starring Tom Hanks, Elizabeth Perkins and Robert Loggia.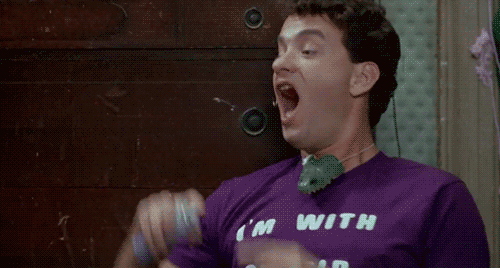 Field of Dreams (1989) Film4 6:55pm-9:00pm (2 hours 5 minutes)
A farmer hears a mysterious voice inspiring him to mark out a baseball diamond in a cornfield – which, to his surprise, is visited by the ghost of the star player of the 1919 Chicago White Sox team, whose career was cut short by scandal. It later dawns on him the pitch has a greater purpose – to give people who have sacrificed important parts of their lives a second chance. Fantasy, starring Kevin Costner, Ray Liotta, Burt Lancaster and James Earl Jones.
Police Academy (1984) ITV4 9:00pm-10:00pm (1 hour) 2 parts
An American police college lowers its entrance requirements in the hope of attracting new recruits, and in response, assorted dubious candidates turn up for enrolment. A short-tempered instructor is determined to weed out the bad apples, but a riot provides the clueless cops with a chance to prove their worth. Comedy, starring Steve Guttenberg, Kim Cattrall, Bubba Smith and GW Bailey.
Good Will Hunting (1997) ITV3 10:05pm-11:10pm (1 hour 5 minutes) 2 parts
A troubled maths genius refuses to use his gift, preferring to work as a janitor and lead a normal life with his friends. Eventually, a university professor persuades him to see a psychologist, who befriends him and proves the only person able to help him come to terms with his talent and past traumas. Drama, written by and starring Matt Damon and Ben Affleck, who won Oscars for their screenplay. With Robin Williams, Minnie Driver and Stellan Skarsgard.
Whatever you're up to this long retro weekend, make sure you have an outside towel and an inside towel and don't forget to bring enough socks. Matching optional.
xoxo