Here at TruffleShuffle, while it's no big secret that we luuuuurrrve everything 80s (did you spot it yet?), there's is no denying our passion for the good old 70s!
Yes the decade that gave us Space Hoppers, Flares, View-Masters, The Wombles and of course Roller Skates to name a few is surely something worth celebrating. Can you really imagine your music collections alone without some of the classics from this decade? We sure can't!
To help tip our caps to this wonderful decade, we thought we would show you guys some of our favourite tees that we currently have in stock from and around this wonderful time. So! Without further delay, check out our Top 7 Tees From The 70s!
A real piece of cinema gold right here with Spielberg's cult classic Jaws. The tale of a huuuuuge killer shark that is terrorising the small island community of Amity is one that many of us will remember. Usually it's being pretty terrified and at least having a slight nervousness about getting into the sea for a little while (we sure did anyways!). A sure fire way to tell the awesomeness of a film we think is the simple things people remember, for this it's the iconic theme tune which still sends shivers down our spines and of course the classic line….."We're going to need a bigger boat", just two reasons alone to love this 70s legend.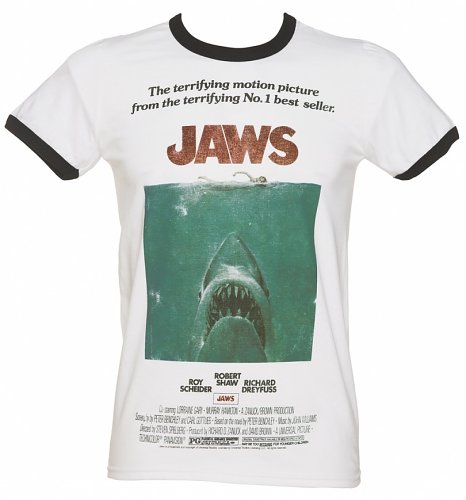 Star Wars, A New Hope, was released in 1977 and was where it all began (in movie terms at least)! Introducing us into the weird and wonderful worlds of the Star Wars franchise, this was our very first taste of the sci-fi legend that it was about to become along with it's ground breaking special effects and amazing score. Quickly becoming one of the most successful films ever made, A New Hope is also considered one of the most influential also and it's sure earned its place in our film and tshirt collections.
David Bowie Aladdin Sane TShirt
The sixth studio album released by David Bowie in 1973, Aladdin Sane, featured a whole host of amazing tracks such as The Jean Genie and Let's Spend The Night Together and is an absolute must have in any fan's collection. So much more than an icon of music, this album artwork has grown to become a fashion icon and has been a festival favourite for longer than we can remember.
Grease Tell Me About It Stud TShirt
Grease Lightnin! Packed with slick hair, cool rides and some of the most dance floor filling songs ever created (during our school discos anyway), Grease is so much more than a film, it was a sensation! Still one of the highest grossing musicals ever made, Grease won the hearts of people everywhere and certainly inspired many a school performance of two.
They May be called Queen, but they're sure the Kings of music in our eyes! Arguably one of THE best bands to have ever been with one of the most iconic front men to ever live, Queen are more responsible for some of the biggest rock songs ever written and some of the most legendary live performances. It's hard to quantify the influence Queen had on people all over the world, whether it's music people will listen to their whole lives, or its influence on music that had been written since or is yet to be written. We bow at the majesty of Queen.
Doctor Who Tardis Swirl TShirt
Quite possible one of THEEE most followed and loved shows to have ever hit the small screen, in the 70s, Dr Who was simply huuuuge in the 70s. With perhaps arguably the most iconic Doctor generations to date Jon Pertwee (1970-74) and Tom Baker (1975-81), Doctor Who hit our screen in wonderful colour for the first time and saw bigger and better special effects than ever before. Back then you didn't just catch Doctor who on the off chance, you HAD to be in and ready for the opening sequence to start. If you missed it….you had failed. Basically 🙂
Now some bands are big, some are pretty huge, but very few reach the true status of legends. The Rolling Stones are one such legendary band. With some of the most iconic tracks under their belt including Sticky Fingers, Goats Head Soup, It's Only Rock N Roll and Black and Blue, The Rolling Stones rocked the globe throughout the 70s and certainly had their share of back stage stories. We'll let you look them up yourselves.
So there you have them folks! Just a little teaser of some of our favourite 70s tees that are rocking it over at TruffleShuffle.com. To check out the rest of our range, pop on over there and find the perfect vintage tshirt for you.
Save